M. Burger is living many lives all at once. She is a corpse with each of its limbs strung up like a marionette, serving as the centerpiece in an occult-like ceremony. She is a man who's traveled back in time to warn his past self not to spit roast a whole goat and stop himself from being burnt to a crisp. She is a woman who enwraps herself in a cocoon for months and emerges terrifyingly evolved with claws, a reptile tongue and acidic blood. She is a giant mass of faceless bodies, entwined in an ecstatic orgy with no beginning and no end.
She is the creator of the beautifully grotesque universe found in the short story collection "You'll Never Believe How These Kids Get Murdered and Other Clickbait Tales." The world of her stories is equal parts disgusting, sacrilegious, ethereal, grounded, outrageous, delicate, confusing and still too-close-for-comfort. These are stories that are built to resist easy definition. Burger's book creates a shifting and unforgiving world of fiction because they are all about living in the shifting and unforgiving world of reality.
Each of the stories and the inspiration behind them can be tied to specific moments in Burger's life. "Canyon," the collection's opening story about an indiscriminate blur of bodies slipping in and out of one another, was born out of the intense loneliness she felt living on her own for the first time.
"The through line for all of the stories is that each one of them represents a really strong emotion that I've felt at some point in my life," she explains. Other stories in the collection draw from her experiences with depression, being biracial, a tense relationship with her mother and a polycystic ovarian syndrome diagnosis on Christmas Day when she was 12.
Of course, the process of taking seemingly insurmountable personal trauma and translating it into fiction populated by the stuff of childhood nightmares is nothing new. This has been the basis of crafting horror stories since the genre's inception. It feels appropriate, then, that Burger has been pitching her collection as the "adult trash-punk version of 'Scary Stories To Tell in the Dark.'"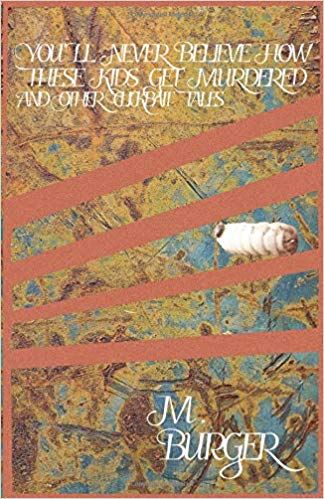 Some of her writing goes in for the kill. One story introduces the reader to a slew of John Hughes-esque characters preparing for a high school dance, only to have them beamed into an interstellar colosseum for a gleefully violent free-for-all fight to the death.
Some root around in that allegorical realm that has birthed art from pain for centuries. A young woman in the story "Tangled" pierces a hook into her body every time she surrenders a part of herself emotionally.
Then there are some stories that can't really be classified at all. An entry entitled "Intergalactic Space Shit" depicts a porn actor in the space-age future who has a hard time performing with an alien scene partner that is later revealed to be "just a sentient ball of shit." "There is something in it for literally everyone," Burger says.
Still, the book is most clearly a work of horror. The characteristics of the genre make up nearly every story's DNA. A fitting trait, given the fact that it seems to run just as naturally through Burger's own genetic makeup. One of the earliest stories she remembers writing involved a woman being tormented by a haunted rock that eventually kills her. She crafted the tale when she was in the fourth grade.
Growing up in San Antonio was conducive to sowing the mind of the burgeoning horror buff. As teenagers, Burger and her friends would break into abandoned buildings and make trips to a haunted insane asylum. They would drive around and try to freak each other out by telling scary stories.
"More of my inspiration comes from San Antonio, from growing up in the city that was very unforgiving and where there was not really anything to do," Burger says, though she acknowledges the city's macabre potential. "San Antonio's a really interesting city, just steeped in a lot of history and a lot of horror stories."
She became fluent in the language and tics of horror through watching films like "The Exorcist" and the b-movies that would play late at night on Cinemax, and, of course, through books like "Scary Stories To Tell in the Dark." As she grew older, Burger's own writing style began to evolve.
She still revered the type of guts-and-gore, sleep-with-the-lights-on work that pioneered the genre, but her interests moved into a world somewhere between the living, the dead and the undead. She realized, these stories could be more than a group of coeds gathering at a cabin in the woods, more than Jason stalking around Camp Crystal Lake with a hockey mask and machete. Horror stories could be bracingly intense, monstrously disgusting and, most importantly, unrelentingly weird.
Ever since she finished "You'll Never Believe How These Kids Get Murdered and Other Clickbait Tales," Burger's taken a break from writing fiction. She's shifting gears, and is beginning work on a feature-length film about her dog trainer. "Everyone has two sides to them, right?" she jokes.
Besides, she's the kind of writer who can only strike when the iron is hot. Her creativity can only be stoked in the most fervent moments of inspiration. Burger's imagination just happens to be made up of the most sordid stuff: cannibalism, the shredding of the ozone, turning into a lizard monster, having your lover turn into sand right in front of you. It takes a lot of effort to throw yourself entirely into creating your nightmare world.
"I remember watching 'The Exorcist' and thinking that I'd never seen anything that had pushed those limits. I'd never seen anything before that had really disturbed me that deeply, and I just remember my mind being kind of blown. I didn't know people were allowed to make something this intense," Burger says. "I think I spent a lot of my time with this book expanding what I felt to be the limits of what you can and can't write."
You can find M. Burger's novel through Amazon, as well as through her publisher, Lit City Press. You can follow her on social media on Facebook and Instagram.