Queerness is the subversion of the norm, and is connected to the authentic portrayals of individuals that don't fit into the dichotic boxes of society. While queerness manifests itself in many forms, the word "queer" itself has become an umbrella term for those of the LGBTQ community that find themselves not subscribing to the mainstream culture.
Stemming from expressions of gender identity, sexual orientation, feminism, the environment, human rights, race and politics, the queer community undertakes causes as different and varied as the people that label themselves queer. As the famous second-wave feminism slogan states, "The personal is political," and queer people—like many marginalized groups—find themselves politicized just by living their own lives.
Many turn to art by way of political protest and as a way of normalizing their queer relationships, identities and livelihoods through their bodies of work. Queer art has been around for as long as there have been queer people, but the art that has been produced since the 1960s Civil Rights movements of race, gender equality and gay rights have captured the queer identity in new and intersectional ways.
As June comes to a close, so goes LGBTQ Pride Month. But pride is never quelled in the hearts of the queer just because the calendar tells them its over, and it shouldn't be just an annual event to honor and recognize their work. So here are just a few badass queer genres and artists—from musicians to writers—to revisit or discover to keep that wave of pride going.
Queer Music
Punk rock has become the haven of queer music since the 1990s, when groups such as Riot grrrl paved the way for women and queers to express themselves through music by simultaneously rejecting and reforming male-centered music culture. Coinciding with the rise of third-wave feminism, this reclamation of male-dominated spheres of culture by way of feminist lyrics and female-fronted bands helped establish intersectional queer culture as it stands today.
Many queer bands, such as Seattle-based group Tacocat, pride themselves on providing safe spaces for queer fans at their shows, as historically, punk shows are pretty dangerous for anybody. As they are involved in queer politics, the group produces songs like "I Hate the Weekend," which showcases their disdain for businesses and outsiders coming into queer communities while edging out artists and members of the community, at a fast-clip.
New genres, such as queercore, were even formed as a part of the third-wave queer revolution of music. Queer punk duo PWR BTTM emerged in 2013 as a part of this new frontier of music and quickly gained popularity from the queer and straight communities alike. As the male members themselves operate outside of heteronormativity and traditional gender expression, they embody queerness onstage through glitter, great makeup and bearded stubble at the same time. Calling for venues to accommodate their fans with gender-neutral bathrooms, PWR BTTM created safe spaces for gender-nonconforming inclusivity to thrive in an environment where they weren't welcome just decades ago.
Queer Performance Art
Few political activist artists have gained the international attention that the feminist punk protest group Pussy Riot enjoys. Of course, with attention come repercussions, as the members of the art collective have been imprisoned many times over the years in their native country of Russia as a result of performances protesting President Vladimir Putin's anti-LGBTQ laws and the conservative efforts of institutions like the Russian Orthodox Church.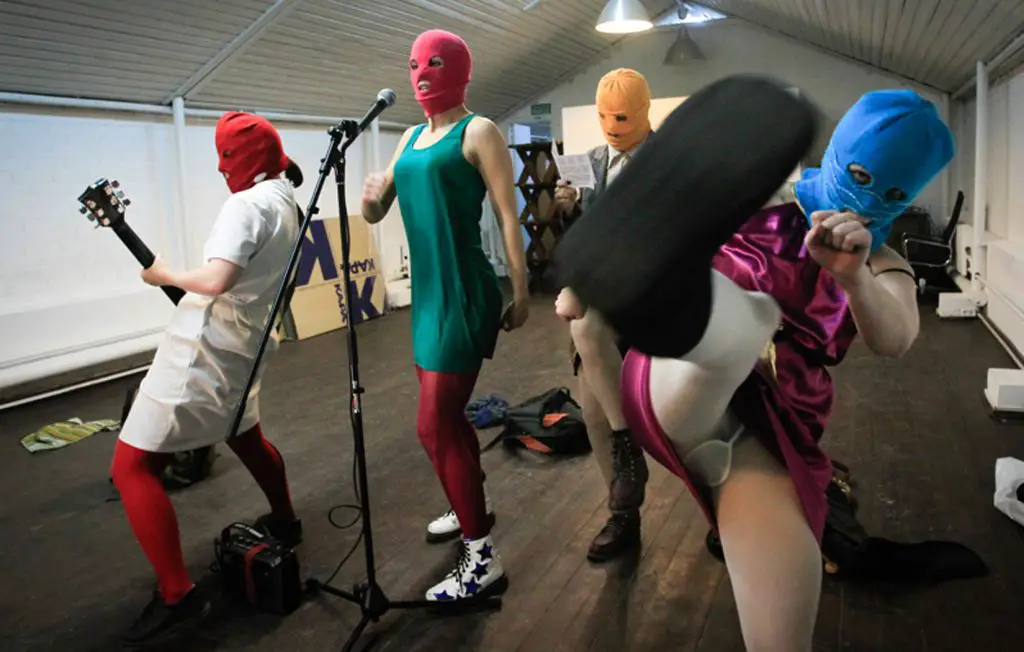 Clad in colorful ski masks during most performances, Pussy Riot projects an image of anonymity on behalf of the queer community to single out social injustices as they occur. Even American politics are not out of their reach, as songs like "I Can't Breathe" evoke the last words of Eric Garner, a black man that died at the hands of New York City Police officers in 2014. Their song and music video condemn state-sanctioned violence and police brutality through a symbolic burial of members in Russian riot police uniforms.
Participating in Pride rallies and parades throughout Russia and the world, Pussy Riot has been a symbol of radical queer protest since their inception. Going so far as to ride atop a Russian missile in Toronto's Gay Pride parade that resembles the male penis, Pussy Riot dubbed it their "Pussy Riot Queer Rocket," to protest "the hundreds of dickish politicians like Putin, who stand only for destruction and war," according to member Nadya Tolokonnikova in a column for "Vice."
The combination of music, visual performance, political protest and attempted engagement with political leaders in Russia and beyond make Pussy Riot a formidable queer organization like no other.
Queer Literature
As one of the earliest forms of queer artistic expression, queer literature is as prolific as any other genre of literature. In fact, many of our most revered and lauded authors and writers identify themselves as queer even if not directly reflected in their work.
Classic queer author Virginia Woolf, most famous for "A Room of One's Own," penned many books in which her characters did not fit neatly into traditional perceptions of sex and gender in works like "Orlando." Other novels, such as "Mrs. Dalloway," explore a revolutionary way of thinking about platonic and romantic relationships between women as opposed to male-female relationships.
American playwright, novelist and essayist James Baldwin was a queer black man that explored the intricacies of intersectional discrimination that he and others faced in the twentieth century. Eventually leaving for Paris to escape much of the discrimination and focus on his writing, Baldwin turned out novels like "Giovanni's Room" that depicted romantic and sexual relationships between black men, even predating the Civil Rights movements.
Another queer black writer, Audre Lorde is iconic for her feminist and lesbian activism. In her poetry she condemned the social injustice of racial, gender, sexual orientation and class discrimination in America, channeling her rage into poetic collections such as "From a Land Where Other People Live" and "Coal." Throughout her career and life, Lorde struggled with her identity as a black lesbian woman in a society that oppressed each of those identities, but never stopped working to end those injustices until her death, like many artists.
Queer art is fluid and transformative, much like the people that create it. As generations continue to reshape their ideas of personal identities and what it means to be queer, the music, literature, performance and fine art of the queer community will undoubtedly reshape with it. One thing that will remain constant, however, is that art will always be an outlet for queer people to escape to, realize themselves in and share with the wider world.