Stats, Threes and LeBron
Who will take home the Larry O'Brien trophy this year? Probably exactly who you expect.
By Yoni Yardeni, Pierce College
---
When it comes to NBA basketball, you can count on only a few constants.
For instance, over the last six years, it has become clear that the favorite team in the Eastern Conference is whichever one LeBron plays for.
You can also rest easy knowing that, with or without Kevin Durant, the Warriors will be ready for the playoffs; Gregg Popovich will have his well-oiled San Antonio machine ready to go and that Russell Westbrook and James Harden will perform the unperformable to keep their squads in the running.
Outside of those givens though, predictions about professional basketball run the gamut. Who will suffer a critical torn meniscus? Which vocal enforcer will lose key games to a technical foul? Which eight-seed will prove to be the kryptonite of a one-seed? Only time will tell.
In the meantime, here are my predictions for the NBA playoffs.
Western Conference Quarter Finals
(1) Golden State Warriors vs. (8) Denver Nuggets: Warriors win 4-0
I was thinking of being generous enough to give the Mile High City's versatile, young group just one win against the most flawless team in the league, but I'm too positive that they have no chance whatsoever.
Kevin Durant may not be back in time for the series, but Steph & Co. shouldn't be too worried about that.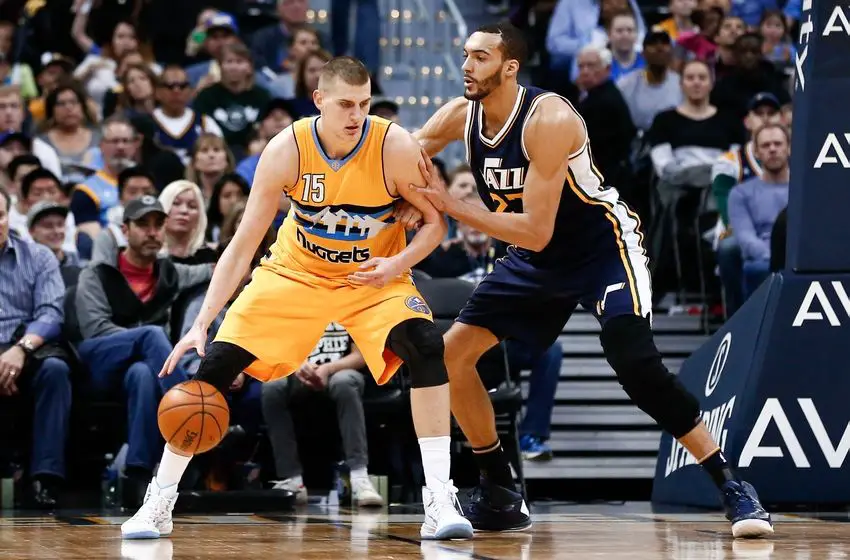 (2) San Antonio Spurs vs. (7) Memphis Grizzlies: Spurs win 4-2
Why is it that the Grizzlies always play either the Spurs, Thunder or Clippers at some point in pretty much every year of the playoffs since 2011? I don't know the answer to that, but I do know that their ability to string together postseason appearances stops this year.
(3) Houston Rockets vs. (6) Oklahoma City Thunder: Thunder win 4-2
Two of the most talented individuals in the basketball world going head to head? Please, I repeat, please, sign me up. The storylines in this matchup are the stuff of critically acclaimed novels and film adaptations.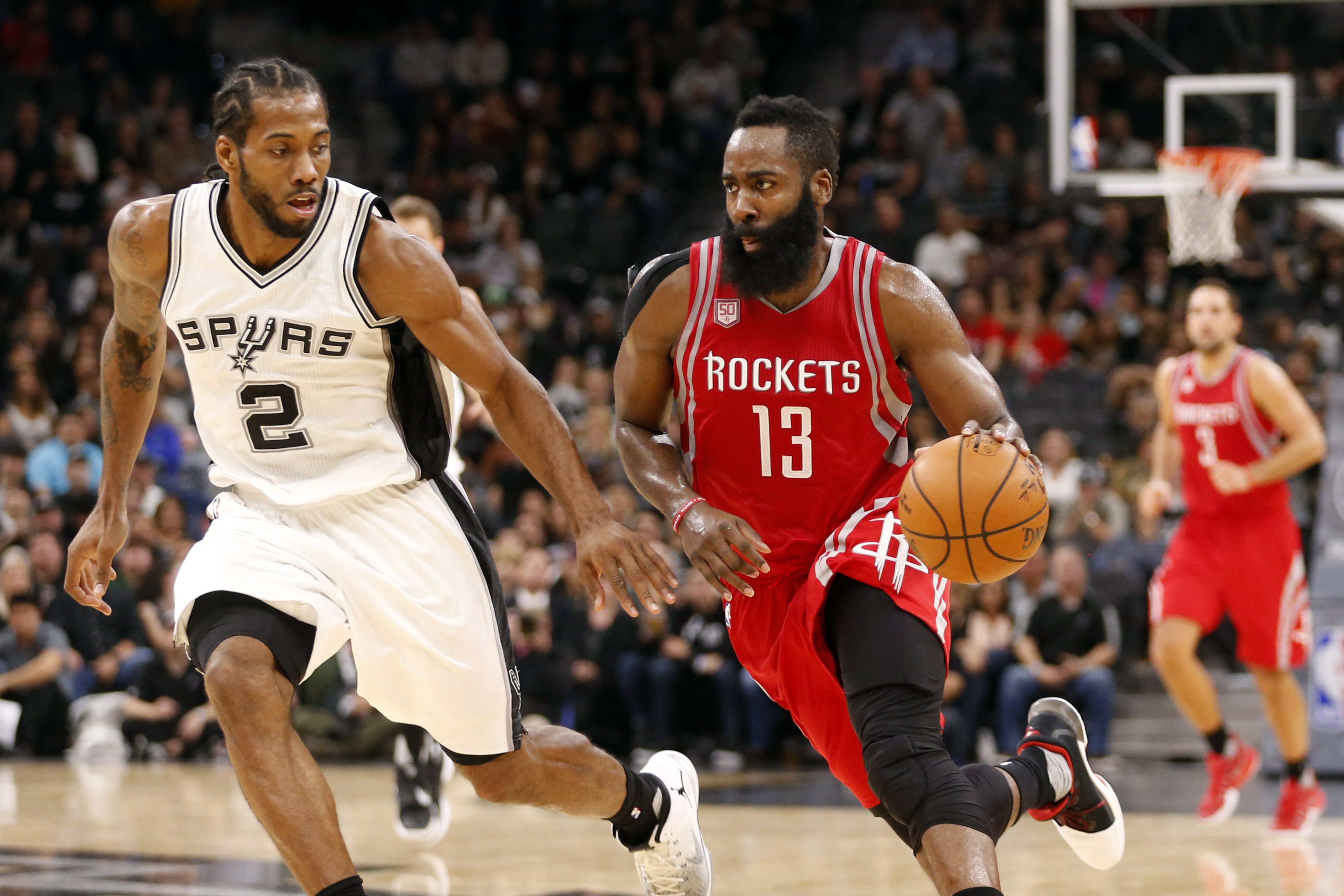 Russell Westbrook and James Harden, a former pair of Thunder teammates, are currently neck and neck for the league MVP honors, and it goes without saying that this series will play a titanic role in how that race goes down.
(4) Los Angeles Clippers vs. (5) Utah Jazz: Clippers win 4-3
Coming into the start of this season, I'd predicted the Jazz to be fifth in the West, and it's pretty crazy that I got that right, considering that I had the Rockets and Grizzlies both missing the playoffs this year.
Being a Laker die-hard, I always hate to admit when I expect the Clippers to win even one game, let alone a seven-game series as competitive and gritty as this one is going to be. Still, they'll do it.
Eastern Conference Quarter Finals
(1) Cleveland Cavaliers vs. (8) Miami Heat: Cavaliers win 4-0
Well, this is eerily familiar. Although it would've been a thousand times more meaningful and most certainly a million times more entertaining if Dwayne Wade and Chris Bosh were involved, LeBron James will still be playing a playoff series in American Airlines Arena for the first time since the 2014 Finals.
On top of that, I also expect LeBron James to make a fool out of the Miami Heat. Be honest, did you expect Dion Waiters to push this series anywhere past four games? On to the next for the champs.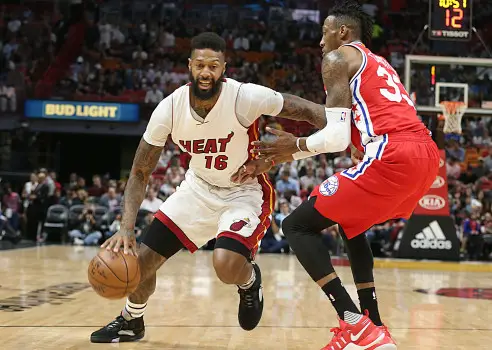 (2) Boston Celtics vs. (7) Chicago Bulls: Celtics win 4-1
Whoever thought constructing this Bulls team was a good idea for any point past the first week-and-a-half of the season was sorely mistaken.
I love Dwyane Wade as much as the next guy, and I also think Jimmy Butler is arguably second to none when it comes to the league's premier two-way players, but they have nowhere near what it takes to compete with a squad as stacked as Thomas, Horford and the Celtics.
(3) Washington Wizards vs. (6) Indiana Pacers: Wizards win 4-1
Following the Wizards' bleak start to the season, there were talks of dismantling the team's core and shipping out Bradley Beal or Marcin Gortat. Well, good news: John Wall has carried Washington to new heights, as the team has exceeded any and all expectations.
Following this series and the gradual collapse of the Pacers franchise, I'll be more than happy to welcome star swingman Paul George to LakerLand.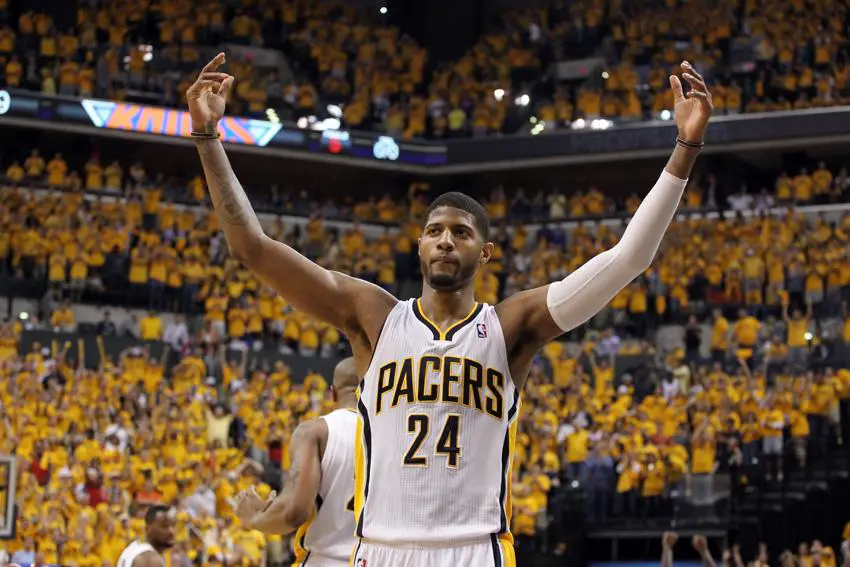 (4) Toronto Raptors vs. (5) Atlanta Hawks: Raptors win 4-2
Though "the new Michael Jordan" talk vanished in no time, the comparison never really worked for DeMar DeRozan. Still, the Raptors' shooting guard is one of the league's purest scorers, and has shown that he's capable of much more than just mid-range jumpers.
On the other side of the court, the Hawks have remained a constant playoff threat since the long-gone era of Joe Johnson and Josh Smith. Milsap, Howard, Schroder and their role guys will certainly be able to push it to six, but it'll stop there.
Western Conference Semifinals
(1) Golden State Warriors vs. (4) Los Angeles Clippers: Warriors win 4-1
The problem here is that I hate both of these teams with a passion, so I have a hard time imagining either winning.
Still, even though the rivalry between the two teams has been reignited due to the Draymond Green-Paul Pierce feud, no amount of fiery enthusiasm could spare the Clippers their warranted fate, and the Warriors will have no problem ridding the playoffs of this waste of a franchise.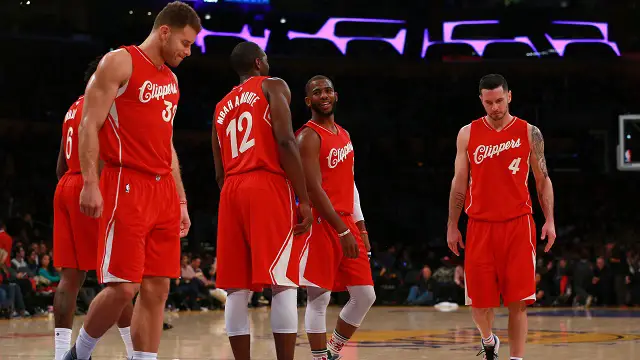 (2) San Antonio Spurs vs. (6) Oklahoma City Thunder: Spurs win 4-2
The matchup between the Spurs and the Thunder was the widely predicted pairing of last year's semis, and it was on this stage that KD and Russ shocked the world one last time. Unfortunately for Westbrook, though he is my pick for this season's league MVP, his partner in crime is gone, and he alone can only do so much.
The fact I have Russ carrying the Thunder to the second round is something that most people would vote against, but my faith in Westbrook and his intensity make him a hard man to doubt. He and his band of valiant warriors will fall to the calculated machine of Pop and Kawhi "The Claw" Leonard.
Eastern Conference Semifinals
(1) Cleveland Cavaliers vs. (4) Toronto Raptors: Cavaliers win 4-2
A conference finals rematch in the second round always calls for some excitement, especially considering the Raptors' new additions of defensive specialist Serge Ibaka and on-ball stopper P.J Tucker. Although it may be a more difficult battle for the Cavs compared to their late May matchup last year, I expect the same result.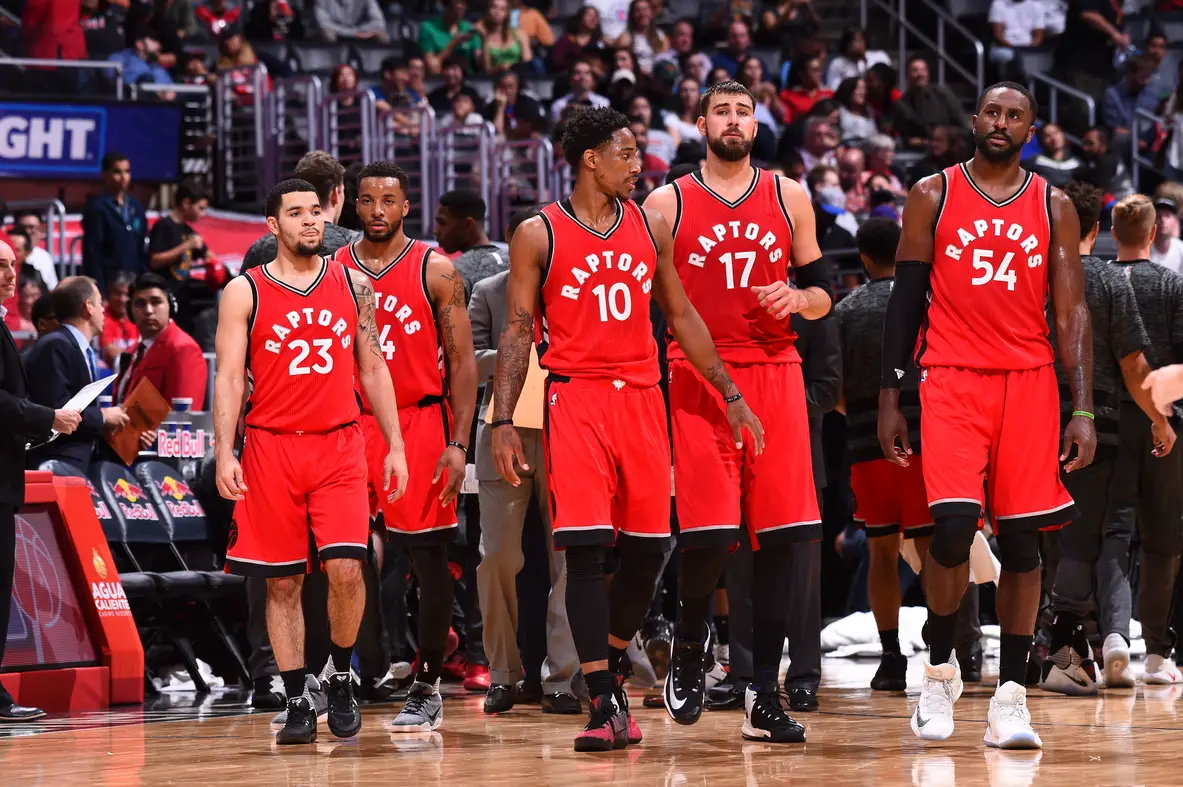 (2) Boston Celtics vs. (3) Washington Wizards: Celtics win 4-3
This is the series I'm most looking forward to. John Wall and Isaiah Thomas are arguably the two best guards in the East, and to have the chance to watch them fight it out for seven games is going to be a hell of a show.
Bradley Beal has officially broken out as a star, while guys like Otto Porter and Avery Bradley have made a name for themselves more than ever before. When it comes down to a Game 7, home-court always provides the momentum, which is why I have Boston taking this one.
Western Conference Finals
(1) Golden State Warriors vs. (2) San Antonio Spurs: Warriors win 4-3
It all comes down to a healthy Durant when discussing a series with this much magnitude, but I decided to give the superstar forward the benefit of the doubt.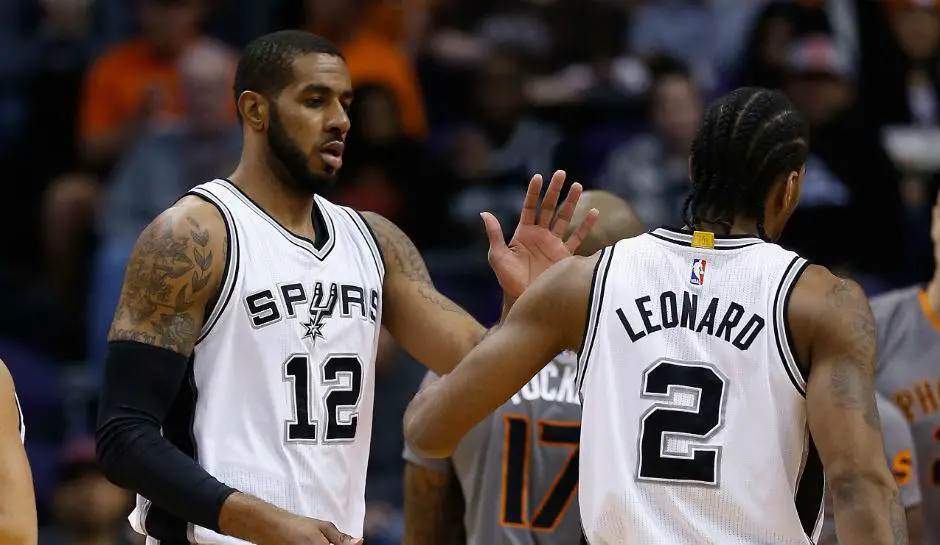 This was the consensus choice for last year's Western Finals, but now we get to enjoy the sequel a year later, this time with a couple pieces removed, as well as several others added. In one of the most strikingly efficient series' the league has had in years, the Warriors make their way back to the championship.
Eastern Conference Finals
(1) Cleveland Cavaliers vs. (2) Boston Celtics: Cavaliers win 4-2
I don't think anyone would have predicted a rematch of the 2008 Eastern Conference Finals, but here we are. Isaiah Thomas has proved himself to be a star on some of the biggest stages in this league, and continues to entertain with his huge scoring ability and tiny frame.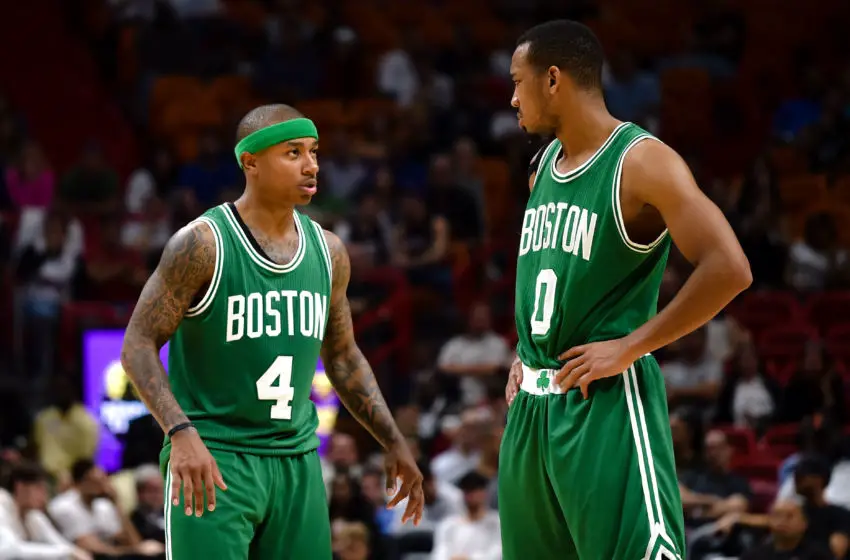 Though Boston has a talented team, I can't go against the Cavs. The Celtics have a big offseason to look forward to, and this is definitely not the last we'll be hearing from them.
NBA Championship
(1W) Golden State Warriors vs. (1E) Cleveland Cavaliers: Cavaliers win 4-2
Yes, they do it again.
LeBron James has redeemed himself so hard that those seven ring-less years don't even get joked about anymore. Kyrie Irving suddenly went from a young guard without a postseason appearance to a two-time NBA champion.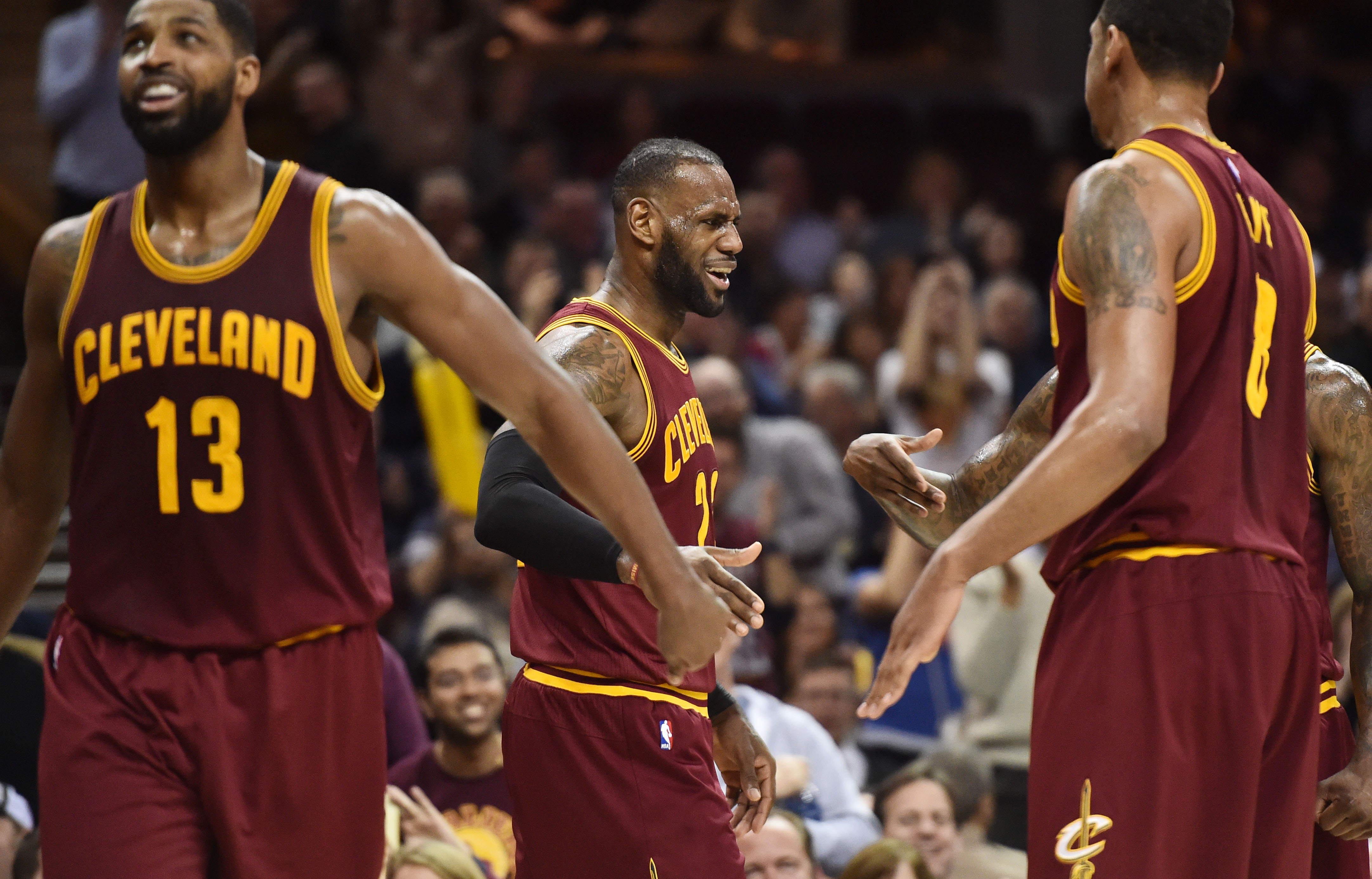 Though the Warriors have found themselves in a two-year drought, it isn't one I expect to last very long. In the meantime, I expect LeBron to be only one title away from having a handful of hardware once late June comes around.