In a dingy apartment in Harlem, New York, during the spring of 2016, Two Feet rose to stardom overnight. Twenty-three-year-old Bill Dess had some drinks, wrote and recorded "Go F— Yourself" and uploaded it to his SoundCloud at 3 a.m. before getting some sleep.
When he woke up, "Go F— Yourself" had over 10,000 plays. By the end of the day, producers were filling up his inbox wanting to sign him to a record label.
Two years later, the R&B/alt-pop/electronic blues musician just released the first part to his first full-length album, "A Twenty Something F—." Dess has always been transparent with his fans and is honest with them about every aspect of his life. Some days, he tells them funny stories about his day, and other days he gets "real" with them about his struggles in the music industry or with his mental health.
Musicians always trying to post happy/positive social media dribble. If ur actually sad why don't u tell your fans. Maybe that way some kid out there who follows u who's depressed won't feel so alone and like a freak because "he's sad but everyone else's happy." Everyone gets sad

— Two Feet (@TwoFeetMusic) July 7, 2018
Earlier this year, Dess was misdiagnosed with schizophrenia and began taking antipsychotics. As it became more difficult to tour and perform live, the more he shared his experiences with his fans. His fans responded positively, expressing their love and support for the artist.
In a statement following his hospitalization, Dess recounts, in detail, the events that transpired during his suicide attempt, and shares that he was accurately diagnosed with bipolar disorder.
"Mental illnesses are strange phenomenon," Dess wrote on Facebook. "Unlike diabetes or cancers where one can isolate and identify the cause of the problem, there are no definitive markers other than the person's behavior. And even a person's behavior can be difficult to decode by professional therapists, friends, or loved ones."
"A Twenty Something F—" serves as an honest, emotional glimpse into the mind of Dess, a pioneer in this new genre he's creating himself.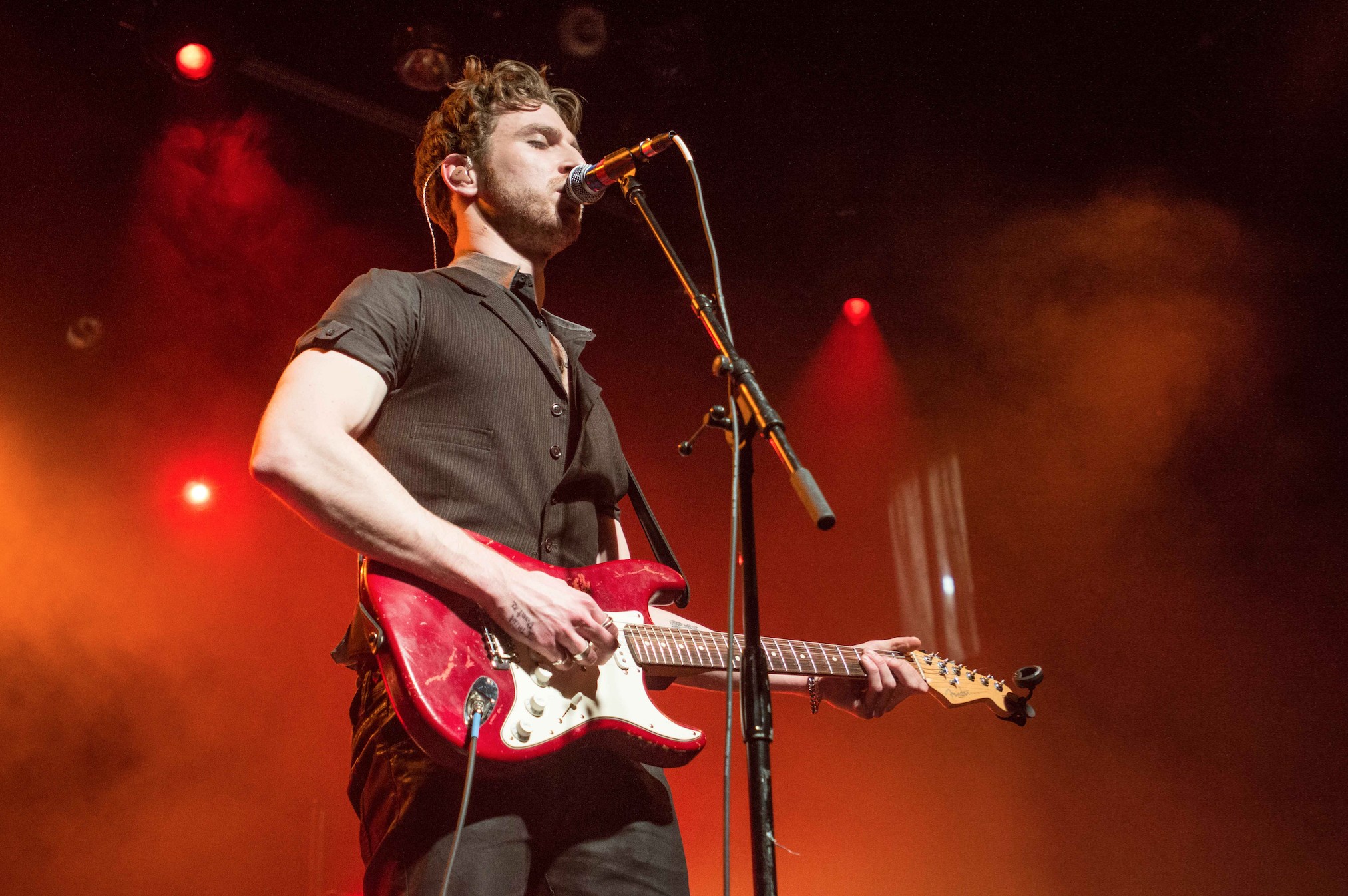 The album starts with a minute-long voicemail from an ex-girlfriend explaining that it would be better if the two of them no longer tried to fix things between them. In the background, an emotional, bluesy piano line adds to the melancholy tone of the introduction, which flows perfectly into the second track.
"You Say" reflects upon Dess's time playing in jazz and blues bands. The Berklee College of Music dropout relies on his bluesy riffs and deep, electronic bass to carry the simple message of the song: "I think I'm crazy now. You said I'm crazy now. I know you can sleep around. Been draggin' you on the ground." Especially with his first EP, "First Steps," Dess focused heavily on his beats and let the simplicity of his lyrics, often only a couple of repeated lines, speak for themselves.
The next track, "I Feel Like I'm Drowning," was released early as a single and reached No. 1 on Billboard's Alternative Charts — it also received airplay on alternative radio stations across the nation (I know my local alternative station played it when it was fresh). For those of you who fell in love with Two Feet for "Go F— Yourself," the track shares similar bass drops and electronic elements. Really taking off with his songwriting and the depth behind his lyrics, Dess wrote this as a diss track to whomever hurt him, blaming them for suffocating him and tying him down.
As an interlude to the album, "Felt Like Playing Guitar and Not Singing" is exactly that — Dess playing guitar and not singing. Described as a song he wanted to open his concerts with that would slowly build, the guitar is riffs sound exactly like the improvisational lines Dess does in concert. I can clearly picture his closed-eyed, concentrated face he has in concert while playing this track.
clearly really feelin myself in this one pic.twitter.com/CNPYp2irJT

— Two Feet (@TwoFeetMusic) March 29, 2018
"Hurt People" feat. Madison Love was also released ahead of the album, and Dess explained on Twitter that this was a deeply personal track. "Pop music needs to change and affect people," he tweeted. "I tried to make something with meaning instead of about sex. That's my personal soul. Do u know how hard it is to say shit like that to millions of people u don't know. The industry will fight it. Listen to it"
The overall motif of this track is that hurt people hurt people. This is an example of Dess pointing out his own faults and being honest about the pain he was experiencing. It includes lines like "I got burns on my wrists, but that helps keep me focused. Heroin missed its chance, I'm here unbroken" and "Killing myself, lately that's been my mission. Know I'll explode like it's nuclear fission." Shortly after the song's initial release, Dess posted his since-deleted suicide note on Twitter.
Next up is "Not a Radio Song," which begins with a Louis Armstrong-esque ostinato before jumping into a Two Feet-version of a pop song. He once tweeted that he tries to make pop music but it comes out sounding "f—-ed up." This song epitomizes that effed-up pop sound.
"Back of my Mind" is a song that Dess says he doesn't even remember writing, and had no intentions of releasing until some friends talked him into it. Another effed-up pop song, Dess beautifully sings that this ex-girlfriend, the central theme of the album, is still in the back of his mind, even through all the conflicting emotions about her that the other songs display.
The album concludes with "Same Old Song (S.O.S. Part One)." Opening with dark, dramatic chords, the song slowly builds into powerful but hesitant beats. Like the title says, this is only part one, and it leaves the listener anticipating the second part of the album, set to release in 2019.
Two Feet is the artist we need, especially in the social media era of people constantly posting the "best versions" of themselves online. He is raw and honest, and talks about how his experience in therapy, and how, at one point, he was too embarrassed to reach out. While Two Feet plays into his sexy persona, he also laughs with us about ordinary mishaps, and he will always retweet his adoring fans.
Don't just take my word for how awesome Two Feet is — listen to "A Twenty Something F—" for yourself!