In February 2017, the world was introduced to Superorganism, a London based supergroup, from behind a veil of complete anonymity. After the band released its first hit, "Something For Your M.I.N.D.," the song, and masterminds behind it, went viral. The internet has been ablaze with Superorganism's distinct whale logo ever since.
The group consists of eight members: lead vocalist Orono Noguchi, Harry, Emily, Tucan, Robert Strange and vocalists Ruby, B and Soul. Though most of the musicians and vocalists hail from different parts of the world, the band currently cohabitates in a house that doubles as their studio in London.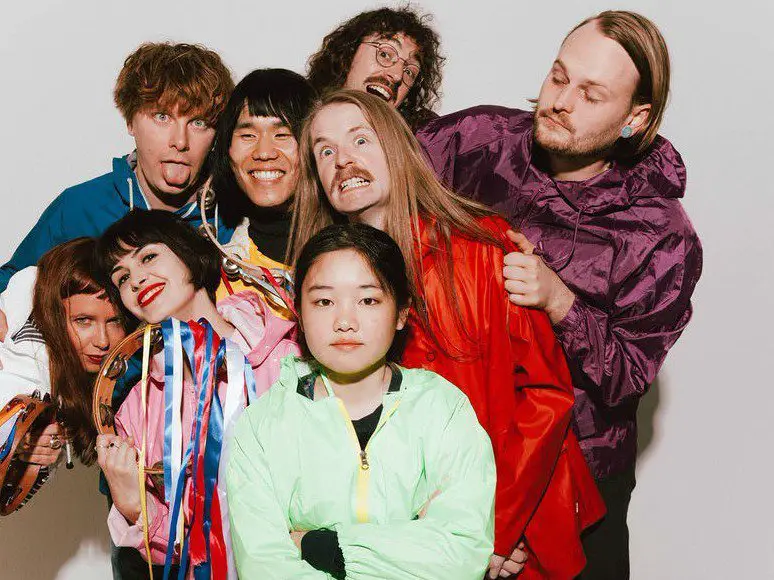 The band is unique in its living situation and its origins: the original unification of Superorganism is all thanks to the internet. Like the hip-hop boyband Brockhampton, a majority of the Superorganism group members met each other on internet forums, a testament to the bonding power of message boards.
In particular, three of the band's members initially connected with each other via Facebook. Now-lead singer Noguchi attended a performance of Harry and Emily's former band as a fan. After friending and communicating with Noguchi on Facebook following their initial meeting, Harry and Emily asked Noguchi, who was 17 at the time, to try her hand at lyricism.
What resulted was the track that eventually became the group's breakout hit, "Something For Your M.I.N.D." Upon its release, Harry and Emily weren't even on the same continent as Noguchi.
As is evident in "Something For Your M.I.N.D." and many of the group's other songs, Superorganism's music exists in a league of its own due to Noguchi's clever lyricism. Superorganism's songs are a compilation of quirky yet resonant lyrics intermixed with seemingly miscellaneous sound bytes, in which Noguchi is able to so accurately portray adolescent, existential confusion.
Contrary to the impression they may give on a first listen, those aforementioned random verbal interludes actually hold a lot of meaning. For example, in the track "It's All Good" from the band's titular debut album, motivational speaker Anthony Robbins speaks about "the strategies and techniques" that lead to a positive lifestyle.
Noguchi's's lyrics then mimic Robbins' sentiment by translating his grandiosity into phrases palatable from a teenage perspective. When "the world is too heavy," she reminds herself that she can "turn it all around if [she] want[s]."
In many of Superorganism's songs, Noguchi openly describes her experiences through the lens of a young adult who grew up on the internet. For instance, in the band's song "Night Time," she sets cyberspace as her lyrical landscape, singing that her Internet "router is a candle," igniting her "slim innocence." The youngest band member contemplates her maturation in computational terms; it's an authentically millennial account of the human experience.
Instead of trying to steer clear of the supposed artificiality of the internet, Superorganism leans into it. Through Noguchi's lyrics and the web-based production design of its shows, Superorganism recognizes that a majority of today's societal connections function via the Internet.
However, this reality does have some drawbacks. Because the band is so web-based, Superorganism members felt some anxiety about their live shows. I was lucky enough to attend the band's recent show in Portland, Oregon, and I can testify to the fact that the band's one-of-a-kind character translates well onto a live stage. The concert was a spectacle of colors, lights, sounds and bizarre visuals.
From the outset, each of the group's three vocalists carried small, lit globes and appeared in colorful rain jackets. All the other members of Superorganism then congregated onstage clad in glitter.
With all the visual and audio stimulation throughout the show, Superorganism created their signature internet-based atmosphere. Standing in the audience felt like stepping right into the World Wide Web, with each song connecting to other modes of expression projected on-screen behind the band.
The band opened the show with its titular theme song, distinctly titled "Sprorgnsm." In doing so, Superorganism was cleverly breaking the fourth wall. Rather than introduce themselves to the audience verbally or play a song prior to addressing the room, they greeted the audience musically.
Their sincere attitudes set a fascinating precedent for the rest of their show: there was no barrier between Superorganism's virtual reality act and the individuals playing music. In this way, the band is extraordinary because they take their own whimsy very seriously.
The rest of the night consisted of Superorganism's greatest hits accompanied by intricate graphics and an interesting cover of Miley Cyrus's "Party in the USA" by Noguchi. Songs were separated by spoken interludes paired with the band's visuals. As was to be expected, the band embraced the internet in its live show. In doing so, it was able to create an environment that replicated specifically modern authenticity present in its music.
There's a refreshing innocence to the group. During live performances, each of the band's enthusiastic vocalists wholeheartedly dance with abandon while singing along with Noguchi. As if that weren't fun and engaging enough, during the group's Tiny Desk Concert with the National Public Radio (NPR), they made sure to decorate the set with inflatable whales — a nod to their logo.
Because Superorganism's music and live performances include so much of the internet's multimedia landscape, the group is able to realistically celebrate modern-day human existence. In this way, Superorganism has 21st century-style fun by so sincerely engaging with computational themes and internet meme-culture. Put simply, Superorganism appears to be having a fabulous time while sharing their music with the world. Correspondingly, that positive attitude translates to all those who listen to the band.