Do any of you remember "More Life"? The Drake mixtape released under the moniker of a playlist where he dropped 22 songs talking about how he yearns for peace, quiet and rest?
Awesome. Here are 25 new ones.
Do you remember, again, last year, when Drake said he would give us "The Summary" in 2018?
Nice. Here are two different summaries because, in the modern age of streaming, why not?
"Scorpion" is Drake's fifth album, his third straight project with at least 20 tracks, his 10th body of music overall and seemingly the biggest detail of them all: his first double album. Although you could argue that all of his projects since "If You're Reading This" have some filler tracks, this is the only time that we hear fillers from two different sides; to quote the man himself, "What a time this is, to be alive for this shit!"
Before I go any further, yes, "Nice For What" is definitely the best "singing-song" on the album, and "I'm Upset" is undoubtedly the worst song of Drake's illustrious discography — unless you want to include "God's Plan" in that discussion. Yeah, I said that shit, what's up?
Also, let's be real here: He had no choice BUT to address the whole child thing on this album, making what was allegedly meant to be a surprise, one ultimately spoiled a month early by way of Pusha T's ruthless follow-up diss "The Story of Adidon," into a motif scattered throughout "Scorpion."
And so, it has to be said, in light of the revelation of his fatherhood, Drake's most fucked-up lyric by default now is, "I only love my bed and mama, I'm sorry." What about, I don't know, your child?! "My bed and Adonis"? So yeah, fuck "God's Plan."
About four and a half years ago, a different form of Drake was among us mortals. A warmer, softer, childless and, for all intents and purposes, far superior Drake. In an interview promoting his 2013 gem "Nothing Was the Same," he sat down and discussed his writing process, how he goes back to his unfinished verses and things of that nature.
A quote that stuck with me, and honestly set my high standard for Drake was, "If only I can put a gun bar in there … you know, it's such an easy scapegoat. But I can't rap about that, you've got to understand. When I'm finishing these albums, there's a lot of things that are off limits to me. And it's not because someone told me they're off limits."
Pretty reasonable, right? And when you look back at any of his material from that era along with whatever content released before hand, he certainly wasn't lying.
It's too bad that the first two minutes and 30 seconds into the first disc of "Scorpion," he starts to rap about how he's "a wig splitter," "a gravedigger," "King Slime Drizzy" (what?) and a handful of cringe-worthy lines that he spews on "Nonstop," the Tay Keith collaboration and follow-up to a subpar introduction song.
On "Survival," Drake claims that he's been waiting on this, but he manages to show a ridiculous lack of energy. Disregarding a couple of articulate entendres ("Niggas gamblin' with they life for some content / That's the type of lottery that will get your top picked"), it surely lacks the theatrics of the orthodox Drake introduction. Reminiscent of "Tuscan Leather" in the sense that he keeps addressing the fact that this is the intro, this is one song that I definitely wish lasted longer.
Although it is one of the LP's more obnoxiously forced cuts, it happens to be one of about 10 in which he genuinely sounds inspired. Another standout track is "8 Out of 10," a song oh-so reminiscent of the beloved "Thank Me Later" era that sends shots down the block from his Hidden Hills estate; ya know, right around where Kanye West lives ("Too rich for who, y'all just got rich again / Who grips the mic and likes to kill they friends?"). Alongside Boi-1da's symphonic production, which Drake routinely bodies, it's one that surely passes the ear test.
Wait, did I mention "Scorpion" is a double album? How sick, dope and cool is that? We are finally going to get both sides of Drake! We're going to have even more Instagram captions for the summer! Tight.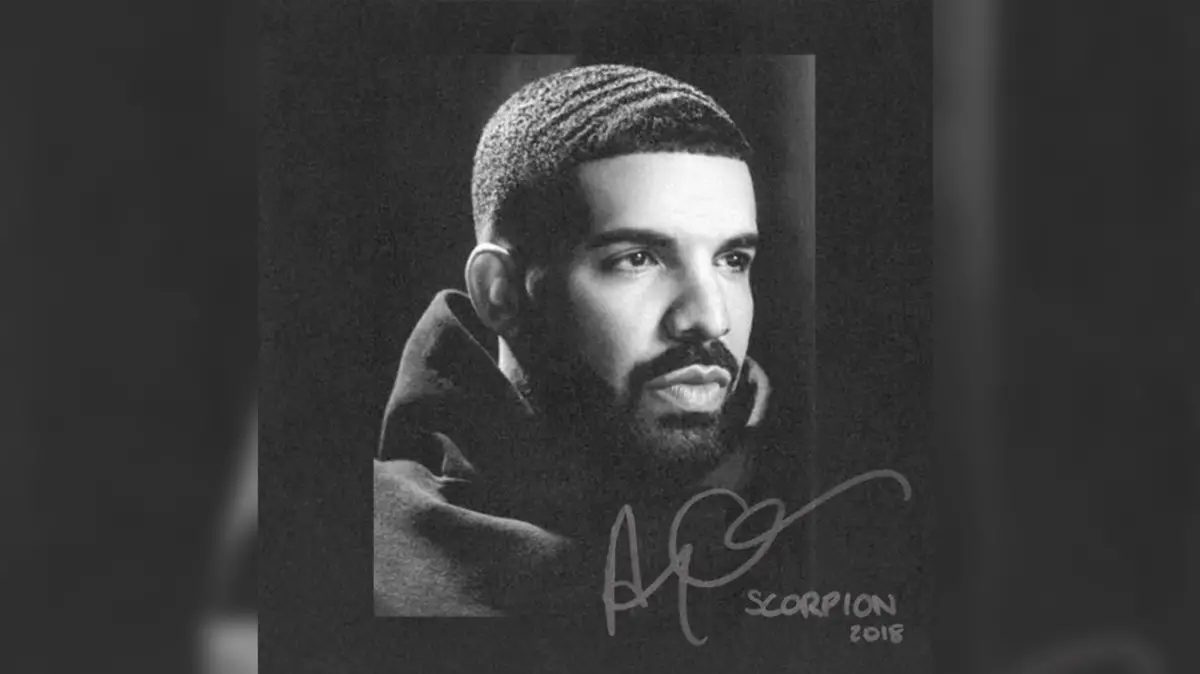 The B-Side of "Scorpion" plays host to a dozen sultry, Drake croon anthems and pop singles. In "Peak," a cloudy, synth-heavy track, he displays his affection for British women ("Treat you like Princess / Rest in heaven, Diana") and in "That's How You Feel," he pens an ode to a girl who doesn't share mutual feelings with the guy ("Signing me up to do your dirty work / Workin' to get try to get you off my mind").
These two, along with "In My Feelings," are a few of the standouts that the B-side side offers. And thanks to the Nicki Minaj and Weezy samples, the Young Money ties remain strong, with or without a legitimate feature.
But of course, there's no way the introspective outro wasn't going to revolve around the fact that this dude had a child that nobody knew about.
On "March 14th," he addresses it in full, and it is the most genuinely engaging moment of the album by a longshot. He talks about the contradiction in his former songs ("I used to challenge my parents on every album / Now I'm embarrassed to tell 'em I ended up as a co-parent / Always promised the family unit / I wanted it to be different because I've been through it").
And when he announced the child's birth month, it even made me smile ("October baby, for irony's sake, of course") because some shit like that is truly way too coincidental to hold no weight.
On one of the more wistful songs on this lengthy double LP, Drake glistens on "Emotionless." The subject matter is strong with this one, as he delves in to his tenure in the game and sheds some knowledge for the people who spend too much time on their phones (himself included).
He recollects his days as a mere Lil Wayne protegé ("I can't even capture the feeling I had at first / Meetin' all my heroes like seein' how magic works") and slanders a girl he knows for treating her Instagram like a showcase ("I know a girl that saves pictures from places she's flown / To post later and make it look like she's still on the go").
So this is where we stand in terms of how Drake is attempting to forcibly change his public persona. And that doesn't even include his overly gentrified rendition of patois, his gargantuan leap into the pop realm and how he consistently manages to remind fans of how tired he is, whether he's saying so himself or making a show of his fatigue for the fans. Do I hate "Scorpion"? No way! Do I love the album? Oh, absolutely not!
So I don't know where to stand beside the dead center. I hate to say it, nearly as much as he probably hates to hear it, but I still miss the old Drake.