The first half of 2018 has been an exciting year for music with the abundance of new releases from some of the industry's biggest stars, including Drake and Demi Lovato, who both wowed fans and critics with intimately honest tracks, such as Lovato's "Sober."
Additionally, there have been monumental comebacks from artists who had left fans craving new music for years, such as Florence + the Machine and Christina Aguilera, whose resurgent albums came with immense heart and vulnerability.
While the Carters' "Apeshit" and other prodigious hits are taking over chart numbers and streaming sites, artists are contributing their music in far more ways than just their own album projects.
Here are three artists who are devoting their musical talent to non-album projects.
1. Lana Del Rey
Lana Del Rey released her last album, "Lust for Life," in 2017. The album included collaborations with music phenomenons Sean Ono-Lennon, Stevie Nicks and The Weekend, and took fans by storm by highlighting some of the music maturity that made her shine back in 2011, when her single "Video Games" went viral.
Aside from her impressive string of albums and correlating awards including Grammy nominations, Rey has delved into non-album projects, including contributing to a variety of film soundtracks, such as Tim Burton's "Big Eyes" and most famously, "The Great Gatsby."
Rey has openly discussed her inspiration and adoration for legendary rock singer Elvis Presley. She mentions Presley in the opening line of her song "Body Electric," where she refers to the "Hound Dog" singer as her "daddy," paying homage to the path Presley paved for future artists.
Rey wrote an unreleased song about the king of rock and roll in 2008 when she was still using the stage name Sparkle Jump Rope Queen. While her name and music style has since changed, her passion for Presley remains.
Earlier this year, a promotional poster for a movie based on the life of Presley called "The King," revealed Rey would be lending her seemingly forgotten single, "Elvis," to the film. As of now, it seems that the original recording of the song that the "Summertime Sadness" singer mindlessly uploaded to her Myspace page 10 years ago will hit the big screens.
2. Sir Elton John
At age 71, many people, regardless of their profession, are ready to settle down and enjoy retirement. Enjoying the simpler things in life has never been the style of the iconic musician Sir Elton John. Even though, about a year ago, John surprisingly announced that his current tour, "Farewell Yellow Brick Road," would be his last that doesn't mean the best-selling artist is finished contributing his musical genius elsewhere.
The best-selling English singer and composer just recently came off his "Revamp" and "Restoration" album projects where contemporary artists of different genres provided their take on John's most beloved hits, including "Mona Lisas and Madhatters" and "Your Song." Both albums were well-received and included renowned performing artists, such as Lady Gaga and Miley Cyrus.
Given John's success from his own albums, as well as his contributions to soundtracks, most notably with the 1994 Disney classic "The Lion King," his talent continues to radiate within the music industry. His latest work in non-album projects includes his recent recruitment by Broadway lyricists.
The "I Guess That's Why They Call it the Blues" singer has reportedly been added to the production team as a contributing composer for the upcoming Broadway musical adaption of "The Devil Wears Prada" — based on the 2003 novel and subsequent film starring Stanley Tucci and Meryl Streep. No other information on the project has been released at this time, other than the ever-growing anticipation for all-new John hits.
John is also rumored to be collaborating with fellow Grammy Award winner Beyoncé for the soundtrack of the upcoming live-action remake of "The Lion King." He assures fans that some of the original songs, composed by John himself, will still be featured in the 2019 film. However, he felt there needed to be something new and exciting for the post-credits — reportedly saying Queen B was the obvious pick.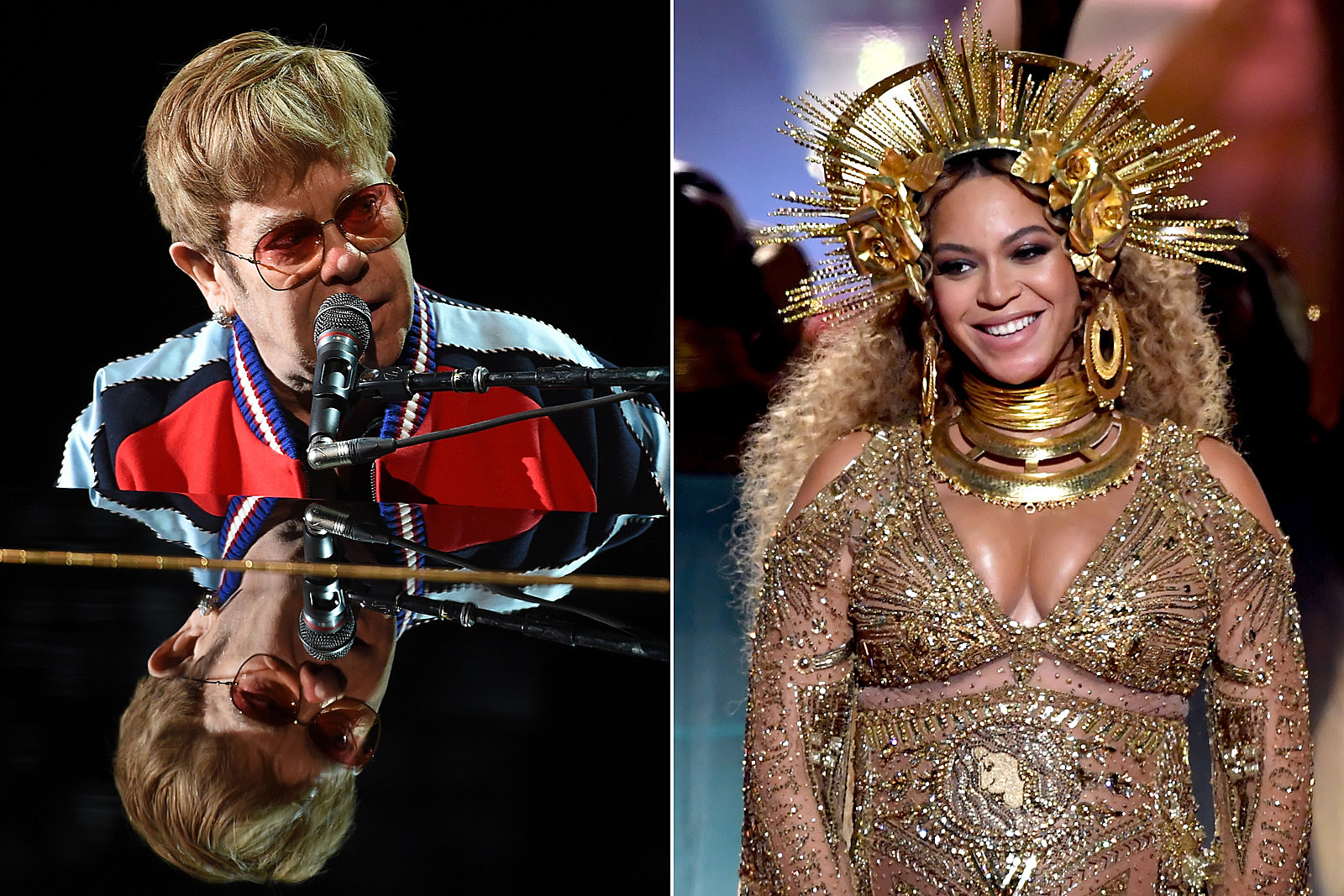 3. Lady Gaga
Lady Gaga's vocal strength and uniqueness, in addition to her past bizarre outfit choices, helped conceive the significant media and fan following she has today. The American singer-songwriter's unconventional and frankly badass songs of self-acceptance, sexuality and societal injustice caught the eye of television networks and film producers leading the star to contribute music way beyond her string of personal albums, with numerous non-album projects.
Most noteworthy, Lady Gaga created the deeply emotional and personal song "Til It Happens to You" about sexual violence for the 2015 documentary "The Hunting Ground." The song was the first of many hits to come that would expose a softer and more vulnerable side of the "Poker Face" singer, who years after the shooting created "Angel Down" in response to Trayvon Martin's murder.
With a passion for music, increasing number of television and film appearances and a refreshing understanding of society's most pressing issues, Gaga has become a phenom in mainstream media. Therefore, after several dropouts for the casting of the upcoming remake film of "A Star is Born," Lady Gaga was an obvious choice.
Gaga, alongside co-star and director Bradley Cooper, plays the role of a struggling aspiring artist named Ally. As Cooper's character, Jack, helps build Ally's career as a singer, fans were thrilled at the obvious need for Gaga performances in the rock musical film.
Since the announcement of the working remake of "A Star is Born" and a list of cast members — set to release in October — both fans and critics have been waiting for a teaser of some sort of Gaga's contributing music. At the beginning of summer "Shallow Old Ways," performed by both Cooper and Gaga was released.
As per usual, the "Joanne" singer excited listeners with her vocal power and distinctiveness, but were surprised with how well her sound complemented the attractive and raspy voice of Cooper, which ignited the anticipation for the fall debut of the 1937 remake, a film that could launch Gaga into a whole new world of non-album projects.