The romance between G-Eazy and Halsey is making waves in and out of the studio with their blatant public displays of affection, social media presence and "Him and I" song collaboration. They coined the term 2017 Bonnie and Clyde as an expression of their willingness to kill for each other and die for each other.
The two artists bring the hashtag #couplegoals to life by sharing their honest and caring relationship with fans and the media.
Couple Pictures
Their posts on social media really grabbed the attention of fans. The couple started sharing pictures of their romance on August 31, 2017, after their make-out at a performance the night before was publicized. The pictures depict their reckless adventures together, a continuation of make-out sessions and career successes.
G-Eazy and Halsey's social media gained popularity as fans are amazed with their true love in a world full of staged relationships. Everything from their photos are real moments they share with each other, captured by their friend "@donslens" and displayed across social media platforms.
Their social media preserves every ounce of their life together, their genuine smiles, candid poses, moments traveling and nights with friends. Through the pictures and videos, fans see the love that fuels their music. The couple always complements each other, but never in an overpowering voice. All the images on social media show two people perfectly blended together as one in a healthy relationship built on mutual trust and support.
Dressing the Same
G-Eazy and Halsey's relationship continues to translate into their style through typically color-coordinating outfits with similar patterns, leather jackets or shoes. Their performance at Bud Light's Dive Bar Tour featured them both wearing plaid patterns, Halsey in a red dress and G-Eazy in his pants. The collaborator's most memorable outfits were their Halloween costumes: Jay Gatsby and Daisy Buchanan from F. Scott Fitzgerald's "The Great Gatsby" for one night and Princess Leia and Han Solo from Star Wars for another.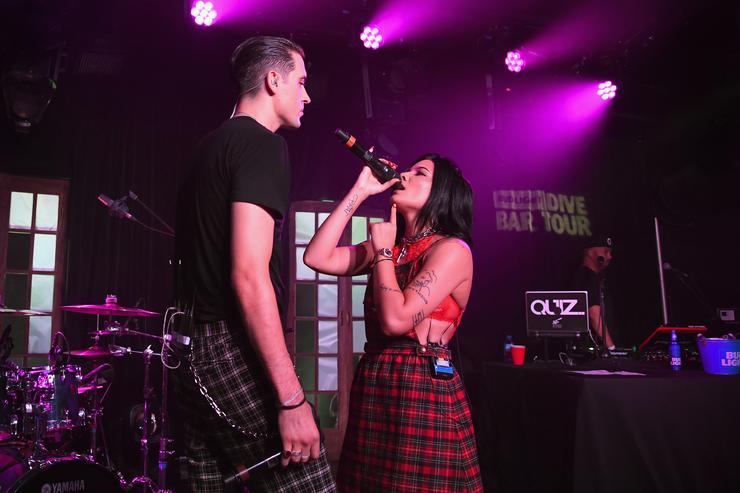 Unintentionally, their daily outfit choices seem to overlap. Fans can easily notice the same colors or the same edgy style in their clothing, which creates an even stronger impression of bonding in their couple pictures. They were seen by TMZ at the end of July sporting black and gold pieces, G-Eazy donning a jacket and Halsey in a dress. The outing was before they were established as a couple, so the matching outfit contributed to sparking discussion of possible romance between them. Their fashion has become the statement of their love
Celebrating Birthdays
Halsey debuted her tour, "Hopeless Fountain Kingdom," featuring her second studio album that peaked at number one on the Billboard 200, on her birthday, September 29. G-Eazy did not simply post pictures on her Instagram. He surprised Halsey on stage with an impromptu Happy Birthday song, which was soon joined by fans in the audience. Before the song, G-Eazy said to Halsey, "You inspire and amaze me every day. You've accomplished so much this young in life." People can find on her Instagram later that day a "little photo diary from the best birthday I ever had" with most of the pictures featuring G-Eazy from a later birthday celebration that night.
G-Eazy did succeed with his plan, as rumored, to "make sure she feels like a million bucks." Hollywood Life quotes an inside source, "He wants to make it all start a few days leading up to her birthday with various romantic gestures, like flowers and stuff like that. He's basically planning to show her how he feels for her by pampering her like crazy!" The couple has not shared G-Eazy's birthday together because his birthday is not until May 24, but the internet is in for an amazing social media post even if it is just a fraction of what happened on Halsey's.
Being Each Other's Biggest Fans
Both artists fully support each other's music career and compliment their partner's talents every chance they get. Whether it is through social media or in an interview, they are constantly reaffirming their admiration for one another. G-Eazy brags to MTV News about Halsey, "She's a really special person, a really beautiful person, a really beautiful artist and she just sounds good on everything. I'm just obsessed with her."
The couple also make sure they are always there when the other one needs help and support. Halsey was a guest performer at the Bud Light's Dive Bar Tour with G-Eazy, and he has joined her tour promoting for "Hopeless Fountain Kingdom." G-Eazy further acknowledged Halsey's skill in a Fuse Interview, "I've wanted to work with Halsey for a long time. I think she's an incredibly talented artist who has accomplished so much at such a young age. She's one of the biggest artists in the whole world. At 22 years old, that's pretty phenomenal. She killed the record. She sounds phenomenal on it. I'm excited to share that experience onstage with her live one on one because she's a great performer."
They both have built their music from hard work and can relate to each other through their experiences in the music industry. Hot 97 recorded G-Eazy saying, "As artists, it's tough to fully understand the world we live in…So, being able to relate and talk like that just as friends too…That feeling inspires you creatively."
Writing Music Together
Their recent music collaboration, "Him and I," debuted its music video on December 1, 2017, and instantly became a worldwide success due to its relatability. The song tells the story of a reckless love, "the crazy kind" that we always associate with the hustling city of New York, with lyrics that essentially say they will never cheat, lie or leave each another. G-Eazy described the song as coming from "a really genuine authentic place and I think when music comes from a place like that is when music is at its best. That is a Bonnie and Clyde song, that is a star crossed lovers song."
Halsey told 97.1 Amp Radio, "We made it out of love, which is really awesome. Getting to share that with the world is really cool because it is not a contrived thing; not two artists pretending to be something they're not for the sake of a story. We made this record about our real lives." The track is a preview of what's to come on G-Eazy's third studio album, "The Beautiful & Damned," with a double-album conveying the two different sides of his life and an Apple-exclusive short film by RCA Records that is set for release on December 15, 2017.
The album takes its name F. Scott Fitzgerald's second novel as a tribute to author the couple admires. The "Him and I" track has received amazing feedback for both the song and the relationship it embodies, with excited fans counting days to see what the two artists will release next.