Josh Earls and Dan Gallagher have been making music together for the last six years, and they aren't slowing down any time soon. Their band, Oceanline, has undergone many iterations as they've grown, gone to school and discovered new musical influences.
As the duo has pursued degrees in music production, they have evolved from a garage band into something much more serious, but through it all they've kept their love of music, their unique sound and their impressive ambition.
Oceanline is the embodiment of sixties, "summer love" rock. Their sound is buoyant and smooth, and their lyrics alternate between introspection and storytelling. They are also, considering how short of a time they've been playing together, remarkably prolific, clocking in well over 60 tracks since their inception. Their passion for songwriting and recording was obvious from the beginning.
"Freshman year of high school, I saw Dan play bass in our marching band," says Earls. "So one night I had my whole group of friends over at my place, and since I had never hung out with Dan before, I invited him over and told him to bring his bass."
As the rest of their friends watched a movie, Earls and Gallagher broke off and had a jam session that would change the trajectory of their lives. "We talked about wanting to write songs and started having some ideas," says Gallagher, "and the next day Dan came over and we recorded an entire album on my crappy computer speakers."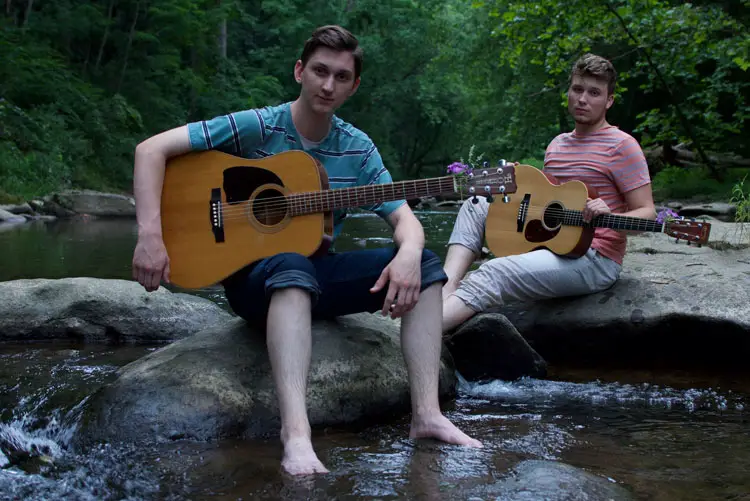 Terrible or not, the creative fire had been lit, and the two instantly sought to recruit members and gain legitimacy. It was in this process that they found their long-term drummer, Ethan Caldwell. The band initially went by the name Sullivan, and the three spent their time grinding out recording sessions, selling CDs to their classmates and performing at talent shows.
In high school, they dropped four albums, three of which made their way to iTunes and Spotify. It was in these later albums that they discovered their new lead singer, Logan Harpine. "Everyone had a crush on Logan's voice," says Gallagher. "The school chorus kept giving him solos because it was the only way people would show up."
And so, with the addition of the talented singer, and a progressively broader list of featured instrumentalists on each record, Oceanline became an Avengers-esque collection of the school's most talented musicians. Right as they began to gain notoriety in the community though, everything fell to pieces. "We realized we were going to different schools," says Gallagher, "so the plan was that Oceanline was just going to die."
Gallagher went to UMBC, Harpine went to Shenandoah Conservatory, Earls went to Stevenson University and Caldwell went to Central Wyoming College; the Avengers had disbanded. Earls, however, refused to accept their departures as the end of the band.
He sat in his room writing songs alone, week after week, with no legitimate outlet for his creativity. The most important part of his creative life had disappeared from under him. "I was writing a song or two a week at that point," he says, "and it sucked. I couldn't let Oceanline just stop like that."
After having not seen each other in months, Earls and Gallagher met up over Thanksgiving break to record a song ironically titled "Goodbye." They called Harpine, asking if he happened to be in town. As the three played, they began to see a vision for a new album, an album that would epitomize their sound and musical experiences.
They came up with an appropriate title for the project, "New Beginnings," and started working on it the following summer. However, their dream album did have an important caveat: Harpine would be leaving school and joining the Marines in October. There was now a critically small window of time for them to finish recording, turning their project into something of a race.
"I think my most moving, most important musical experience was recording that album," says Earls. "Every time we worked on it, we had all our friends over. Even our friends who weren't in the band. We'd send a message out saying, 'We're recording tonight, bring food,' and everyone would come and hang out while we recorded."
Soon, the 20-song album was finished in time for Harpine to leave. Caldwell, their drummer, also decided to leave the group due to the complications as a result of going to school so far from the other members. Faced with another pivotal moment, Earls and Gallagher did not hesitate this time to fill the holes with other talented musicians.
They began rotating drummers to find someone that fit perfectly and picked up a singer/songwriter from Hood College named Sam Lister. Where Harpine's voice had been airy and light, Lister was able to belt powerfully, allowing them to produce a much heavier, emotive, prototypical rock sound. They were also able to enlist the help of Nick Jones, a sound engineer from Shenandoah, who helped them record their most recent work, the self-titled "Oceanline." They began employing new production tricks they learned in school to see what worked and what didn't.
The revamped Oceanline began gigging more than ever, playing small music festivals and multiple events throughout Maryland. The new shift in membership solidified Earls and Gallagher as the core members of the band, the ones who would never let go of the thrill of playing and recording music. "The way I view it, " says Gallagher, "is that, as we finish college and stuff, I think that maybe the name Oceanline will go away but…Oceanline is embodied in the two of us. And I don't think we are going to stop working together for a long while."