Judy Garland's career has become such a Hollywood legend that it would be difficult to find a person who had not at least heard of her name. She was considered one of the most successful singers and actors of her age, yet her life was not all what it seemed to be. In fact, Judy Garland led a life filled with both tragedy and success.
Catapulted into stardom after her breakout role as Dorothy Gale in the film "The Wizard of Oz," which was cemented in history as the first to use Technicolor. The movie became a classic that was nominated for six Academy Awards and had won two; Garland seemed to progress towards a promising career. However, after a string of failed marriages and underwhelming performances in movies in addition to her drug problem, Garland's career took a turn for the worst.
Garland's untimely death from drug abuse has forever cast a shadow over her career. A biographical movie entitled "Judy!" is set to document her life, starring Renee Zellweger, who was caught recently looking unrecognizable on set. The hope is that Renee Zellweger can capture the spirit of Garland and bring truth into the heartbreaking story of her life.
Garland was born on June 10, 1922, to Frank and Ethel Gumm, named at birth Frances Ethel Gumm. Later in her life, she took the stage name of Judy Garland. Garland was her parents' youngest child and an unwanted one, it seemed, as her parents consulted with a doctor about terminating the pregnancy. They were dissuaded after learning of the risks of the illegal procedure of the time.
Garland grew up in Grand Rapids, Minnesota and at two, she began to make theatrical appearances. Throughout her childhood, Garland witnessed her parent's troublesome marriage as her father was rumored to be gay and it led to frequent separations. Garland, in a 1963 interview, reflected on her childhood and admitted, "The only time I felt wanted when I was a kid was when I was on stage, performing."
Garland's family later moved to California in 1926 after rumors of her father's sexuality surfaced. It was there that Garland began her career in Hollywood. Her parents were vaudevillians (a variety of entertainers from the late 1800s and early 1900s who would perform various acts together) and soon their 3 daughters, including Garland, took up their parent's profession. Garland became a part of "The Gumm Sisters" (later changed to "The Garland Sisters") and the vaudevillian act later signed a contract with MGM Studios.
Garland started starring in film roles for MGM, starting with "Every Sunday" in 1936. Unfortunately for Garland, the year prior her father had passed away, but Garland did not cave into consumed grief and instead focused on securing her career.
Prior to her breakout role in the "Wizard of Oz," Garland starred in "Pigskin of Paradise" and "Love Finds Andy Hardy." It was these early roles that helped gain her the starring role of Dorothy Gale and turned her into an overnight star in 1939. Almost every household in America knew her name.
While her career was doing extraordinarily well, Garland was struggling with an eating disorder. As she shared in an interview, "From the time I was 13, there was a constant struggle between MGM and me — whether or not to eat, how much to eat, what to eat. I remember this more vividly than anything else about my childhood."
Garland was also allegedly sexually assaulted during her time at MGM Studios and specifically during the filming of "The Wizard of Oz." The impact this had on her is unknown; however, if these allegations are true, one can only imagine the stress this placed on a girl as young as Garland.
Despite this she continued to star in many other successful films in the 1940s, such as "Meet me in Saint Louis" and "A Star is Born," the later of which earned her an Oscar nomination and won her a Golden Globe.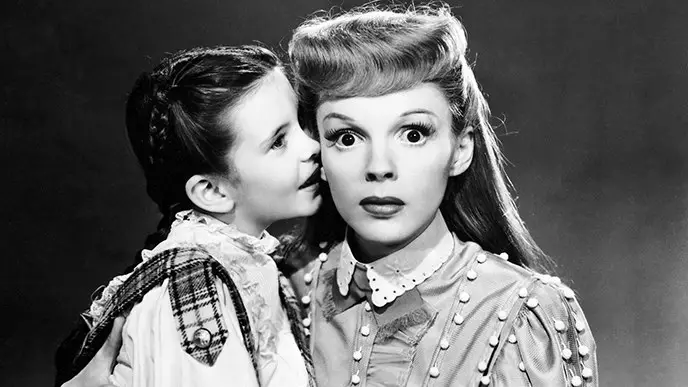 Garland's success came at a steep price. Rumor is that in order to maintain that level of intensity, Garland turned to drugs, which later developed into a drug addiction and eventually cost her the Hollywood career.
Garland also experienced four failed marriages during her lifetime, but found some solace in her three surviving children, Lorna, Joey and Liza. In 1950 Garland was dropped from MGM Studios due to a lack of reliability, putting a screeching halt to her once booming career.
Yet, Garland persevered and in the late 1950s and early 1960s, Garland went to rehabilitate her career, starting with singing. Her first album, "Judy at Carnegie Hall," earned Garland a Grammy for album of the year, making her the first woman to ever win this award. Around this time, Garland also received another Academy Award nomination for her role in "Judgement at Nuremberg."
In 1963 she starred in her own television show, entitled "The Judy Garland Show." As all the awards and recognitions show, years of abuse and hardships did little to mar her talent.
The pressures of her career, early childhood and experiences at MGM still haunted her; she was forever plagued with drug and alcohol addictions. After her show was cancelled in 1964, Garland had a brief stint on Broadway in 1967; however, by 1969 Garland was in London and in financial difficulties.
On June 22, 1969, Garland suffered from an overdose and died shortly after, only ten days after she turned 47. Her young death put a tragic end to one of the brightest stars of her generation. Had the studios not forced such a harsh schedule on her and demanded so much, her life might have been very different. Instead, the high demands of maintaining her fame cut her life short and cast a shadowed on her career ever since.
Though her life ended, young Garland's movies are still considered classics to many Americans. Every year people gather to watch her portrayal of Dorothy Gale, and Hollywood is honoring her life by with a biographical movie. Garland's memory lived on in her three children, all of whom went into the show business. Her two daughters even followed her footsteps of singing to build upon their mother's legacy.