'Girlboss' Gaffe
A little more Nasty Gal and a little less Sophia Marlowe would've gone a long way in making the new series more engaging.
By Jasmin Suknanan, Stony Brook University
---
How will your life look at twenty-three?
In Netflix's original series "Girlboss," Sophia Marlowe's life is basically the epitome of your parents' darkest nightmares. Sophia is a bold, strident young woman who can't keep a proper job, because of her tendency to not give a rat's rear end about her irreverence toward her bosses. From willfully eating her boss' sandwich for lunch to flipping off a trolley full of tourists, she's the badass that every millennial woman has on the inside.
Sophia realizes that she has a knack for reselling vintage clothing items, so she starts an eBay shop called Nasty Gal in the hopes of becoming a big-shot entrepreneur with enough bank to avoid dumpster-diving for a loaf of bread, and to show her father that she is doing well for herself.
The show is based off of the life of Sophia Amoruso, a female entrepreneur who began a real-life online vintage clothing shop called, you guessed it, Nasty Gal.
If you spend much of your time browsing online for dresses, jumpsuits and other pieces of female apparel, you may have noticed Nasty Gal ads, displaying dresses with sexy slits and alluring cut-outs, popping up in the sidebar of the webpages you visit. Yep, we're talking about that same Nasty Gal here.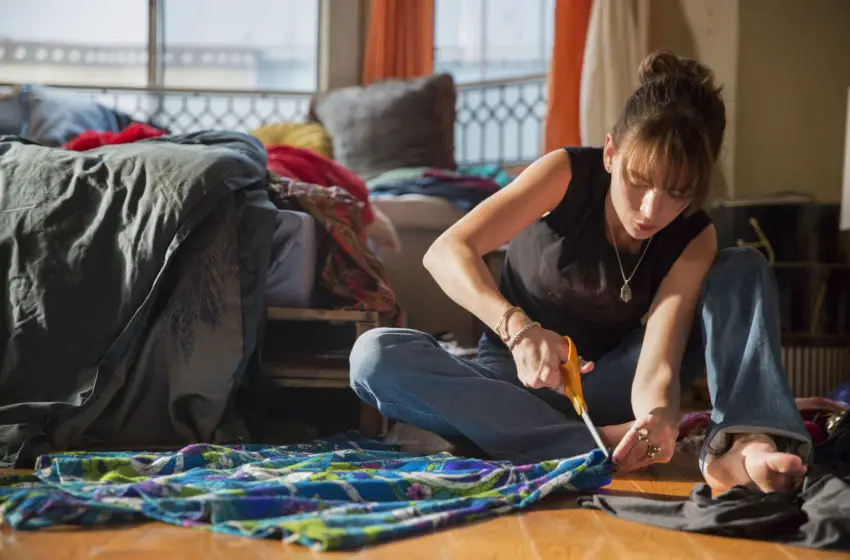 Nasty Gal was reported as one of the fastest-growing retail shops after its launch in 2006. Two years later, in 2008, the company's worth was $223,000, and it jumped to $23 million in 2011. Near the end of the show's first season, a scene depicts Sophia Marlowe celebrating her shop completely selling out on day one of its launch with the friends she's gained over the course of the season.
The series' thirteen episodes aim to illustrate the classic rags-to-riches story and how it pertains to a modern-day businesswoman. Today, a light of encouragement such as this one is important for millennial women, who may be holding themselves back from reaching their true potential. Sophia Marlowe teaches viewers to pursue an idea no matter how crazy it seems, and no matter how many odds are stacked against you. One of my favorite anonymous quotes growing up was, "In life, it is your responsibility to get what you want."
I was always a self-motivated goal-digger, chasing that fantasy in the clouds, so, naturally, when I heard that "Girlboss" was released on Netflix, the story of a woman's tough journey to entrepreneurship piqued my interest. Episode one opens with a scene of a beat-up red car driving down the streets of San Francisco. Its driver, Sophia, portrayed by Britt Robertson, jams out to the car radio until her car runs out of gas and slowly comes to a halt.
Her attitude during the situation makes it seem like she's used to the scenario. Despite several cars and a trolley honking behind her and suggesting she move, she waves them around and raises a finger. I'll let you guess which one. From the first few minutes of the show, it's clear that viewers are about to experience the life of a real badass who doesn't give a shit about what the people around her say. But, maybe that's where the series kind of went wrong.
Over the course of the thirteen episodes, viewers are taken on a journey through Sophia's romantic life, which, at one point, hits a bump in the road because she lacks the ability to be considerate toward her partner and her professional life. It becomes obvious that she's the kind of person who doesn't take kindly to being the subordinate of any man or woman.
I felt that, while these ups and downs helped show why the character decided to start her own business on eBay selling vintage clothing, at times, her attitude was, well, a lot. I became easily irritated with her "fuck you" attitude, especially during scenes where her pigheadedness caused her to fight with her best friend Annie. I'll give a high-five to my fellow females who can artfully string together a line of foul digs, but I often found myself thinking, "When is she going to shut the fuck up?"
The first season became more about showing how Sophia Marlowe's bad attitude affected her personal relationships and less about the details of her journey in creating Nasty Gal. I know, I know, that's what documentaries are for, but I felt that the character's personality overshadowed any successes.
Marlowe's business issues were resolved too quickly, which didn't sit well with me, considering the show is supposed to be renewed for a second season. However, a little gem of an article from "Inverse Entertainment" provides some insight into what facts from Sophia Amoruso's life should be included in season two of "Girlboss," and I think, now, I'm honestly excited.
"Inverse" suggested that the next season depict how Sophia Marlowe struggled with managing people in her company, just as the real Sophia Amoruso had. She was accused of firing pregnant employees, and many reviews from employees at Nasty Gal discussed the dishonesty of the company's higher-ups.
Despite my impatience with the show, if the producers were to include such suggestions, I would be onboard for season two. Yes, no, maybe so? I give season one of "Girlboss" a hard maybe.