Girl Meets Ratings
After the show's recent cancellation, many were left wondering what 'Girl Meets World' did wrong.
By Patrick Murtha, Eastern Connecticut State University
---
On September 24, 1993, a television show titled "Boy Meets World" debuted on ABC.
The show followed a young boy named Cory Matthews, played by Ben Savage, as he learned lessons through his everyday life. Through seven years, and seven seasons, viewers saw Cory, his friends, and his family grow up. "Boy Meets World" was unique from other family shows of its time, as it tackled difficult topics such as death, sexuality and domestic abuse, and the delicate way that the show handled these topics set it apart from its entertainment peers.  Once the show ended on May 5, 2000, fans were left wanting more from the "Boy Meets World" story, and wondered if they would ever hear from the Matthews family again.
Fourteen years later, it was announced that "Girl Meets World," a spin-off of "Boy Meets World," would be coming to Disney Channel. The news was met with massive support, and avid fans of the boy-version show were excited to see if their favorite characters would be returning to the new series. As it turned out, the spin-off would be based on Cory Matthews' daughter, Riley, as she followed a similar path through her teenaged years. "Girl Meets World" included cameos from the cast of "Boy Meets World," but allowed the show to mainly be about Riley and her friends.
Initially, "Girl Meets World" was met with mixed reviews, as some viewers were satisfied with the show's attempt to separate itself from its predecessor, while still including references and characters from the original.  In its first two seasons, the series received two Emmy nominations in the category of Outstanding Children's Program. On the other hand, the show also received its fair share of flak from people who believed the project was overly sentimental and awkward at times.
While "Girl Meets World" absolutely did have moments that came across as being emotional in order to make the episode's lesson make sense, it is not fair to pretend that "Boy Meets World" did not also have the same moments. As an adult, it's easy to look at a show that is aimed for a child audience and criticize the complexity of its plot and character development, but at some point, perspective needs to be taken into account. "Girl Meets World" was not designed to entertain everyone right away, just as "Boy Meets World" was not designed to appeal to adults initially.  However, the main difference between the spin-off and the original is not found in what was included in both shows, but in how much more time "Boy Meets World" was given to develop and grow.
One of the major strengths of "Boy Meets World," was the evolution that the show underwent as its main characters grew older.  It allowed for the show to naturally shift its target audience to an older demographic, as the viewers who watched as children were quite literally growing up with the characters on the show.  This created an innate connection between the viewers and the cast, as the lessons that Cory Matthews learned remained applicable to the core audience throughout the series.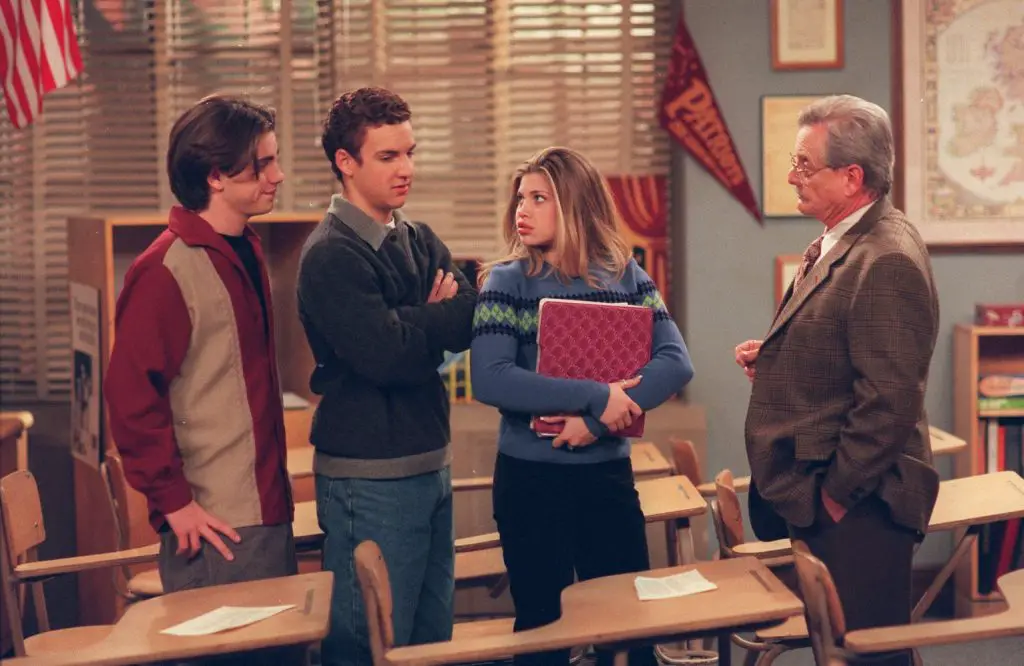 If "Boy Meets World" ended after its third season, it's hard to believe that it would be remembered with even a shred of the reverence that it is today.  Instead, it was given the freedom to experience the growing pains that come with any "coming-of-age" story. "Boy Meets World" was also able to include much more controversial topics in its program, in comparison to modern children's shows. The episodes that touch on difficult subject matter are what made the series so compelling, yet many of them did not begin appearing until after the third season of the show.
One of the scenes from "Boy Meets World" that stands out as an example of the show's ability to portray visceral reactions to realistic situations was when Cory's father had to pick up Cory and his best friend, Shawn, from the police station after they had been caught underage-drinking.  His father's reaction is real, and it made sense for him to react as he did, as getting arrested was so unlike Cory. The entire scene displays so much depth in each character, and there is a lot to be found in each character's expressions, as well as their words.
However, "Girl Meets World" was not incapable of capturing moments similar to the scene with Cory's father. In one episode, Riley's best friend, Maya, writes a letter to her father that had abandoned her at a young age, with the hope that she could forgive him. What she learns is that she cannot forgive him; instead, she learns about herself, and finally realizes that it was not her fault that her father abandoned her. If anything, scenes like this one prove that "Girl Meets World" had the potential to capture the emotion that "Boy Meets World" did.  If the show was given the proper amount of time to grow, then it could have relied more on the new characters, as opposed to relying on nostalgia in order to garner a reaction.
Perhaps the most frustrating part about cancellation was that the show being moved to Netflix as an exclusive program, which made sense for more than one reason, but both sides could not make a deal to continue the show. First, every episode of "Girl Meets World" is already available on Netflix, so it's not as if it was impossible for the show to become a mainstay of the subscription based service. Second, a move to Netflix would have freed the show from conforming to any of Disney Channel's restrictions, which would have allowed the show to naturally progress into one for young-adults, as "Boy Meets World" did after its third season.  The most successful moments of the show came when absurdity took a backseat to reality, even if those moments were few and far between.
Whether or not "Girl Meets World" would have ever been as good as "Boy Meets World" is irrelevant. Without question, the show received negative feedback from those who were hoping for a more focused continuation of "Boy Meets World," and it is understandable that not everyone will enjoy a television show, but it's unfair to ignore what "Girl Meets World" was able to accomplish on its own.
The short-series was critically acclaimed, and had a large fanbase that tuned-in every week to watch it. For the people who wrote the new show off because it was "cringeworthy," go back and watch the first three seasons of "Boy Meets World," and actually consider how similar the two shows actually were. Consider how limited "Girl Meets World" was with what it was able to include, as Disney Channel is not as willing to put out controversial content as it used to be.  During a time when there are less and less television programs based around morality, "Girl Meets World" set a good example for children who are growing up in an increasingly negative world.