Traveling Safely and Singly
Seeing the world unaccompanied is easier and more feasible than ever, provided you keep a few things in mind.
By Isabella Waldron, Scripps College
---
Imagine for a moment that you are snorkeling between tectonic plates in Iceland, or maybe you are making your way to Machu Picchu in the middle of a dusty summer day.
Now, imagine you are completely alone.
For many young women, solo traveling is becoming more and more enticing. Traveling alone means that your trip is tailored exactly to how you want it. Gone are the days of family visits to the barbed wire museum you hated, or the terrible beach club on your best friend's bucket list. However, traveling alone as a woman can also seem daunting. Is it safe to travel completely alone? Is it fun? Is it worth it?
Well, I would argue that the answer is yes, provided you take some precautions. Traveling by yourself can be an incredibly empowering, freeing experience. Not only does solo travel allow you to do whatever you want, it teaches you a new level of independence.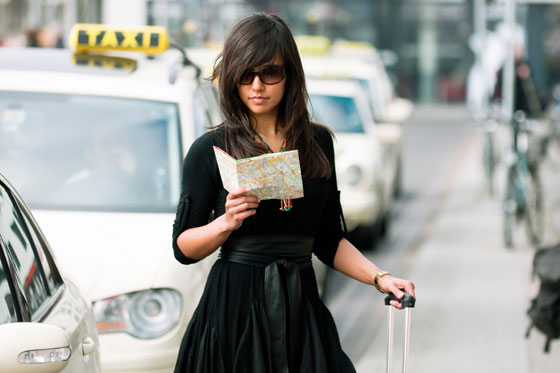 If being in college has made you more independent, imagine what it would take to figure out an entirely new place by yourself with no structured agenda, classes or roommate to get you started. Hard? Yes. Impactful? For sure. Solo travel forces you out of your comfort zone to meet new people and discover what is meaningful to you.
Staying at hostels is a relatively cheap and super helpful option for making connections. Most hostels host events like dinners, pub crawls and city tours that allow you to meet other travelers. One of my closest friends went to Portugal in the fall on a solo trip, stayed in a hostel without knowing a soul, and found four amazing friends that she could explore Lisbon with, or see at the end of a long day of solo adventuring.
On the other hand, solo travel doesn't have to be just about making new friends. Traveling alone can also be a time to spend with just yourself, to relax and explore who you are. Taking time to find a new park bench in the city where you can read, or climbing a mountain with your own gear is a refreshing, important part of solo travel. The best part of female solo travel is having complete autonomy to do what makes you happy.
Traveling alone will also allow you to discover your own strengths (after some setbacks, probably). Not everything will go smoothly. All the flights you might miss and plans that fall through will only teach you to be resourceful. Cultivating flexibility and knowing you can pull through a hard situation are hard skills to master, but solo travelling speeds up the process.
Another of my best friends was in Scandinavia WWOOFing last summer, and remembers the experience fondly.
"I was able to cultivate a strong sense of self confidence from being alone and independent," she says. "I traveled to different countries by train or by plane. I'd go out at night by myself, eat alone, explore cities by myself. This helped build a sense of security in navigating different situations and countries where I didn't know or speak the language.
"I understand not everyone has the opportunity to travel, so I feel really lucky that I had the experience. It helped me realize my self-worth."
The empowerment that solo travel brings does not negate the caution that female travelers must have. Unfortunately, young women have to be cautious when traveling because, frankly, the world is just less safe for women.
Just to be clear, the "dangers" that women solo traveling face are the same ones that they would be facing in any city at home.
Still, it is important to protect yourself. So, what are some guidelines for safely travelling alone?
For starters, let people know your itinerary. Leave your family with copies of your passport, and tell them which cities you will be traveling to. Also, keep your eyes open, and be aware of your surroundings. Although "trust your gut" may be a cliché, it's valuable advice, and can potentially save you a lot of stress.
When I was in Barcelona this summer, I was getting ice cream at night, and set my phone on the table. Pretty soon, a man came over a little too close, and started gesturing wildly, pointing in the distance. His left hand was coming perilously close to my phone. So, I casually grabbed my phone, and moved inside where the kindest (and most handsome) ice cream-scooper was, and continued to eat my ice cream without worrying about the fate of my phone.
Another tip that may seem obvious is don't behave like a buffoon. Keep your voice at a normal level, check a map in a private place, try to appear calm, cool and collected (to be fair, I'm not sure I've ever mastered looking like one of those, let alone all three. Still try). Keep your valuables safe, with some cash in your bra or shoe, and your passport locked up safe and sound.
By using your best judgment to protect yourself, and by stepping outside your comfort zone to explore a new environment, you will gain an invaluable experience. Not to mention, you won't have to share that massive pizza you order at midnight with a single soul.