AMC Will Never Let 'The Walking Dead' Die
A look at AMC's new zombie drama that takes us back to the very beginning.
By Jacoby Bancroft, University of Nevada at Reno
---
When AMC's "Fear the Walking Dead" was first announced, it seemed easy to wave it off as a cheap cash-grab.
Its parent show, "The Walking Dead," is an unstoppable ratings juggernaut, one that continues to smash and obliterate ratings records. How big is the show? Let me put it this way: if a zombie apocalypse actually happened, amidst all the mass hysteria and brain-munching, people would still take time out of their Sunday evenings to watch "The Walking Dead." Its immense popularity made it a no-brainer for AMC to try to capitalize and expand on their massive hit, but how to approach it?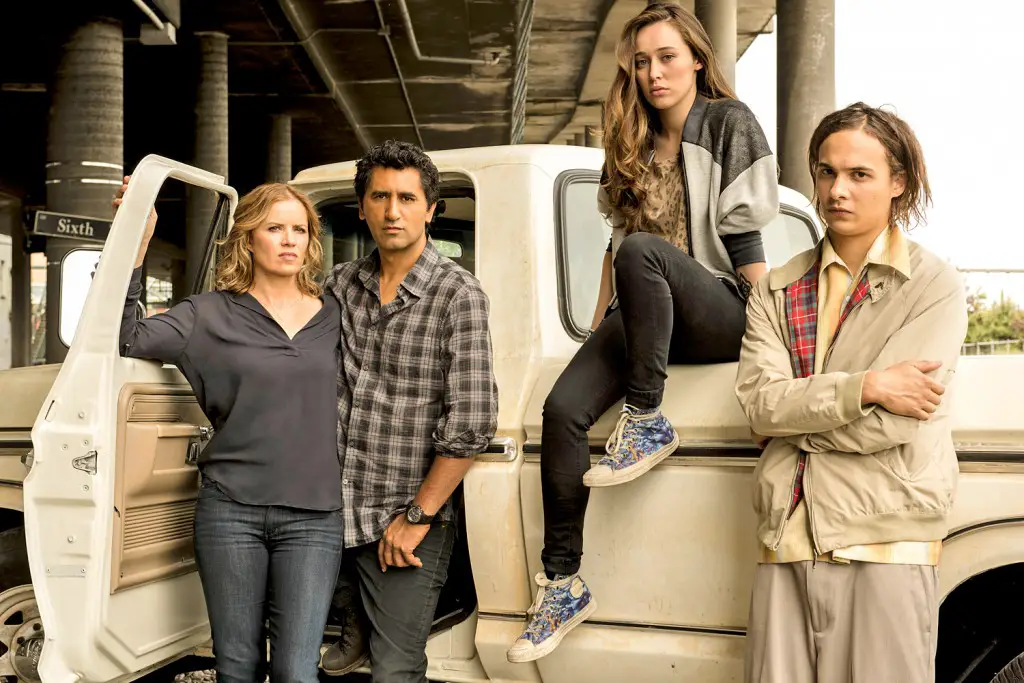 "The Walking Dead" follows Rick Grimes and his not-so-merry band of travelers as they wander through the miserable, apocalyptic Georgia wasteland. No matter how many times they kill off a fan-favorite character, or an episode gets bogged down by stilted dialogue and overgeneralized philosophical ramblings, its viewership continues to grow.
It must have been tempting for AMC to stick with a proven formula and do the same thing, except set in California or something. But instead, the network decided to set their new show before the events of "The Walking Dead," making it a much-hyped prequel series.
In the original show (and the comic the show is based on), Rick experienced an accident and spent weeks in a coma, waking to find the world around him had crumbled. Now, "Fear the Walking Dead" is examining the poor response society had to the zombie outbreak that lead to the destruction of civilization.
It's an interesting and effective model, filling in the gaps of the story that we've never seen before, though it does highlight the key problem any prequel deals with: how do you make an interesting story if the audience already knows the outcome?
In "FTWD," we know that mankind is doomed.
We know the zombies eventually win and spend the rest of their days feasting on the small surviving remnants of the living.
There will be no cure that is discovered, no safe haven for the characters to spend the rest of their lives, no happy ending. The characters on the original show have learned to accept this, and their realist approach to the world they now live in has endeared them to us. Now with the prequel series, we've been introduced to a flock of new zombie-chow humans who have no idea how doomed they are. It's incredibly difficult to make a compelling narrative by following characters when we already know what will happen, but "FTWD" is trying its hardest to keep things engaging.
For starters, the show is trying much harder than "TWD" did to make the lead characters seem like actual human beings with real problems. Two episodes of "FTWD" have aired (to record ratings might I add), and given what we've seen, it's clear the show stresses family drama first and zombie apocalypse second.
The show boasts two excellent leads in Kim Dickens and Cliff Curtis. They play Madison Clark and Travis Manawa respectively, a new couple dealing with an interesting family situation. Madison has two stereotypical children, the drugged-out rebel son Nick (Frank Dillane) and the over-achieving daughter Alicia (Alycia Debnam-Carey), while Travis has an ex-wife named Lisa (Elizabeth Rodriguez) and a son Chris (Lorenzo James Henrie) who wants nothing to do with his father. The real standout is Dillane's Nick, whose struggle with drug addiction and withdrawal seems to be one of the most important storylines the show will cover.
Those types of stories give "The Walking Dead" brand a much-needed jolt of creativity.
When's the last time anyone on the parent show struggled for anything that wasn't basic survival?
By having Nick struggle with drug addiction or showing Chris slowly learn to respect his father, the show is trying to build drama that isn't just awesome zombie action.
To be fair, awesome zombie action is essential for a show like this, and even though we haven't gotten a memorable zombie slaying yet, the show continues to build up the right amount of ominous dread that's sure to lead to an epic zombie uprising.
On the other side, building up all these characters makes me wonder if the show will end up killing off any of them. The only one right now who seems expendable is Travis's ex-wife, but other than that, everybody seems like they are poised to live long, depressing lives.
We live in an age where killing off main characters is done with an alarming frequency, but I just don't see "Fear the Walking Dead" destroying the family unit they are working so hard to build up (though I was one of those people who thought the Starks would live healthy lives in "Game of Thrones" so I could be dead wrong…).
This is where "FTWD" gets a little muddled. A majority of the young adult population watches "The Walking Dead" to see intense zombie action. We don't watch this type of show to see everyone survive. If "FTWD" wants to live up to expectations, it needs to deliver on the brutality we have come to expect from the brand. "Fear the Walking Dead" is moving very slowly so far, and its pace may be wrong for an audience already immune to zombie-related deaths.
AMC is making a name for itself with prequels. Besides "FTWD," the network also has the much-acclaimed (and very, very good) "Better Call Saul," the prequel series that shows how everyone's favorite scummy lawyer from "Breaking Bad" lost his morality and turned from Jimmy McGill into Saul Goodman.
That's a show where knowing the end result makes the viewing experience more rewarding. "Better Call Saul" is a prequel series that explores how a character became someone else, but "Fear the Walking Dead" operates on a different level. It's a prequel series explaining the fall of civilization, and the biggest problem with the show is that it refuses to reveal the source of the zombie outbreak.
Not only is it a vital piece of information, but without it, so far the show feels like every other zombie apocalypse movie you've ever seen. It feels very generic and even though they are trying to build up characters, they need to handle the destruction of the world in an original way. It's not must-watch television yet, but it has potential to be a good companion piece to the original show.