On December 20, 2012, the final episode of "The Jersey Shore" aired and the spray-tanned bodies of Snookie, JWoww and DJ Pauly D went down in history as legends in New Jersey, further perpetuating the stereotypes that often haunt people who hail from the state.
Thanks to the show that gave New Jersey a relatively bad reputation, many outsiders remain firm in their beliefs that everyone goes around fist-pumping and existing only for three letters in the alphabet: GTL (gym, tan, laundry). While staying in shape, getting daily doses of vitamin D and having clean underwear in the morning are all important, I would argue that they are tasks valued by people who live out of state as well. So herein lies the main predicament: How do you convince your college friends that New Jersey is everything that it is not?
The phrases "the armpit of America" and "the dirty Jerz" get old very quickly, and rest assured that people will always come to "the Jersey girl" for advice on which level spray tan to get; however, all hope should not be lost, as there are plenty of opportunities to convince the friends you make at college that coming home with you for Thanksgiving break will actually be worth it.
As people attempt to threaten the reputation of New Jersey with stigmas of filth and odiferous, polluted landscapes, remind them that Jersey was not nicknamed "the Garden State" for nothing. In fact, it is home to miles of beaches, lakes, forests and trails that rival certain west coast views.
With an impressive number of wildlife preserves and nature trails to choose from, Wharton State Forest should be at the top of anyone's list. This site is located in the heart of the Pine Barrens, and arguably has some of the best trails in the state. Though driving down the Garden State Parkway and passing Newark Liberty Airport, along with an egregious number of industrial plants, might bias your opinion on the area, once you pass them and reach Wharton State Forest, you'll be captivated by the winterberry holly, Pine Warblers and Blue-gray Gnatcatchers.
Venturing even further down the Garden State Parkway yields unrivaled views of one hundred and thirty miles of coastline, the state's pièce de résistance. Stretching from Sandy Hook to Cape May, New Jersey harbors sandy shores and scenic ocean panoramas. With such an extensive selection of sand and ocean, people can make their way down the coastline visiting all eleven lighthouses that stand. For the tourists at heart, a boardwalk stretching nearly three miles in Wildwood offers attractions and old-fashioned family fun. And for those who love the sea more than land, Cape May offers whale and dolphin tours until the sun sets.
As the incessant question of whether the state's name is truly pronounced "New Joisey" begins to pinch a nerve, remind the outsiders that the correct pronunciation is one thing north and south Jersey can agree on. If this takes too much convincing, at least continue to offer landscape portraits to aid in squashing other illogical stereotypes, because contrary to popular belief, there are still trees standing in New Jersey.
Part of the Delaware Water Gap is geographically located in New Jersey, boasting gorgeous trails, waterfalls and countless hidden gems. Boonton Falls, Silver Spray Falls, Buttermilk Falls and Hacklebarney State Park all harbor several small cascades, each more captivating than the next. It is recommended to visit each of these sites shortly after a storm has passed when the streams are running down into the waters just below.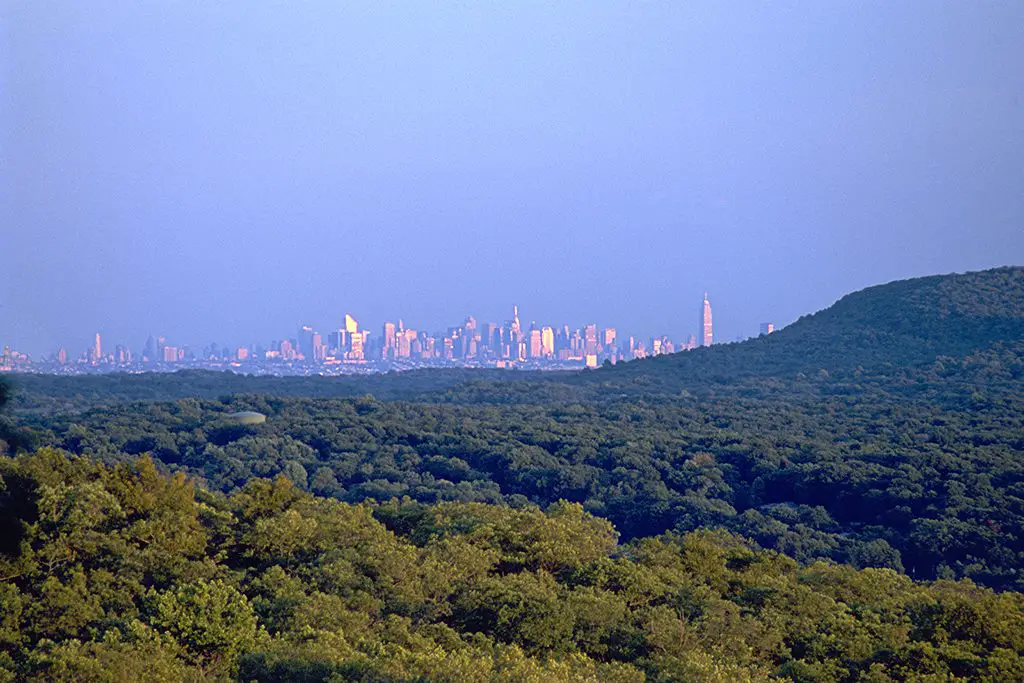 With innumerable views of a seemingly endless coastline and hiking trails that offer views of native wildlife and waterfalls, you may not need any more convincing. Of course, pink skies, golden leaves and red trees can be found in many states besides New Jersey, but there is only one state with unrivaled views of the New York City skyline. Seeing views of Manhattan, Brooklyn and the Statue of Liberty on Ellis Island can only be a tranquil experience without the city's insanity buzzing around you.
Liberty State Park offers an escape from the big city that lies just across the Hudson River. With a number of bike paths, walkways and open fields, this park offers more than most cityscapes. The patriotism and history that line the area is enough to silence those willing to categorize New Jersey as "the armpit of America" at last. A sculpture titled "Liberation," showing a U.S. soldier carrying out a survivor from a Nazi death camp, can be found at Liberty State Park. This stands alongside "Empty Sky," the official state memorial to the terrorist attacks at the World Trade Center on September 11.
With this much natural beauty coinciding with rich history, New Jersey offers a considerable amount of evidence for those defending their home state to new friends they might make at college. If all else fails and leopard prints and spray tans still hold certain stigmas, remind 'em that Bruce Springsteen, nicknamed "The Boss," is a native of New Jersey, alongside Buzz Aldrin, Judy Blume, Danny DeVito, Frank Sinatra, Whitney Houston and George R. R. Martin and Peter Dinklage—maybe even mention that the likes of Stephen Colbert, Mary J. Bilge, Jay Z and Stevie Wonder call the Garden State home, for good measure.
For more beautiful adventure spots found in New Jersey, click here.