Last week, the trailer for the sixth and final season of "Girls" was released.
Though it didn't give away much of the season's plot, it showed the favorite "Girls" characters doing classic "Girls" things: Hannah being cynical over Marnie and Desi's relationship, Shoshana "kind-of freaking out" and Elijah being his sarcastic and condescending self.
Having religiously watched the series up until this point, I'll admit the trailer made me emotional. This is the last time I'll be shocked by Jessa's free-spirited behavior and embarrassed for Hannah and her audacious life decisions. It's the last time I'll freak out over unexpected hook ups and relationships. And it's the last time I'll be inspired by this group of badass millennial women.
If you're a female in your 20s, whether you've followed the series or not, I encourage you to mark your calendars for the February 12 premiere; here's why.
It's a Realistic Depiction of "Adulting" for Twenty-Somethings
For those unfamiliar with the series, the plot is simple: A group of New York City friends in their 20s try to navigate life after college graduation, and continuously learn what it means to be an "adult." For these women, "adulthood" is filled with constant mistakes and lessons to be learned.
Characters get STIs, characters go to abortion clinics, characters are unemployed with a college degree and characters experiment with their sexuality. The series gives us an unpolished look at the life of a young woman, and provides scenarios that young audience members can relate to and sympathize with.
The show has received a huge amount of criticism for the "scandals" that it depicts and supports (abortions, sex, drugs, sexuality). But Dunham has responded to this criticism and defended her show. She stated in an interview, "People often say, 'Well would you let your daughter watch the show?' I'm like first I don't have a daughter, I have a dog. But I want to have a daughter, and I would like my daughter to see what I think is a realistic depiction of what a version of her life could be.'"
Though the negative criticism has been targeted at the show since its premiere, Dunham has stayed true to her word and continued to represent young women dealing with unconventional and controversial (yet realistic) problems. "Girls" gives modern females real characters they can relate to, and Dunham supplies current pop culture with a voice of truth that the media needs.
The Characters Are Hella Relatable
The best thing about the group of women on "Girls" is that they're all extremely different. Whether you're the bohemian traveler or the uptight mom in your friend group, you'll find a character to relate to on the show.
Jessa is the ex-drug addict alcoholic with the hipster style and free-spirited attitude that continuously traps men. Hannah is the want-to-be writer who's not the skinniest or the prettiest in the group, but perhaps the most confident and creative. Shoshana is the youngest of the crew, constantly hyperactive and over-talkative. And Marnie is the "mom," always worried, always uptight and always judgmental.
Unlike so many modern television series, the girls on "Girls" are all different shapes, sizes and personalities. They remind us that in real life, not everyone is thin, beautiful and successful at 25. They remind us that women are human and flawed, and they embrace these flaws.
Lena Dunham Is a Literal Badass
Dunham is the writer, director and lead actress in "Girls." The show is Dunham's second major production, her first being the feature film "Tiny Furniture," released in 2010. Dunham wrote, directed and acted in both "Tiny Furniture" and "Girls."
But surprisingly enough, she never went to film school or acting school, but instead graduated from Oberlin College in Oberlin, Ohio with a creative writing degree in 2008. In an interview Dunham said, "I thought I might like to act, I never got parts in school plays, and when you're little that's very discouraging… I would go in and give what I thought were these killer auditions and then I'd go to look at the cast list and I was 'friend number eight.'"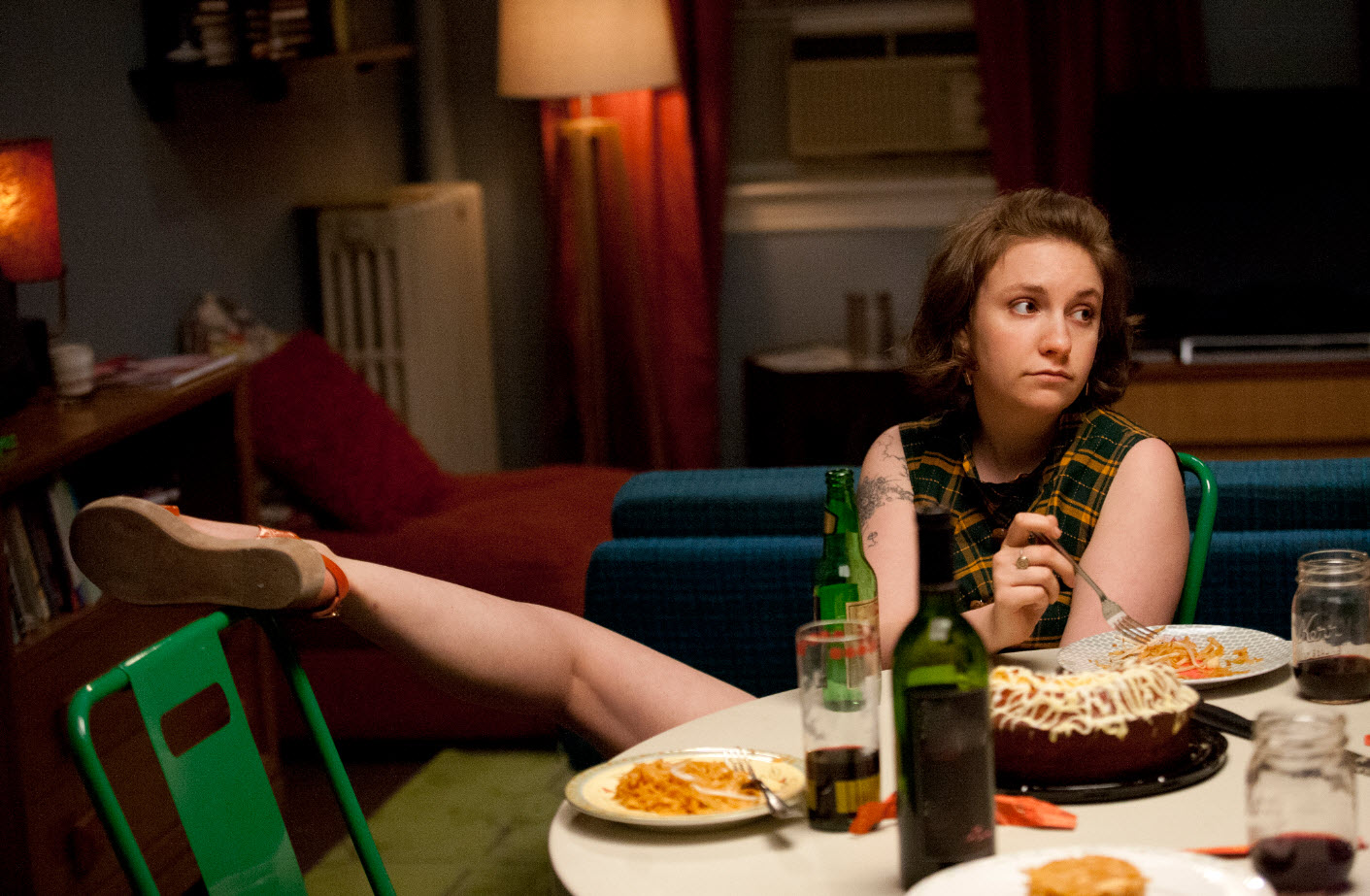 But Dunham didn't let this discourage her creativity. Following university, Dunham created a web series titled "The Delusional Downtown Divas," her first attempt at directing and acting. Following her next project, "Tiny Furniture," her career took off. Dunham is proof that you don't need a degree or a certificate to succeed, only passion.
She stated, "As the show [Girls] has gone on, I've only learned more and more how to run a show, how to be an actor at the same time, how to write for myself, how to write for other people, how to direct in a sensitive way, and I couldn't have asked for a better 'film school.'"
You'll Laugh. A Lot.
Imagine Hannah and Elijah (ex-partners though Elijah is now gay) walking through a drug store in the middle of the night arguing about whether or not Hannah was meant to be the last female Elijah slept with.
It's Hannah's first time being high on cocaine, and her nipples are popping out of a neon yellow mesh tank top she got at a club that night after trading shirts with a gay man. If that doesn't make you laugh, I don't know what will.