Girl Power
For several of the contestants, being sent home in a limo was the best thing that ever happened to them.
By Kaitlyn Peterson, University of California Los Angeles
---
Each season on "The Bachelor," twenty-five women compete for the affections of one man, while the roles are reversed in "The Bachelorette."
Sounds just like a perfect date night, right? For whatever reason, hundreds of women apply to be on the show and join the catfight for "love." The constant drama and adventures make for good entertainment, but life gets real when the contestants are sent home crying in a limo. One can't help but wonder how women recover after being dumped on national television.
Surprisingly, many past female competitors have turned a scarring rejection into an empowering moment after being eliminated. Women from "The Bachelor" have used their hurtful experiences to encourage strength and self-confidence in their fans while also finding themselves. Audiences saw Ben Higgins send Becca Tilley home in February 2016. Since she was previously on Chris Soules' season, this was her second limo drive home in "The Bachelor" series. Her dismissal shocked viewers, since she instantly became a fan favorite with her sweet demeanor and authenticity.
Only about a week after America saw the elimination, Tilley posted a picture on Instagram with the saying, "He is dreamy but he is not the sun / You are." Even though followers watched Tilley get rejected, she encouraged fans to embrace their own worth rather than place a man above themselves.
In speaking in an interview with "Locale Magazine," Tilley said, "When I left, I was so thankful because I had learned so much about myself and dealt with issues I didn't even realize I was holding onto. I've always been kind of closed off, and I think I still struggle with it." By acknowledging her inner flaws, she embodied a confident strength and dedication to learning from her time on television.
Although the majority of people liked Higgins, another former Bachelor, Juan Pablo Galavis, left a lasting, negative impression with his disrespectful attitude. Two years ago, Andi Dorfman scolded Galavis for his condescending words, gaining the support of viewers worldwide. She became famous for her quote, "It's not okay. When you say that, it bothers me. You saying that comes off as you not having feelings." Her powerful quote was followed by her choosing to leave the show and leave Galavis with the remaining two women.
Dorfman's courage and self-confidence inspired fans so much so, that she became the Bachelorette in the following season. She released the book "It's Not Okay: Turning Heartbreak into Happily Never After" in January 2017 after her time on the series. In the book, she tells her side about her experiences on the show, but she also encourages women to stay true to themselves.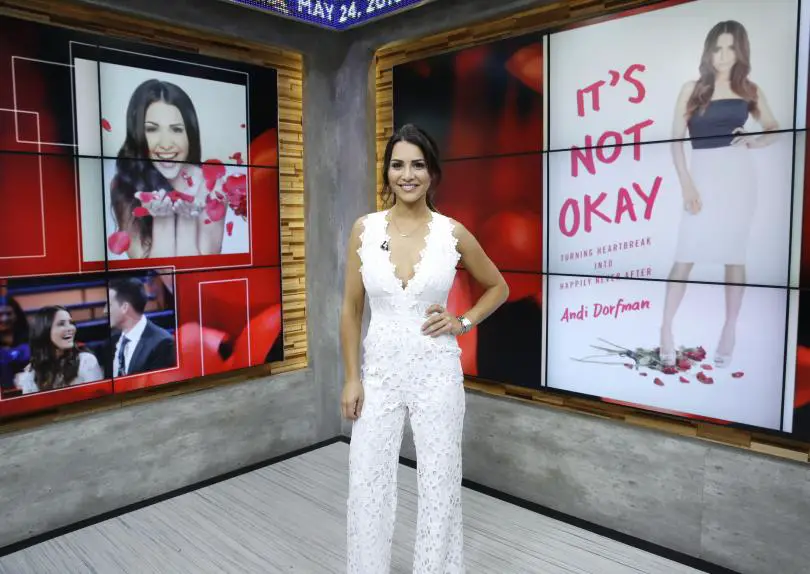 By empowering herself with honest words on pen and paper, Dorfman inspires fans to do the same and speak their minds. She doesn't wait for permission, but rather gives herself the freedom to publicly talk about her past relationships and heartbreak.
Self-confidence was also evident in former contestant Sarah Herron, who was on Sean Lowe's season of "The Bachelor" in 2013. Since she was born with one arm, Herron wrestled with body image and competing with dozens of beautiful women. However, she became a role model for viewers with the same self-image struggles after she was eliminated. In an interview with Reality TV World, Herron said, "I mean, you have to consider that up until this show, I never walked around talking about my arm to anybody–anybody. And now, I can openly and freely talk about it." She then started her own company, SheLift, which works to inspire women to have greater self-confidence and conquer their inner battles. While SheLift has several clothing products, it also offers a retreat focused on embracing the outdoors and bonding with other women.
Following her ride back home on "The Bachelor," Herron was able to embrace her physical differences and encouraged fans to do the same. By making it her mission to empower women around the world, Herron is the epitome of a role model for those who feel inadequate and weak.
Now, fans can't ignore the story of the current bachelorette, Raven Lindsay. As a contestant on Nick Viall's season of "The Bachelor" last year, Lindsay became a role model as a lawyer and a strong, black woman. She also broke stereotypes by being the first African-American bachelorette in "The Bachelor" history.vAlthough news of Lindsay as the Bachelorette was released before her elimination on "The Bachelor," viewers still experienced her heartbreak when Viall sent her home. Yet, Lindsay recovered from her rejection and has aimed to empower people of different races, cultures and backgrounds.
In an interview with "People Magazine," Lindsay said, "I'm happy to represent myself as a black woman in front of America, and I'm happy for America to rally behind me and see what it's like for me to be on this journey to find love." She continued to argue that the series needs to increase the diversity of candidates, since many have noticed that there is little variety among contestants.
Even though Lindsay is immersing herself back into an unhealthy dating environment in "The Bachelorette," she maintains her dignity, confidence and worth by knowing who she is and what she stands for. Nothing better captures Lindsay's self-confidence than her quote to the "Hollywood Reporter," "To be the first African-American woman is a beautiful thing…I'm honored and humbled to be the one chosen. Because that's how I feel: like I was chosen to be in this role."
It's clear that "The Bachelor" creates an unnatural, unhealthy dating environment–contestants even need to interrupt conversations in order to get time with the main Bachelor or Bachelorette. Amidst such abnormal experiences, past female competitors have been able to strengthen themselves and encourage fans with the same empowerment. Whether the women have focused on emotional strength, body image or cultural pride, it is clear that "The Bachelor" has given contestants the determination, courage and passion to inspire others.
Perhaps it's best to not get a rose after all.