Logging on to my Portland State student account, I hit the tab titled "Personal Information" and was met with something unfamiliar. Along with the options to change my preferred name, update my account password and add emergency contacts, I was given the new choice to "view/update sex, gender and sexual orientation." I opened the page and found my name, "Olivia Wickstrom," and my legal sex, "Female," as well as two drop down menus that offered options for my preferred gender and sexuality.
I was able to choose from eleven genders, including genderqueer, transgender and questioning/unsure, as well as eleven sexual orientation choices, such as same-gender loving, asexual and pansexual. There was even a link to a webpage with definitions of all of the different genders and sexual preferences listed, a resource for students who were either unsure or questioning their identities.
Portland State is extremely liberal, so this development didn't shock me too much; monthly, one can expect to find a peaceful protest, organic food fair or progressive documentary screening. But, after doing a bit of research, I discovered that this change was the result of Portland State's registrar implementing a new collection of information in compliance with Oregon's Senate Bill 473.
The senate bill states that Oregon universities must "allow all students, faculty and staff to identify the person's sexual orientation on any forms used to collect demographic data that includes gender, race or ethnicity." In other words, universities must allow students and staff to declare their preferred gender and sexuality, and universities must support this declaration. This gives certain underrepresented students a voice, and turns Portland State into a safe space for gender and sexuality-minority students.
The university has declared that it's asking these questions for three main reasons: First, it wants to confirm that students' legal sexes are up-to-date and correct. Second, it wants to recognize that gender is "not limited to, nor always congruent with, the categories available in legal sex designation." And third, collecting information regarding students' sexual orientations allows Portland State "to advocate for resources, scholarships and provide appropriate services" for the students concerned. In short, the university is striving to make queer students feel more accepted and supported with an extension of resources.
When answers are submitted, they are reported to the state of Oregon, Portland State's Office of Global Diversity and the university's Queer Resource Center. Though the answers are kept confidential, the Queer Resource Center can use this information to reach out and assist students. This means that whoever identifies as something other than heterosexual may be contacted and offered support by the center. This may be in the form of a letter discussing resources for transgender students, or an email with the Portland State's upcoming queer events.
The goal is to make the most of this information and to create a supportive space for students, whatever their gender or sexual preference may be. I visited Portland State's Queer Resource Center to learn more about the recent change and its impact on the university's LGBTQI students.
The center plays a powerful role in Portland State's student life, offering counseling, volunteer opportunities and gender-neutral restrooms for the university's queer community. It also hosts a variety of popular events aimed to attract more students to the Queer Resource Center, such as artist talks, zine-making workshops and lunch social hours. It provides a tremendous amount of support to the queer students on campus and will play a large role in this new collection of information.
While at the center I spoke to student Leo Ariel about the online survey. Ariel, who prefers the pronoun "they," told me they were proud and supportive of the advance. "We're a group that's already marginalized as it is," said Ariel, "and because we hold identities that are typically erased it's good to feel like we're being seen. The university is recognizing us and validating our identities; it's reaching out and supporting us, and that feels good. Plus, if the situation were flipped, if queer folks were the 'norm' and straight folks were the outsiders who couldn't identify in the way that they wanted, they'd be up in arms. The minute that the dominant culture is excluded they get concerned."
This is a progressive move for the university, as multiple state agencies, such as Oregon's DMV, still don't allow residents to identify as genders other than "Male" or "Female." Though residents can change their gender from female to male and vice versa, there is no third box to check on the "Change of Gender Designation Form." This means that a majority of Oregon's queer residents are restricted and forced to identify as something that they are not, though in June 2016 progress was made.
Transgender Oregon resident Jamie Shupe was given the right to legally identify as nonbinary on their Oregon driver's license. Shupe had to fight to gain this right, a fight that consisted of legal proceedings and court hearings. But in the end they won, and it is believed that Shupe is the first legally recognized "third gender" identity in the United States.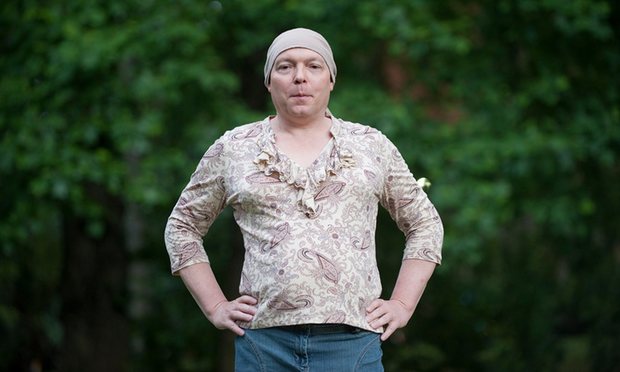 Unfortunately, Shupe's fight hasn't altered the law yet, and genders that students declare at Portland State won't be legally recognized. The new policy and information is kept and circulated strictly within the university, but no amount of progress is too small; this is a huge step forward for Portland State and its queer community.
The new questionnaire helps to keep the university a safe space for LGBTQI students, and sets an admirable example for other colleges to follow. It's a change that provides students with glimpse of hope in the midst of this country's current and chaotic political transformation. And it's a change that gives students the opportunity of a happier and more successful college career.