Graduation is coming, and the real world is right on its coattails.
You've applied to graduate school, but you want to keep your doors open, or you're ready to find a job, so you're vigorously searching Indeed for options. However, it's getting harder to stand out amongst the herd of job applicants.
A paper or .docx resume won't cut it anymore. To boost yourself to prospective employers, you should create an online portfolio. Your resume says what you have done as a college student, in neat bullet points and small font, but online portfolios can show employers what you've done in one helpful, interactive website.
While earning your degree, you'll want to become as marketable as possible, whether you volunteer at a local soup kitchen, apply for scholarships or join a student organization. You'll want to put all of your achievements in a neat, accessible place to show off during job interviews. An effective way of standing out to employers is making your achievements come to life in your own website. Employers want to see your hard work, so if you've created anything, like articles, photographs or digital art, your online portfolio is the perfect place to showcase your work.
Instead of printing everything out and wasting paper, you can create slideshows or embed your work on your website. If you haven't created anything and have only done volunteer work or won awards, you can hyperlink organizations or contact information to make it easier for employers to access. You can even add your online portfolio to your resume or cover letter. Employers can click a link on your resume to check if you've done the things you said you have, and they get a better understanding of what you're capable of.
Your online portfolio can also be a great first impression before you walk into an interview. Employers can see your creativity before they meet you, so your website may be what gets you through the door.
An online portfolio can increase your chances of being located on the internet as well, especially if you link it to your social media or professional profiles, like LinkedIn. Your website will help employers contact you too. With a website, every link is an individual URL, so you can provide employers with certain sections of your portfolio based on what kind of job you're applying for.
If something happens to your resume, you'll have everything stored on a website. Most phones have internet, so if you get into a situation where you lose your resume while you're in an interview, or you forgot your physical portfolio, you can pull up your website to show employers that you're flexible in any situation and creative enough to design something online. Also, if you share your social-media links on your website, it'll be easier for employers to sift through your profiles to make sure you're an ideal candidate. Potential employers can also see how you're promoting yourself and if you share your work on your social-media accounts.
To create your online portfolio, you'll need some tools. Website builders, like WordPress, Wix or Weebly, allow you to easily create an account and a website, so you can showcase yourself to the career world. All three websites are free to use, come with tutorials and have preset themes you can follow, so you don't have to be a Graphic Design major with coding knowledge to develop an online portfolio. It'll take some time to get used to the programs, but each website is user friendly.
With the ease of the internet, it's simple to find examples of good online portfolios to use as a guide, but you want to protrude from the sea of existing portfolios, so your website has to be eye-catching and easy to navigate.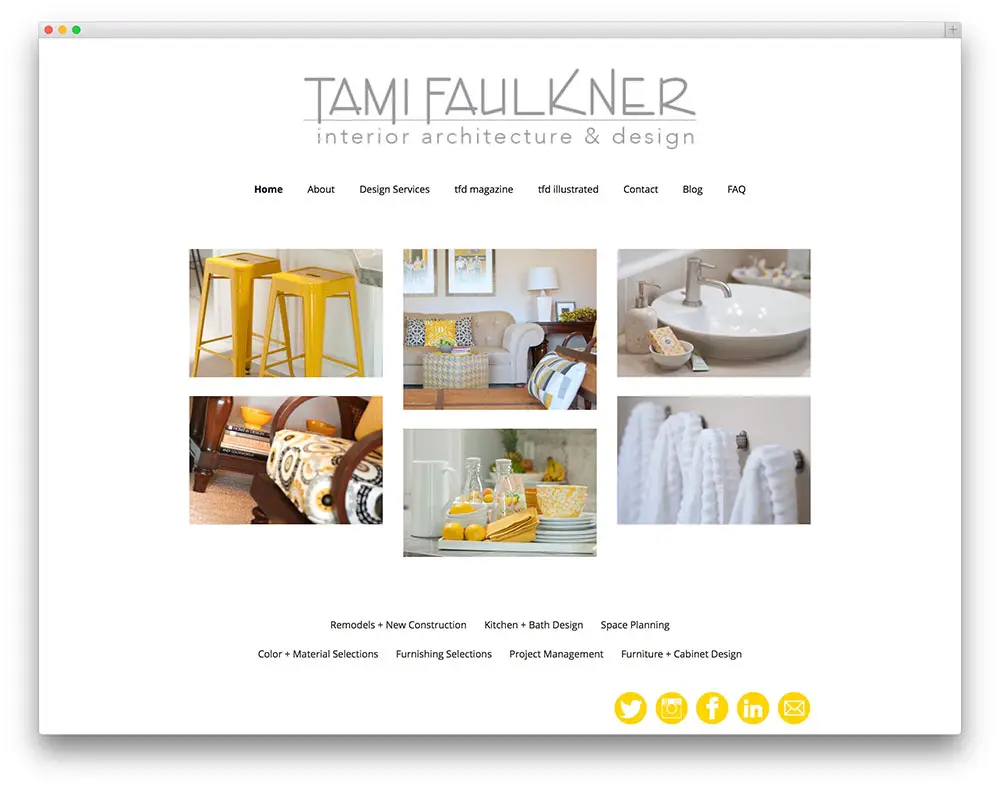 Be sure that your online portfolio is simple. Don't get carried away with graphics, or select a theme with a moving background that ends up being more distracting than attention-getting. Choose complementary colors, and if you're unfamiliar with design, there are several websites to help pick a color scheme.
Like your resume, ensure everything is in an easily accessible category on the website. The categories on an online portfolio should be clear and easy to read. Utilize a navigation bar to make the most important information the most alluring and easily accessible.
You can test your website's accessibility by sending it to friends, so they can use it and tell you what may work better to navigate the website. If your campus offers career services, you can make an appointment to discuss your online portfolio with them as well. Being able to create an online portfolio is helpful for interviews or scouting, but it's also a huge confidence boost to have everything you've accomplished in your academic and professional career in one place. The website is also something you have created, so be proud of it.
When you have some free time (ha!) between sips of coffee and quizzing yourself on flashcards, try your hand at web design and dig out your resume, which may be due for an update. You'll become more marketable, creative and better off from it.