According to the Green Bay Press Gazette, requests to allow emotional support animals on college campuses have increased.
In July 2016, the American Bar Association published an article noting that the rise in emotional support animals has correlated with the rise in diagnoses of mental-health problems among college students.
The Fair Housing Act oversees decisions over whether to permit emotional support animals in rental housing, which includes public and private dormitories. The Fair Housing Act also forbids property owners from prohibiting persons with mental or physical disabilities who have certified emotional support animals.
The Green Bay Press Gazette says that the University of Wisconsin-Green Bay and St. Norbert College are two of the many schools claiming a rise in requests for emotional support animals. The schools have their own application and evaluation processes to determine whether a student can have a support animal on campus. Each school requires students to submit documentation from a medical or health professional certifying their need for a service animal.
At UW-Green Bay, after submitting the paperwork, the student's request goes to the Housing Request Accommodation Committee for review, whose members assess the documentation's legitimacy. Students at St. Norbert's work with Academic Support Services and, once approved, their request goes to the Student Affair's department for housing assignment.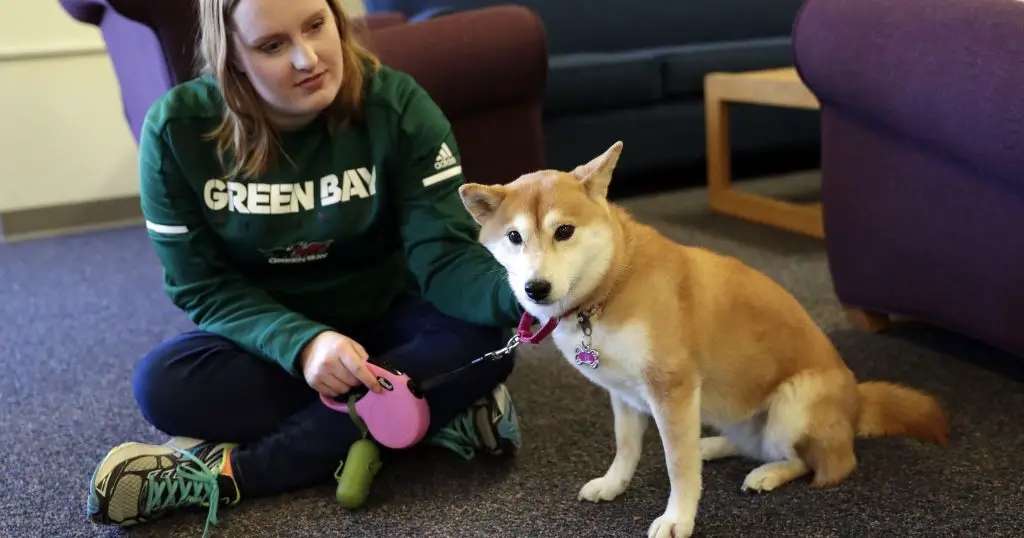 On St. Norbert's campus, there are 12 cats and one dog, and on UW-Green Bay's campus there is a rabbit, a guinea pig, two dogs and an undisclosed number of cats. It is a requirement at both schools that all roommates feel comfortable with an animal in their living quarters. The school can arrange for students who do not wish to live with animals for health or personal reasons.
The U.S. Department of Housing and Urban Development does not explicitly say what animals fall under the category of allowed emotional support animals. Last month, a woman on a United Airlines flight could not bring her emotional support peacock onboard.
According to Michigan attorney and associate editor of Animal Legal & Historical Center Rebecca Wisch, "The animal must provide a therapeutic benefit." However, colleges can limit what animals come on campus. UW-Green Bay only allows domesticated emotional support animals, and these animals must not be able to spread illnesses. These animals must also be well behaved, cleaned after and actively watched.
While the numbers for requests are still rising, the director of residence life at UW-Green Bay noticed that, over time, students found they did not enjoy living with emotional support animals "for any number of reasons." Only time will tell if emotional support animals are a new trend or if they are here to stay.