Imagine being accepted into the school of your dreams. The campus is perfect because of its school spirit and the architecture is amazing. It almost feels like the vast history of the institution makes the knowledge seep into the minds of its students.
There is an amazing social life on campus, better yet, its thriving. The professors in your department are world renown, but then when you look up the cost of attendance online, it's shocking. The price is more than $50,000 a year, so attending that college becomes a mere fantasy.
Some folks really cannot go to their dream schools because they can't afford to; the thought of getting loans for college is daunting. Tuition is constantly rising on American campuses regardless if they are public or private institutions. The University of California (UC) system, which was established in 1868 with the creation of UC Berkeley, is a prime example.
When Berkeley was created, there was a decree of making college tuition-free at each UC campus; however, in the following years, tuition fees were implemented and have increased since then. Now, the UC system is roughly $14,000 in tuition per school. When adding room and board, student fees, health insurance and books, the expenses together roughly amount to $35,000 (depending on the campus).
Outside of the UC system, the cost of attendance at American universities differs throughout the country. For example, according to the U.S. News and World Report, the cost of tuition and fees at Colombia amounts to $57,028, and as a contrast, the University of Texas at Austin costs $10,136.
Either way, paying for the "sticker price" at each institution is a financial nightmare that potentially ends in debt, but there are ways to be financially strategic about paying for college.
Cost of attendance varies throughout the country, but choosing an affordable institution is key. Attending community college is the most affordable option for getting a higher education. Los Angeles City College, for example, charges $46 per unit, which is a striking contrast to the thousands of dollars in tuition a year charged at four-year institutions.
Most community colleges don't grant a bachelor's degree; however, they prepare students to transfer into bachelor's degree programs. Students usually transfer after two or three years and spend two years at a four-year university — with the catch that they have already done their first couple of years at a community college.
Community colleges allow individuals to fulfill their general education requirements and lower division-major courses before moving on to a university. People benefit from transferring by paying less for the first couple years of college, whereas people who go the traditional four-year university route have to pay thousands of dollars in tuition for all four years.
Professors that teach at a community college are just as qualified considering that the courses they teach have equivalents at bachelor degree-granting schools.
Choosing between an in-state university versus an out-of-state university is also a financial game changer. The difference in price between paying for school within a home state and an out-of-state school is an average of $8,990, according to the graduate school of education at George Washington University.
Attending college may be more financially beneficial for potential college students if they stay within their own states for their degrees rather than going out of their states' borders.
With that in mind, one of the most important things to do when accepting admittance into a university is to apply for financial aid. Financial aid is any sort of financial assistance granted to students by the federal or state governments.
There is a free application for federal student aid online on www.fafsa.edu.gov, which is a website run by the U.S. Department of Education. It is the leading source of financial assistance in the country — any U.S. citizen or eligible non-citizen is able to receive financial aid through the federal government.
Students can pursue further financial assistance through their state governments, though, each state has a different process. California, for example, offers the Cal Grant, which the California state government gives out to eligible students, and grants are funds that don't need to be paid back. Students can explore the National Association of Student Financial Aid Administrators website to find out the financial programs that their states run.
Scholarships are the next level of financial assistance that students should look for. There are thousands of dollars worth of scholarships out there given out by philanthropists and varying organizations throughout the country. The Gates Millennium Scholarship is one of the most famous.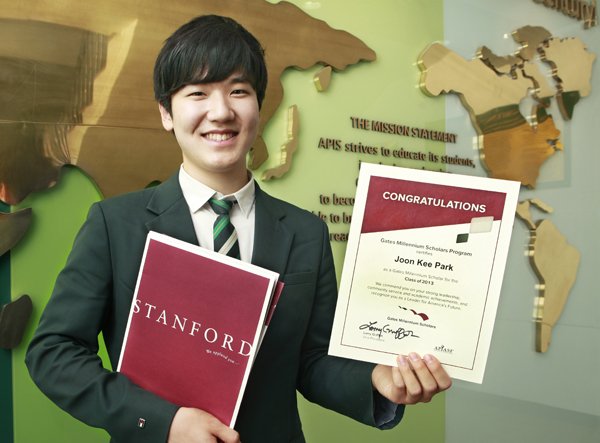 The Bill and Melinda Gates Foundation first established the Gates Millennium Scholarship program to help promote academic success for minority students that are in great financial need.
Programs such as this one exist all around the country; however, students may run into challenges in finding scholarships because there isn't a centralized location or website where to find them. Popular scholarships like the Gates Millennium Scholarship are competitive and a lot of people may not be lucky enough to get one. Nonetheless, there are ways to find scholarships.
Websites like Fastweb.com and Scholarships.com serve as search engines for scholarships. There are scholarships available that list varying requirements; some are specific to culture, others are for artists and some even grant scholarships to people that are left-handed.
The opportunities are endless and there are other more "lowkey" scholarships that are less competitive and harder to find, but it's up to each individual student to search for them. Common places to look for scholarships include local governments, employers of the student's parents or small businesses.
Sometimes employers offer scholarships — Starbucks, for example, is working on an initiative the help its employees pay through college by working with Arizona State University's online degree program. Starbucks is hoping to spend at least $250 million to help its employees receive a proper education.
Speaking of employers that help pay for school, the varying branches of the U.S. military have programs that help fund a college education. The G.I. bill can cover a huge chunk of tuition costs and different forms of the G.I. bill exist under the names of the Montgomery G.I. bill and the Post-9/11 G.I. bill.
The Department of Veteran Affairs website goes through the funding benefits of each bill. For those that would prefer to serve their country after going to college, there are the Reserve Officer Training Corps (ROTC) programs that grant scholarships. Making the decision to serve one's country can be a great way to pay for college.
It's best to understand that universities aren't as financially accessible as one would like. Free college, per se, does not exist, but, there are always ways to find people or organizations that have faith in the future generations to come, and that's why educational funding exists as a way to graduate without debt.