Making Sacrifices: Poetry Before Parties
Readings are usually crazier anyway.
By Bri Griffith, Carlow University
---
In navigating the college experience, making increasingly difficult decisions becomes the norm.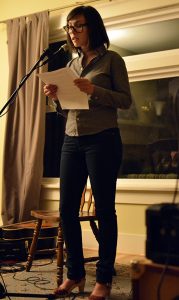 You're constantly thinking about how to improve your life, and set yourself up for a successful future beyond school. As a poetry student, I find nothing benefits me more as a writer than attending readings. Poetry readings will strengthen your writing, allow you to connect with other poets and provide you with opportunities to read your own work.
Weekends are designed for partying, and college students are the masters of fun, but sometimes you have to make sacrifices—choose the poetry over the parties. Here's why every poet, especially new student writers, should attend as many readings as possible.
Making Connections
The keyword in college is "connections," with "networking" coming in a very close second. Going to poetry readings will expose you to a whole new world of writers, all of whom will remember you, especially if you choose to have conversations with them.
Establishing relationships with other writers is imperative. Considering the power of social media, the more sharing your work gets online, the better. When you're submitting your work to different journals for possible publication, you'll have a community of writers to share your successes and rejections with.
Discovering Online Communities
I've been added to poetry groups online, through Facebook and Submittable, where writers offer advice regarding editing and submitting work, as well as writing cover letters. Because I spend my weekends going to poetry readings, I have people on my side willing to help me grow as a writer.
As tempting as the red solo cup may be, remember to focus your energy on your goals, and remind yourself why you're pursuing higher education in the first place: You want to explore the world as a more well-rounded, intelligent person and writer alike.
The Workshopping
Workshopping is an incredible gift. Anyone who's willing to read your work and give you feedback is golden in my book.
My advisor made the importance of having a solid workshop group very clear. You will benefit immensely from meeting with a close-knit crew of poets at least once a month. There are no better friends a writer can have than honest poets who inspire you to write better poems.
Open Mics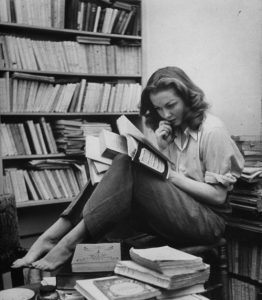 Speaking of writing better poems, when you go to readings, have poems with you in case there are open mic opportunities (trust me, there always are.) Reading your work in front of others will change you as a writer by giving you a voice, and building your confidence.
The more you read your work aloud, the more you understand yourself as a blossoming poet. Other writers in attendance will want to speak with you afterwards about your poetry, which again, is a great way to connect with emerging poets. Reading your poem gives it new life—the words are no longer just inhabiting the page, but now the ears of avid listeners and poetry lovers.
The Headlining Opportunities
In addition to reading for open mic, the more writers you know, the better chance you have of co-headlining a reading of your own, which is exciting as fuck by the way. I was asked to be a featured reader for the first time in May—I read ten of my best poems for a café full of interesting writers. Since then, I've been asked to be a featured reader two more times, and I'm only writing better poems now because of my experiences.
After my second featured reading, I was pulled aside by a writer who wanted my email. She asked if I'd be cool with being put on her list, because she runs a reading series in Pittsburgh. Of course I said yes, and she encouraged me to bring my work to the next reading for open mic.
I know the encounter would not have happened had I not put myself out there as a writer willing to read their work.
I remember moments like this when I doubt my writing abilities.
Integration into the Scene
You won't be asked to read if people don't know you write, and you can't read open mic if you don't go to readings. In Pittsburgh, there are readings all throughout the week, and they're all broadcast on a website called "Littsburgh," considering Pittsburgh is a literary city. Make going to readings a priority, because there are plenty of opportunities to free write and read new work.
Building Future Fans
Also important to note: When you're writing your first chapbook, who will buy it? The people you meet at poetry readings. And when you're asked to be a featured reader, you can bring copies of your book to sell and sign at the end.
Learning the Structure
The more readings you go to, the better you'll understand the dynamic and how they're run. I'm fortunate enough to run a weekly reading series of my own, with a team of talented poets, and I wouldn't be able to successfully do so without going to other readings. I used to wonder how long a typical poetry reading should be, where's a solid place to hold the reading and how many readers a night makes the most sense.
Creative Community
Poetry is my life, it's my home. Poetry readings are safe spaces for writers to freely express who they are. Nobody will judge you, hate you or make you feel less important than you are while at a reading.
I went to Split This Rock in April, and the last day I realized: I've been surrounded by poets for an entire weekend. I felt at peace with my inner demons—the creative energy was intense, and my passion was heightened talking with poets who are absolutely as driven as I am.
To leave them behind, the comfort of being with people who understand me, was like coming down from a high.
Poets are rare breeds—they sit in puddles of their own sadness to create art. The only way to get the feeling of belonging back is to go to more readings, because there's nothing quite like embracing your eccentricities alongside other writers who support you and want to see you do well.
As a writer, and if you're anything like me, you're not writing to be rich, but you're writing because you don't want to do anything else. You're not in school to waste your energy and potential, you're in school to become a better version of yourself, and apply everything you've learned in the classroom to your life off campus. If you're ever stuck trying to choose between a reading and a party, my best advice is to go to the reading. Believe me, you'll never regret the decision when you read your older work and realize how much you've truly grown as a writer.