There's an App for College
With more to do and less time to do it, multitasking is a must for the modern student. Here are eight apps you need to succeed.
By Katie Sanchez, University of Texas at San Antonio
---
College students are always on the go, so they don't have much time for anything.
Between classes, work and clubs, they are always moving, which means sitting down to do something can seem like a waste of time. As a result, students become great multitaskers, constantly using technology to kill as many birds with as few stones as possible. And since college familiarizes student with multitasking, why not use the skill to make life easier and more fun?
Whether you have a smartphone, tablet or iPad, here are eight apps that all students should have on their devices.
Out of everything to download, you have to get the app of the course management system your university uses, so you can always have the most current information easily at hand.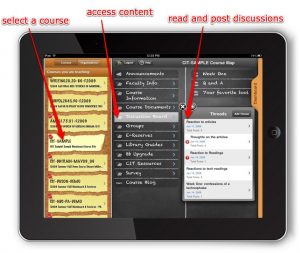 If your professor posts a new assignment or makes an announcement, you'll be alerted the moment it occurs. You'll also be able to look at all of your classes and their content, which is helpful because you can check anything that you have questions on or even turn in an assignment; there's no need for a computer.
There are various times when you'll want to jam out to your favorite band or play a few songs for a work out, so make sure to have Spotify downloaded onto your device.
As you can guess, Spotify is a music app; but, unlike many others, it allows you to choose whatever song you want to listen to, whether or not you're a free or premium member. Plus, if you want to be a premium member and are a college student, you can purchase a subscription for half of the original price, just follow these steps.
With Spotify, you can start radio stations based on your favorite songs, explore different genres and create numerous playlists. The music application revolves around you, so you're never forced to listen to songs you don't want to hear.
Pack an umbrella with confidence, wear shorts without worrying about the cold and own that scarf when there's a breeze. How can you accomplish all this without any fear? With The Weather Channel (TWC) app of course.
If you download TWC to your device, all you have to do is poke it to view how the day will play out. You can even view the next 15 days, so you'll know what to expect days in advance.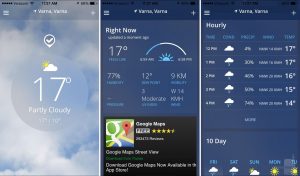 Not only can you look at the forecast, but you can also receive notifications about lightning strikes, showers and warnings, so you're never caught off guard.
Essentially, with TWC, you'll always know what to take and wear to school. After all, once you're on campus, you probably won't have time to travel back home to change into your rain boots when you see the gray clouds masking the sky. Avoid the uncertainty of the weather, and use TWC.
Since no college student can escape writing assignments, every undergrad should have Microsoft Word not only on their computers, but also on their mobile devices. If you have the app on all your platforms, you write whenever and wherever you are, whether it's waiting on the bus or sitting on your porch. In bed but want to write a little before sleeping? Not a problem—just grab your device and use Word.
As it is, ideas hit minds at the most random of times, so by having Word on a piece of portable technology, you can easily pull out your device, open the app and write until you have all you thoughts down. Plus, already having a document dedicated to an assignment is useful, because all of your ideas will be in the same place.
If you have a car you need gas, but it can be pretty pricey (the costs add up after awhile). The best way to save money on gas is with GasBuddy, because it shows you all the places close to your location that sell fuel. In addition, it tells you how much they are selling it for, so you can see which place has the cheapest product.
Not sure which way would be best to go so you can travel to your desired gas destination? That's not a problem. The app also gives you the option to select if you would like a GPS to direct you where you need to go.
Want to stay up-to-date with news, but don't have time to read full articles or watch the news? Quartz is the app you want to download.
It sends sentence-notifications to your device, so you don't need to spend a great amount of time with the news.
If you want to know more about the topic Quartz sent you, you can swipe the notification and be able to read more about the subject. Plus, if you discover that you have a few minutes to spare, Quartz can direct you to news articles that are of your interest.
The app is designed in a text message format, incorporating gifs and pictures, so the news appears fun and engaging, not boring.
Don't have time to make dinner because of a test tomorrow? Domino's will save you.
Their app allows you to order your favorite pizzas, wings and more with only a few taps of your screen. If you make an account with them, you can save your card's information and beloved orders for fast checkouts, so you don't have to input your card's number and build your pizza every time you open the app.
Also, you're able to take part in their "Piece of the Pie" point system where you can earn a free pizza. Domino's is truly every college student's pizza hero.
8. Social Media
Of course you'll need Facebook, Instagram, Twitter, Snapchat and all those fun apps on your device. They're necessary because you can keep in touch with friends and family, and know about events occurring on your campus. Even if you use social media just to see how everyone is doing, at least you'll know what is going on in their life without having a full conversation.
As for event information, don't you want to know when to stay longer on campus for free food and shirts? Simply follow your campus on their platforms and their posts will be yours to view.
 Sure you can use most media on a PC, but having the different platforms on a portable device is a much more convenient and easy.