Olympic Trailblazers
College students by day, Olympic athletes by night.
By Danielle Wilkinson, Purdue University
---
The 2016 Rio Olympic Games are among us, and if you're like me you've already set your DVR up to record everything in order to witness top athletes in the world win gold.
However, with all of grandeur, speedy sprints, record-breaking pool laps and majestic dives, it's easy to forget that many of the seemingly superhuman entities shown on TV are regular millennials who attend college, eat junk food and hang out with friends. Here are 5 college students who just happen to be kickass, record breaking, award winning Olympians.
Steele Johnson
The 20-year old Purdue University student grew up in Carmel, Indiana. He will be representing the U.S. in 10-meter dive and the synchronized 10-meter dive with his partner and former Purdue student, David Boudia.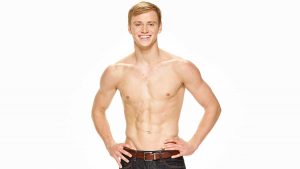 Over 13,000 fans follow Johnson on his travel adventures, diving competitions and his Olympic journey through his YouTube channel TheSteeleJohnson. Among his many successes includes winning gold medals in 2007, 2009 and 2011 at the Pan American Games, and placing fifth with Boudia in the 2015 World Championships.
But Johnson has also had his fair share of setbacks. He hit his head on a 10-meter platform when he was 12, which caused him some memory loss. He also broke his ankle in 2015 but he refused to slow him down, continuing to dive and wearing a boot when outside the pool. Away from swimming, He's very involved in his church and is a fan of horror flicks and Nicolas Sparks movies.
"It's cool because this is exciting, this is fun, but this is not what my identity will be for the rest of my life. Yeah, I'm Steele Johnson the Olympian, but at the same time I'm here to love and serve Christ. My identity is rooted in Christ, not in the flips we're doing," said Johnson to Desert News after qualifying.
Jackie Galloway
Galloway, whose career took off when she was 14, will be representing the U.S. in taekwondo.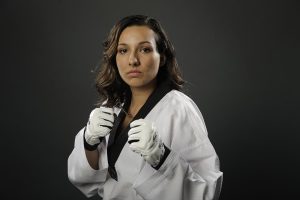 When she was a teenager, Galloway's mother entered her into a Mexican tournament for practice, but she ended up defeating Mexico's taekwondo world champion and landing a spot on the Mexican National Team, making her the youngest member the national team has ever had.
Galloway, who has dual citizenship in the U.S. and in Mexico, lived in Mexico City for two years to compete with the national team and learned a lot during that time, including Spanish. At 16, she earned a spot as an alternate for the 2012 Olympics in London for Mexico's Olympic team.
The 20-year old doesn't only kick butt in taekwondo, she also kicks butt in the classroom. She attends Southern Methodist University as a mechanical engineering major and competes for her school's division 1 rowing team. Galloway's entire family is involved in the martial arts world. Her family owned a dojo when she was young, which initially piqued her interest in fighting sports. Her father coaches her while her brother helps her train.
"I'm not going [to Rio] just to participate and be another face in the crowd. I'm there to bring home the gold," said Galloway in an interview with NPR.
Lily King
King, an Indiana University student will be competing in Rio in the 100 meter breaststroke, 200 meter breaststroke and 4×100 medley relay.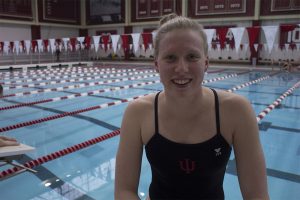 She began swimming at 7-years old and quickly gained notoriety as a breaststroke specialist. King told USA Swimming that the moment she started to really believe she could go far in swimming was when she won her first state title at age 12.
Since then, breaking records seemed to be her way of telling the world she was special. At age 16, she completed the 100 meter breaststroke during the US Winter Junior Nationals, breaking the record for the fastest time in her age group. She even broke the record for the 100 meter breaststroke during the Olympic trials last month. Aside from swimming, King is just a regular 19-year old who enjoys referencing movie quotes and making costumes.
"My favorite memory was when I won my first title when I was 12. It was completely unexpected and it kind of changed my swimming path, after that moment it kind of took me to that moment of self-belief where I realized I could do something in this sport," said King to USA Swimming.
Luca Cupido
Cupido is an attacker for the U.S. Men's Water Polo Team, as well as a student at the University of California, Berkley. The 20-year old grew up in Santa Margherita, Italy and became passionate about the sport by attending his father and brother's water polo matches when he was young.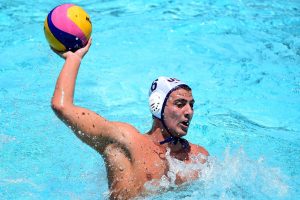 Cupido played for Italy's junior national team and was named best player in 2013. Just two years later, he won a gold medal with the U.S. Men's Water Polo team in the Pan American Games for scoring 16 goals.
According to USA Water Polo, Cupido's first year in college he earned the titles Newcomer of the Year in 2014 by MPSF and Top Rookie at NorCal and SoCal tournaments. In his spare time he enjoys teaching children water polo, surfing and travelling.
"I was always told to have fun when I was practicing because you can't do well when you're not enjoying what you're doing. When you're having fun you work even harder and you improve. Preparation for the Olympics has been hard but it's a dream come true," said Cupido to USA Water Polo.
Mallory Pugh
At 18-years old, Mallory Pugh is the youngest member of the U.S. Women's national Soccer Team and will be attending UCLA this fall.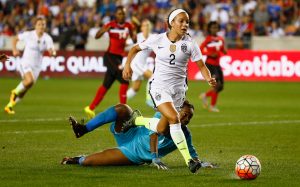 Her rise to prominence was probably the fastest out of everyone on this list. She was invited to train with the youth national team when she was 15, and performed so well that they invited her back to start during the Under-20 World Cup, where she was later named captain. After the World Cup Pugh was invited to January Camp trained with the Women's National Team.
She made her debut with the team on January 23rd and shocked everyone by scoring just 25 minutes into the match. She became the youngest U.S. female player ever to play in an Olympic Qualifying match for the U.S. National Team. Since then, Pugh has played 11 games with the Women's National Team and will be competing in Rio.
"It's been my dream ever since I was little to go in, represent my country and hopefully win the gold. Being around these players [In Rio] is going to be an awesome experience and I'm going to try to soak it all in," said Mallory Pugh to ESPN.