Actress-turned-royal Meghan Markle, known formally as the Duchess of Sussex, has now rightfully earned the title of best-selling author with the launch of her new collaborative book, "Together: Our Community Cookbook." Having sold 11,000 copies in the U.K. and jumping to the sixth spot on Amazon's best-seller list in just one week, Markle's first solo charity project has been a smashing success.
Not only has the triumph of the book firmly secured Markle's name as a smart and dedicated addition to the royal family, the use of her platform to shed light on the catastrophic Grenfell Tower fire and the victims that experienced it further distinguish Markle as a proponent for activism, something incongruous to the historical monarchy.
"Together: Our Community Cookbook," was inspired by those affected by the Grenfell Tower fire that happen in North Kensington, London, a little over a year ago. The building, now assessed by fire chiefs to have been uninhabitable at the time, claimed 72 lives, making it the "greatest loss of life in a fire on British soil since World War II," as reported by the Los Angeles Times. It is now seen as one of Britain's greatest national shames and tragedies.
In response to the devastating events that rocked all of West London and beyond, a group of women whose families lived in Grenfell Tower formed the Hubb Community Kitchen. Hubb, also the word for "love" in Arabic, is a charitable organization that cooks meals and works to create a sense of comfort and security for the community. Markle started making low-profile visits to the Al Manaar Mosque, where the kitchen is located, last January.
After learning that the kitchen only had enough funds to be operational two days a week, Markle proposed the idea of creating a cookbook as a fundraiser to keep the space up and running seven days a week. All the proceeds from the book's sales go directly towards Hubb, and seeing how it's been selling off the charts, the organization's future looks incredibly promising.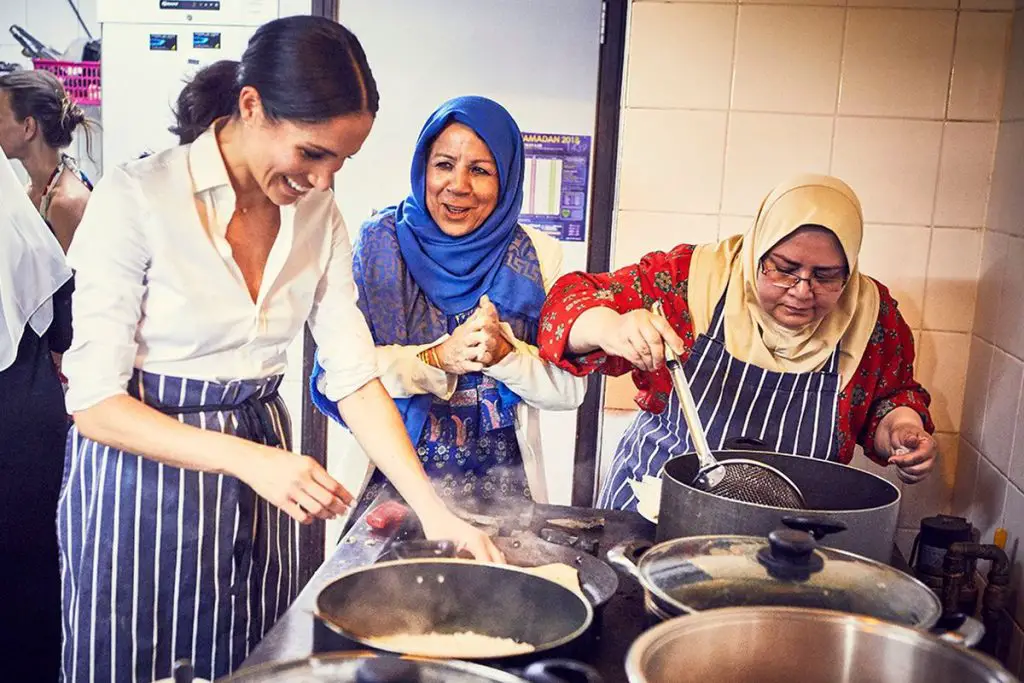 While Markle's first solo-run charitable endeavor seems largely akin to what royals have been known to do since strictly holding ceremonial power, the duchess's actions — the launch of her new book and otherwise — seem to waver on being representative of a deeper political ideology. One of the many rules that must be followed by law as a part of the monarchy is to steer clear of making any sort of political statement. The Head of State of the British Monarchy, Queen Elizabeth II, is The Sovereign, meaning she represents all the people. However, because of this she cannot impose political jurisdiction because she and her family are not elected officials.
Regardless of this fact, Markle has alluded to her own personal political feelings on multiple occasions since first becoming associated with the Royal Family. On her first overseas trip to Dublin, Ireland, Markle made a point to meet with activists hoping to overturn Ireland's abortion ban through a referendum. Likely pleased by the overwhelming results — 66.4 percent voted to repeal the law — multiple women took to Twitter to muse on their encounters with Markle and her apparent delightedness at the result of the referendum.
Una Mullally, a feminist journalist and campaigner against Ireland's 8th Amendment, tweeted, "Great to chat with Meghan Markle, Duchess Of Sussex, about Repeal and the importance of her feminist activism. So important to have people in her position championing women's rights."
Additionally, Senator Catherine Noone tweeted, "The Duchess and I had a chat about the recent referendum result—she watched with interest and was pleased to see the result." Quickly realizing her mistake at mentioning a royal's political interest, Noone followed up with another tweet, stating that Markle was, "not political at all." Noone's tweets have since been deleted.
Similarly, Markle provided her support for Times Up and the #MeToo movement at the annual forum for the Royal Foundation, run by Prince Harry, Prince William, Kate Middleton and now Markle as well. During her speech, Markle said, "Women don't need to find a voice, they have a voice. They need to feel empowered to use it, and people need to be encouraged to listen."
This advocacy Markle seems to be subtly pushing for as she's entered the royal-sphere comes as no surprise, if you take a look at Markle's past. When she was just 11 years old, Markle wrote a letter to various noteworthy people, including then First Lady Hillary Clinton, about a Proctor & Gamble TV advertisement she believed to be sexist, a campaign that successfully led to the ad being changed. She was counselor for the international charity One Young World in 2014 and 2016 where she challenged a multitude of issues like gender bias and stereotypes.
In 2016, she became a global ambassador for World Vision Canada, traveling to Rwanda for the Clean Water Campaign and to India to raise awareness about issues concerning women. After returning from India, Markle wrote an op-ed for Time Magazine entitled, "How Periods Affect Potential," where she explored how the stigmatization around menstrual health has negatively impacted girls' educations. She has worked with UN Women to advocate for gender equality and women's rights and said in a speech at the 2015 UN Women conference, "I am proud to be a woman and a feminist," which was met with a standing ovation.
In "Together: Our Community Cookbook," you can find 55 recipes personally curated by the women of the Hubb Community Kitchen, dishes that hold their ancestry in the cuisines of the Middle East, North Africa, Europe and Eastern Mediterranean. In fact, the cultural diversity celebrated in the cookbook is one of, if not the biggest reason why Markle felt compelled to take on the project. "I feel so proud to live in a city that can have so much diversity. It's 12 countries represented in this one group of women. It's pretty outstanding," Markle said at the celebrational lunch for her new book.
While it may seem like a mild remark, Markle's insistence on bringing attention to the racial diversity not only exhibited in the book, but in London itself, speaks volumes at a time when Brexit has threatened multicultural European integration and immigration policy. According to a census report conducted in 2011, 37 percent of Londoners were born outside of the U.K.
Markle's use of her platform to shine a light on people that are not a part of the "White-British," but rather valuable members of an often marginalized group demonstrates her commitment to invoking a sense of inclusion and support. She tied up this sentiment with another statement made at the lunch, "When you get to know the story and the recipe, you get to know the person behind it. That's what we're talking about in terms of coming together, to really engage and talk and be able to celebrate what connects us, rather than what divides us. That, I believe, is the ethos of Together."
Much like the late Princess Diana went above and beyond to bend the political neutrality thrusted upon royals with her dedication to changing the world's attitude toward AIDS, Meghan Markle isn't afraid to make her opinions known to help the causes and people she feels are deserving. While her actions are indeed subtle, she has already, in her short time of being a royal, blurred the lines between what can and can't be said or done.
With a past that is so richly founded on the bases of activism and justice, it would be impossible for Markle to simply sit quietly while holding such a prominent position of power. For these reasons, I believe, Markle will remain politely political, but political nonetheless. Like the strong, passionate woman she has always proved herself to be, Markle will continue to pave the way for change through sincere efforts of compassion born out of her own inherent drive to help others. The new cookbook is only the beginning.