'Stranger Things' Balances Nostalgia and Innovation
Its greatest strength? Accessibility—the series is scary enough to frighten, but buoyant enough to attract all types of viewers.
By Samantha Gross, Concordia University
---
I have a confession to make.
Earlier this summer, I may or may not have written an article about Netflix Original Series. That article may or may not have complained about said original series, in the context of potential regular show losses. But regardless of this hypothetical transgression, Netflix's most recent bout of original shows has produced a delightfully horrifying show, and that's what I'm going to talk to y'all about today.
So strap in, because this one is a wild ride that you will definitely want to be a part of.
Last month, Netflix released "Stranger Things," a show I was admittedly terrified to start watching. I can't handle scary. Like, at all. I don't need that kind of shit in my life.
I outright refuse to watch scary movies, and even small amounts of paranormal activity give me nightmares.
But somehow my sister managed to convince me to watch it, and I was so pleasantly surprised that I immediately recommended it to everyone around me.
Now don't get me wrong, "Stranger Things," like all horror genre movies and television shows, has some truly terrifying moments. But this was different. This was a creepy thrill. The kind that sends adrenaline ricocheting through your body. The kind that makes it impossible to look away from the screen, no matter how badly you need to blink, no matter what kinds of things are coming through the walls on the other side of the screen. The kind that makes you watch every episode in the span of two days.
"Stranger Things" is an emotionally charged and suspense-filled journey that easily leaves the viewer breathless and wanting more. With only eight episodes of heart pounding sequences and touching coming of age adventures in a nightmarish town, this show may easily become one of Netflix's most popular series.
A mash-up of genres as broad as science fiction, superhero, suspense, supernatural thriller, coming of age, mystery, comedy and romance, all wrapped up in 80's style corduroy pants, "Stranger Things" gives life to the very nightmares you're afraid to dream, created in a world of lovable and realistic characters who make mistakes and grow in a town struck by hellish disaster.
But I'm getting ahead of myself. It's not hard, with all the sharp turns this show makes, and there are so many aspects of it that could easily be discussed at great length. Far too much to include here, at least without y'all leaving to read something else before you reach the end. So let me try and get my shit together enough to explain why this show is incredible. That way when you're done reading (seriously, please finish first, I worked so hard on this) you can go enjoy it too.
First off, "Stranger Things" takes place in the 80's, and who doesn't love the 80s? The clothing, the hair, the music, the utter disregard for the negative effects of smoking. Love it. And the show plays into the strengths of the time period. Songs like The Clash's "Should I Stay or Should I Go" and Toto's "Africa" make notable appearances, while the original score provides a suspenseful heavily synthetic sound (very 80s) to match the action. And the kids ride their bikes everywhere and have giant radio walkie talkies. It's fun and carefree until it isn't, but by then you're too invested in the story to back out.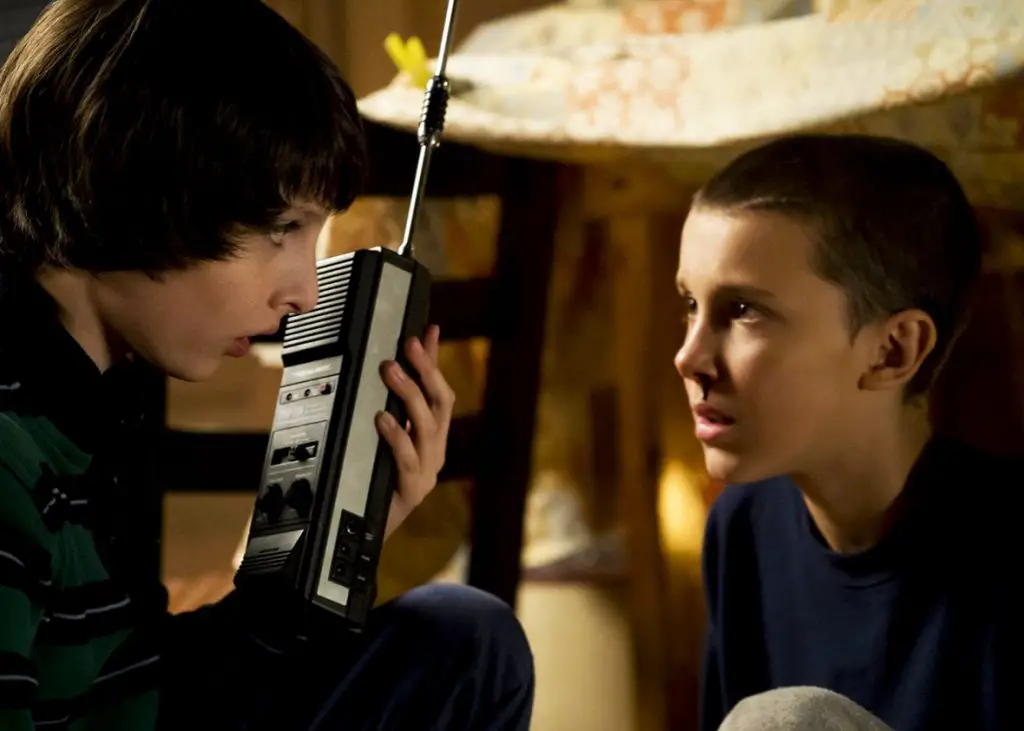 The show features mostly young actors, since the main characters are mostly children. It's wonderful to see casting in the actual age bracket as the characters, and because the actors are so young, their traits easily bleed into their onscreen roles, creating believably chemistry and humor. Finn Wolfhard, Gaten Matarazzo and Caleb MacLaughlin, who play Michael, Dustin (who is the actual fucking cutest) and Lucas, are our story's heroes.
These boys do a wonderful job of capturing the accuracies of middle school awkwardness while also playing into the supernatural and horrific events that cost them their best friend, Will (Noah Schnapp). These kids are seriously wonderful actors. I laughed, I cried, I laughed until I cried, it was exhausting, but oh so very real.
Additionally, Millie Brown and Natalia Dyer, who play 11 and Nancy Wheeler respectively, bring two very different young women to life, each searching for a place in the world to call their own. Of course, Nancy does it with high school boys—shout out to Charlie Heaton and Joe Keery— and bear traps, while 11, who is essentially a mini Furiosa, has more of a hands-free take on the adventure. It's a long story. About eight episodes actually. But both of them are totally awesome.
It should also be noted that Millie Brown really did shave her head for the roll, and not only does she wear it like a badass, but it's a tough thing for a twelve-year-old girl to do and I respect the fuck out of her for it.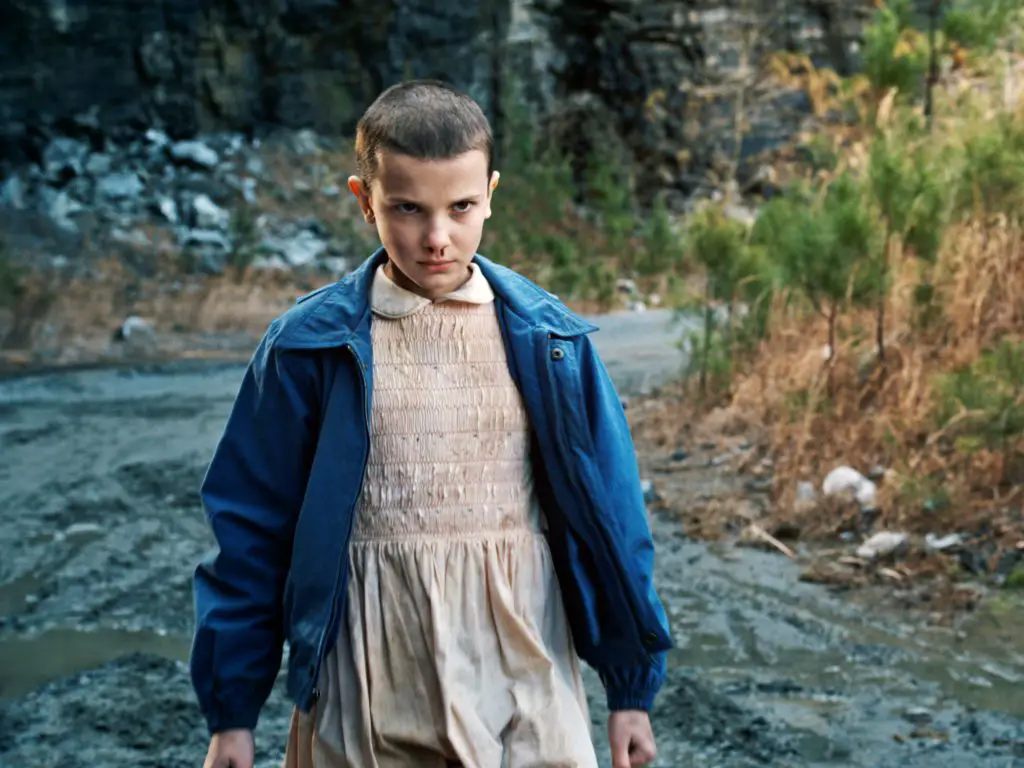 One notable addition to the cast—because there are actual adults in this movie, no matter how fantastic the kids are—is Winona Ryder. Fuck yeah. Who doesn't love Winona Ryder? (Seriously, tweet me if you don't, because I honestly want to know what the fuck is wrong with you. And she doesn't need a hyperlink, because you should know who she is by now.)
Winona does a beautiful job of capturing her character Joyce, the mother of the boy who goes missing. And this doesn't count as a spoiler because it's in the very first episode. The episode is literally called "The Vanishing of Will Byer."
Both the show and Winona explore a mother's desperate heartbreak and the lengths she's willing to go to save her son. Joyce is depicted as a character with a past of mental illness, struggling not to fall into her own mind as absolutely crazy shit goes down around her. You can actually feel her desperation as she tries to rescue her child and convince herself she isn't losing her mind. Being a single mother with two children and struggling finances is tough enough. And she has to do it with an actual monster in the walls.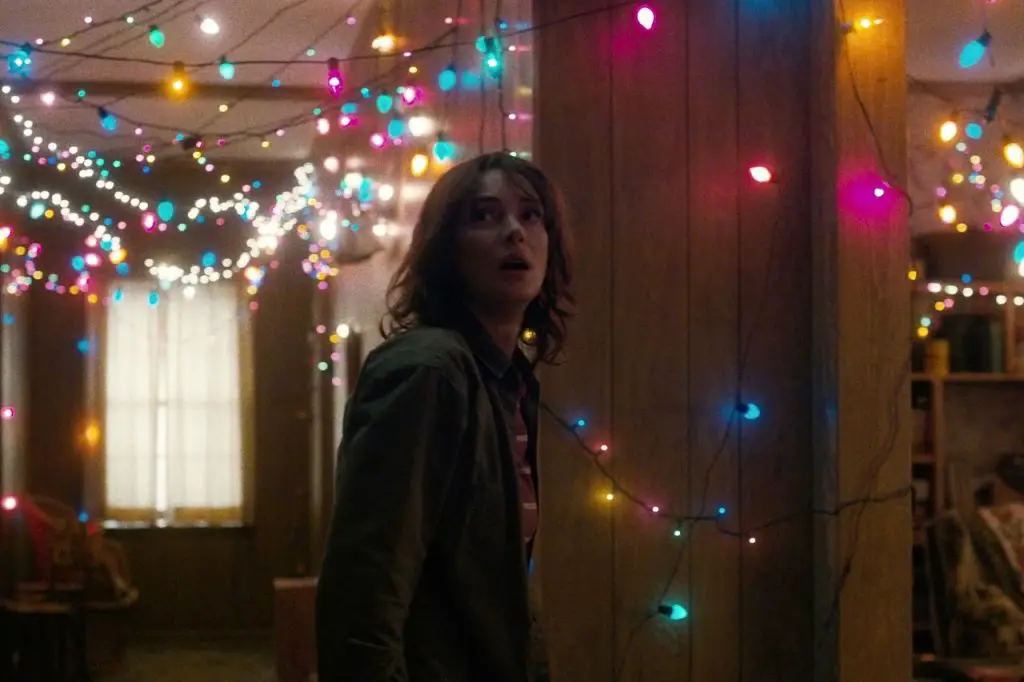 All the characters struggle with both personal problems and a monster terrorizing their town, creating a balance that draws you into their lives with drama and keeps you there with disgusting creatures and government conspiracies.
The season ending wraps up the story nicely but leaves you with enough hints and last minute "oh fuck" moments that I fully expect a second, no doubt creepier, season in the coming summers.
It might just be enough to convince this paranormally anxious young adult to watch more scary shit, just to get my suspense fix. Who knows, stranger things have happened.