One of YouTube's most beloved creators, Shane Dawson, teased the world with his newest project trailer on Sept. 11 — and the internet is shook.
"The Mind of Jake Paul," a series set to release on the 25th of this month, might just be Dawson's most controversial content to date.
If you aren't familiar with either of these gentlemen, let's back up a bit. Dawson, who began his channel in 2008, has basically earned the title of the Dr. Phil of YouTube, and rightfully so.
Within the past year, the 30-year-old has amped up his channel by delivering masterfully edited videos in collaboration with big names like Jeffree Star and Tana Mongeau. Dawson uncovered the ugly truth of the disastrous "Tanacon," and his series with Star left the world in tears.
Dawson's content continues to be raw, truthful and beautifully done.
Now, let's take a look at Jake Paul. The 21-year-old began his internet journey on Vine, making ridiculous videos with his older brother, Logan.
Paul quickly gained a large follower base and now uses YouTube as his main outlet to dump daily vlogs of his crazy antics, mainly of him being a huge douchebag.
The Paul brothers are no strangers to internet backlash, especially after Logan's extremely disturbing vlog in December 2017, which has since been taken off of YouTube. If you don't know the one, just google "Logan Paul Japan." Forewarning, however, you will be absolutely baffled at the disturbing content and lack of respect Logan displayed, all for social media attention and views.
Jake's character isn't much of a step up from his brother's. The Ohio native, who is now based out of Los Angeles, uses his Team 10 platform to influence others on social media and create music.
Team 10, other than being a group of brainwashed 20-somethings led by the infamous Paul, is both a company and a household. The goal of Team 10 is to gather aspiring social media influencers, put them all in one house and let them collaborate on various platforms to build both the Team 10 brand as well as their personal brand.
If you think this sounds like a recipe for disaster, that's because it is. Previous members of Team 10 have since left and spoken out against Paul's relentless pranking and general lack of sympathy for anyone but himself.
One example of this involves the Martinez twins, who posted a video in November 2017, titled "The Truth…," in which they expose Paul's true character. As members of the Team 10 house, the twins were constantly pranked and there was rarely a moment when the camera wasn't shoved in their faces, all for Paul's entertainment.
One of the twins even broke his foot after a life-size Jenga game fell on him, and instead of immediately taking him to the hospital, Paul used the incident for publicity, saying, "…everyone follow him on Instagram for taking an L. Getting followers makes you feel better no matter what."
So the question is, why would Dawson want to base an entire series on an internet monster?
The trailer, which is only one minute long, leaves much to be speculated. Dawson compiles a montage of Paul's previous videos, and for a first-time viewer of the Team 10 creator, you get the idea that he's basically an immature jackass.
The video then cuts to Dawson looking extremely concerned, and he says to his cameraman, "This is gonna be a nightmare."
Viewers of the trailer have taken to Twitter and Instagram to question what the contents of the docuseries might consist of, but no one can know for sure until its release.
If you stuck around to watch the very end of the teaser, you will hear the cameraman ask, "What are you worried about the most?" to which Dawson replies, "that he's gonna be mad when he finds out what this series is actually about."
Talk about a mind-f—. The backlash the creator has received since the teaser's release is no surprise, as many people are generally disgusted by Paul's behavior both on camera and behind the scenes.
However, Dawson's goal for his channel is to push the boundaries of humanity and strip away what many people see as just famous YouTubers. Like he did with Jeffree Star, perhaps Dawson hopes this series will truly dive into the complicated mind of Paul and uncover whether his actions are all for show or if he genuinely fits the "sociopath" label that many have boiled him down to.
jake paul is a psychopath: part 2
The origins of Dawson's interests in Paul seem to stem from a question he answered from a fan on his Instagram story a few months ago: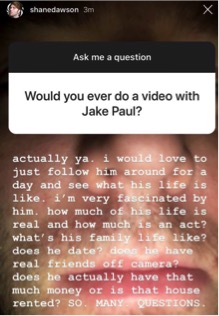 Instead of simply giving Paul more internet attention, Dawson's motives seem to go deeper. He hasn't spilled too much tea on the subject matter of the series, but the few comments he has left only raise more questions: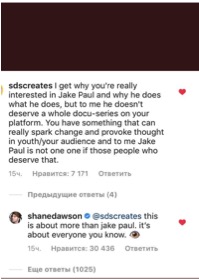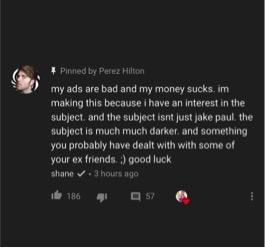 The California native is one of the few YouTubers whose content isn't driven by money, but genuine interest and truth. If you've been a long-time watcher of Dawson, you'll know his older videos are full of characters that he made up in hopes of making the audience laugh.
As he's gotten older, his content has transitioned to exploring more mature subjects like conspiracy theories and, most recently, his multiple-part series that have captivated his viewers and taken the internet by storm.
Many believe that his newest series will fall under the "clickbait" category, especially after Paul's questionable reaction on Twitter to watching the trailer:
HAHAHAHA ??? pic.twitter.com/1VIQCSsVc8

— Shane Dawson (@shanedawson) September 13, 2018
I have faith, though, that Dawson will deliver an exceptional series. He's made it clear on Twitter that he's worked tirelessly to piece this project together. Hold onto your seat, because come the 25th, you might not only see the unseen side of Jake Paul, but the entirety of the internet.