For many millennials, a television show about female wrestling in the '80s isn't likely to whip us into a frenzy. Many of us were too young for any nostalgic factor to play into it and, frankly, if it isn't a workplace comedy or procedural drama, it's already down a few notches on the viewing ladder.
However, Netflix's latest original show, "GLOW," though certainly out of the box, is well worth the watch. With an original plot, a diverse cast and a smart script, "GLOW" retells the story of the 1980s women's wrestling league with a sharp commentary on the side.
Alison Brie stars as the down-and-out actress Ruth Wilder, living with $83 to her name and surviving off of Cinnamon Toast Crunch in her crappy LA apartment. Desperate and defeated after constant failed auditions, Wilder answers the casting call for "unconventional women" from director Sam Sylvia (Marc Maron). Sylvia, a cynical sci-fi B-movie director only doing the gig to acquire funding for his next movie, begrudgingly hires the over-enthusiastic Wilder for the new program G.L.O.W.—Gorgeous Ladies of Wrestling. Wilder joins twelve other women in the league, along with her estranged best friend Debbie Eagan (Betty Gilpin), and the ragtag crew begins their training for the pilot episode.
The first scene of the show opens with Wilder at an audition, reading the part of a dominating businessperson and raving about how there aren't usually roles like that for women, only to find out that she had mistakenly been reading the male part. Fortunately, "GLOW" overflows with roles like that for women—it's the "Orange is the New Black" of the wrestling world.
In the quest for wrestling alter-egos, the drug-infused, rich boy producer Sebastian "Bash" Howard (Chris Lowell) tells the women that whatever the audience sees first is what they will associate with the wrestler. Or, in other words, when it comes to stereotypes, lean in. And so with the guidance of Bash and Sylvia, the two black women on the team, Tamee (Kia Stevens) and Cherry (Sydelle Noel), become Welfare Queen and Junkchain the Rapper, respectively. The Indian-American med student Arthie (Sunita Mani) becomes Beirut the Terrorist, and the British Rhonda (Kate Nash) becomes Britannica, the scandalously clad super-nerd.
It's easy for these stereotypes to become caricatures for humor, and at times some of the gimmicks can be cringe-worthy, but there's often a delicate balance between cringe and commentary. For example, though Welfare Queen flaunts her food stamps and throws them around the stage, Sylvia defends the move as an objection to the famous Regan-era crusade to diminish the supposedly luxurious lifestyle that welfare provided.
In this way, "GLOW" is one of the few shows that has a largely diverse cast but doesn't use that diversity as a means to land a joke. The characters are largely aware of the stereotypes they're stepping into, but they're smart enough to recognize the problems and implications of doing so, and invent their own ways to send messages through their performance. Audiences see the stereotypes within the ring along with the complexities outside of it, making for female characters that are not only realistic, but also three-dimensional.
In that creation of realistic female characters, Brie's Ruth Wilder is a markedly convincing portrayal. Wilder is desperate, confused and, at times, pathetic. She can be cringingly hard to watch, from her overly enthusiastic roleplaying to her misguided lofty monologues in the ring. Since she's the protagonist, you want to root for her, but sometimes she makes it so hard to do. Wilder wants to be liked so badly but struggles knowing that she might actually be one of the bad guys—or at least one of the irritating ones. For her, wrestling turns into more than just a job—it's a road to redemption and self-discovery. And Brie embodies the role.
Since "GLOW" is a show about women wrestling, there are bound to be jokes about the programming pleasing men due to the woman-on-woman action and stuff. During a production meeting, director Sylvia even makes a comment to the network executive that men will tune in because women fighting is hot. It's porn you can watch with your kids!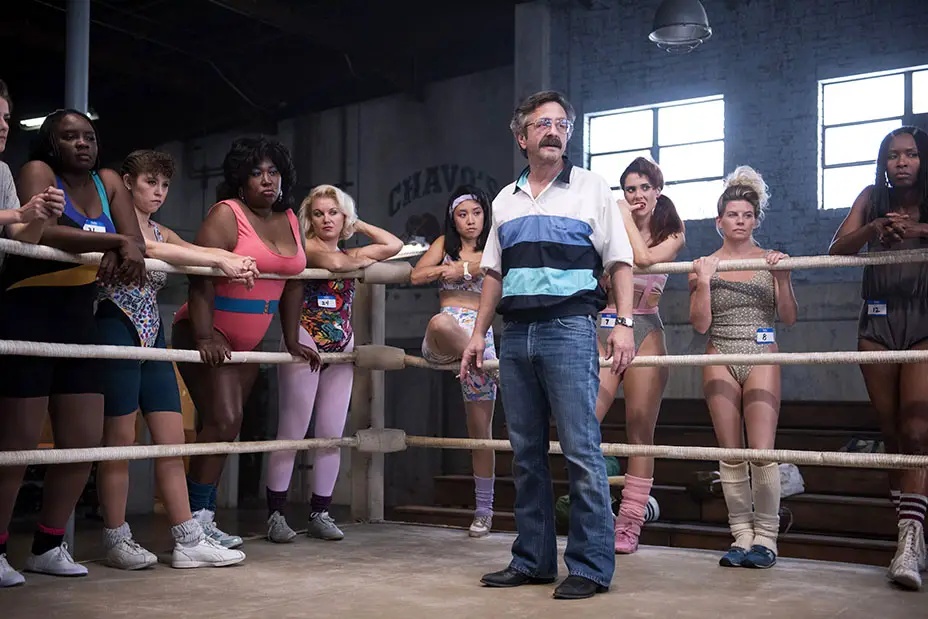 But although most of the women are clad in skintight spandex, they aren't wearing it for anyone but themselves, and they don't have to. The women comment on how they're used to being told what to use their body for, or men using them for their own purposes, but for them, wrestling is a way of taking back control. It's women's liberation disguised in glittery eye shadow and gaudy outfits, but women's liberation nonetheless.
Kate Nash, who plays the role of Rhonda, even remarked in an interview that the show helped her build confidence in her own body. She worried less about looking good and more about wrestling well; she used the sport to find a purpose for her body that she hadn't before.
Since the show revolves around twelve women, it doesn't shy away from the intimate details that come with a personal life. From miscarriages to unplanned pregnancies to infidelity, the show illustrates the uncomfortable realities that accompany being a woman and how those realities don't always have easy answers. It isn't revolutionary for a show to openly talk about tampons, but "GLOW" does this and beyond, making it an especially poignant series for women specifically, and all the more important for men to watch.
For as much as the show has to say about race and gender, it also comes with a heaping portion of pure '80s fun. You might be thinking to yourself, "This show sounds kind of good, but does it even have a good training sequence?" And I'm here to tell you it has not just one, but several training sequences, all of which come with their own killer '80s track. Also, speaking as someone who knows nothing about pro wrestling, "GLOW" gives a unique look into the intricacies and choreography that go into making a match. Even if you don't love the show, you'll still come away with at least a greater respect for Dwayne "The Rock" Johnson's earlier work.
"GLOW" stands out from any other show on television right now, with its bright '80s pop and over-the-top theatrics that take the visuals and vintage to another level. With its diverse and dynamic representation and romping wrestling montages, it's as fun to watch as it is important.