Hollywood has no shortage of coming-of-age stories currently tugging on the heartstrings of movie theater audiences across America. "Minding the Gap", however, rises above the masses of cheesy, unrealistic documentaries about ordinary people, and instead tells the story of outcasts and abusive family cycles in small-town America.
"Minding the Gap" premiered on Hulu on Aug. 17 and stars Bing Liu, the director, along with friends and co-stars Zach Mulligan and Keire Johnson. All three men hail from Rockford, Illinois, where the boys grew up together. Liu filmed their exploits for more than 12 years, capturing their day-to-day lives and digging up skeletons bound to shock even the most indifferent viewer.
Mulligan exemplifies the standard of a skater boy with his disheveled hair and carefree attitude. When he's not drinking PBR, Mulligan repairs roofs for work and spends time with his girlfriend, Nina, their son, Elliot and dog, Cheese. The relationship between the two young parents grows explosive at times, an unsurprising result given their immaturity and the difficulties of parenting.
Although their accounts of how the fight started differ, an argument between the two turned physical one night. The conflict left Nina with a scar on her eyebrow and a new housing arrangement for her and her son. Nina blamed Mulligan's drinking for the abuse, but in one of the final scenes of the documentary, Mulligan says, "You can't beat up women, but bitches need to get slapped sometimes."
Abuse and neglect come as no stranger to Mulligan because his mom left him when he was 2 years old, leaving his dad to raise him alone and later with his new wife. His parents would have arguments because of his behavior, which sometimes resulted in the police being called.
The abandonment of his mother influenced him so greatly that Mulligan ended up leaving his own son on multiple occasions. He planned a trip to Colorado for two weeks and, in the end, decided to stay. He would remain in and out of Elliot's life for the remainder of the movie.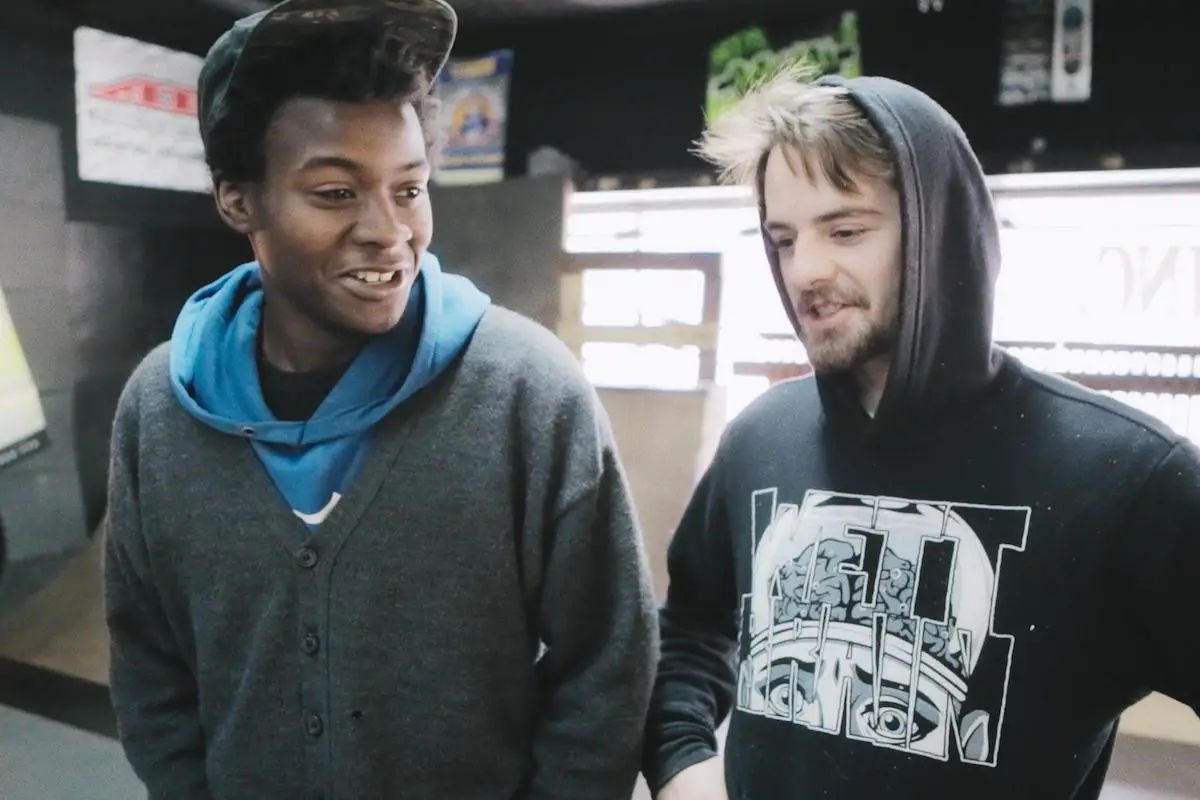 Reaction to the documentary has been overwhelmingly positive and even created a stir with Hollywood's biggest stars. Jonah Hill, from "Superbad" and "21 Jump Street," tweeted, "Just saw @MindingGapFilm. It's incredible. Please check it out." The film also has a 100 percent rating on Rotten Tomatoes.
The second subject, Keire Johnson, lights up a room with his electrifying smile and laugh, and his demeanor and relaxed style are exactly the kind you'd expect to find in a kid at a neighborhood skate park. As a young African-American man in America, Johnson shines some light on the harsh reality he faces daily.
A theme in the film, which relates back its title, concerns the gap between childhood and adulthood. Is there a day when a child is no longer a child, but an adult? Johnson wrestles with this inner conflict after realizing he'll need a job if he ever wants anything better for himself.
He becomes a dishwasher at a local restaurant, and, unsurprisingly, hates it. He eventually buys himself a car and begins to save in order to move out of his mother's house. A robbery committed by his brother sets Johnson back from his goals, but, in a turn of events, he gets a promotion and earns the money he needs to move across the country to start a new life.
Johnson also had a tough childhood, experiencing abuse and the premature death of his dad. The two got into an argument where Johnson tried and failed to throw a punch, which led him to move to his mother's shortly after. One day when Johnson got home from school, his mom told him his dad had died. One of the last things Johnson said to his dad was that he hated him. A later scene in the movie shows Johnson searching for the grave, finding it and then crying on the ground in front of it.
"Minding the Gap" originally premiered at the Sundance Festival in January where it won U.S. Documentary Special Jury Prize for Breakthrough Filming. Viewers from the screening took to Twitter to voice their first impressions. "An emotional powerhouse of a movie about growing up, where you're from and the influences you have throughout your life," said Andrew Lopez.
The director, Bing Liu, makes rare appearances in the film, but, when he does, he tells an all too familiar tale of childhood abuse. His step-father would beat him so badly that Liu's brother described the noises he would hear as "unnerving screams of anguish."
A sit-down interview with Liu's mom, Menguye, showed the guilt she felt about not knowing how serious the abuse toward her children was. She kept repeating it was the past, but the past, as this film shows, very seriously affects the future, especially of abused children.
An interview with a local skate shop owner reveals more about Liu as a teenager; the man remembers how skating became a life-or-death lifestyle for Liu, not a hobby. The now-director, quiet by nature, was even suspected of being gay by the owner because of his reserved personality.
The film can be separated in two different filming styles; one reflects a more "Jackass"-style movement shot while the other parts are sit-down interviews. "Gap" also lacks a real time frame, so the subjects' ages and progression over months or years remains unclear. The primary way to keep track of time is by tracing the growth of Mulligan's son, Elliot. The film shows when Nina is pregnant, when Elliot is a newborn, his first birthday and, finally, him presumably 2 or 3 years old.
In addition to the struggles of their childhood, the group also experienced other setbacks, such as failed businesses and eviction. Yet at the end of the film, Mulligan can be seen snuggled up to his new girlfriend while Nina works on taking care of their son. Keire drives off into the distance headed for a new life in Colorado. Liu, now a Chicago-based director and cinematographer, graduated from the University of Illinois with a B.A. in Literature and has won over 20 awards for his films.
"Minding the Gap" will make the audiences laugh and cry and maybe even influence them to pick up their own boards.