LeBron James has already taken over Michael Jordan's number, but, in the contest to determine the best No. 23 of all time, James has taken an important step by agreeing to reprise Jordan's role in "Space Jam 2." Yes, three months into LA living and James has finally decided to participate in remaking the 1996 Looney Tunes smash hit, which is projected to air January 2021.
Hopefully I am not the only one, but growing up in the '90s and watching the OG film was probably the most surreal moment in my childhood. All I ever wanted was for a sequel to come out, but it never did.
Surprisingly, it took 22 years before Bugs Bunny forged another NBA-worthy basketball team to save his planet.
"The 'Space Jam' collaboration is so much more than just me and the Looney Tunes getting together and doing this movie," said James. "It's so much bigger. I'd just love for kids to understand how empowered they can feel and how empowered they can be if they don't just give up on their dreams."
This early in the game there are only three people currently slated to start on the film's all-star roster. Ryan Coogler, of "Black Panther" fame, has been drafted as the producer; from the HBO show "Random Acts of Flyness," Terence Nance will continue on his directing streak; and playing alongside James, Eric Bauza will be the voice of Bugs Bunny.
The plot twist is that there is currently no confirmed storyline. But don't panic everyone, James has promised to start filming in the 2019 off-season, meaning producers will likely have formalized the script before then.
According to rumors, the only components of the original film returning will be the Looney Tunes cast and the Monstars. If you recall in MJ's mission to save Tune Land, he battled in a basketball game against his biggest foes on the court. The question is, who will James contract to play the opposing force?
According to Bleacher Report, former Miami Heat teammate Ray Allen has predicted who will step on the court based on real-life rivals of the former Cavs. Although the call's not his, Allen believes Kevin Durant, James Harden, Stephen Curry and Anthony Davis would make a formidable matchup between James and the Tune Squad.
In an interview with Men's Journal, MJ commented that he wants to see LA Clippers star Blake Griffin have a prominent role in the remake. "Absolutely, absolutely," Griffin said. "I'd love to be involved in any capacity, really. 'Space Jam' was a huge part of my childhood."
Griffin explained that his fascination with the franchise extended long past his childhood, well into his early adulthood. "I actually had a 'Space Jam'-themed birthday party as a teen. Then, when I turned 21, my friends got me a 'Space Jam' cake to relive the glory days," Blake continued.
In addition to featuring NBA players, the film will also play host to a number of prominent comedians, including Kevin Hart. Hart will take on a role similar to the one Bill Murray played in the first film, as a comedic foil to James.
Magic Johnson, too, has expressed interest in playing a role in the remake. "If they have the budget for me, I'll be in it," Johnson said.
Should Johnson take the role, it would likely resemble the relationship the current Lakers president of basketball operations has with James. Now a member of the Los Angeles Lakers, LeBron has since moved from his home city to be under his mentor Magic Johnson.
Although Johnson was truly one of the best to ever play the game, it seems unlikely that he would play on the Monstars team. Plus, given that the two share a Lakers background, it's likelier that their dynamic would mirror their real-life relationship.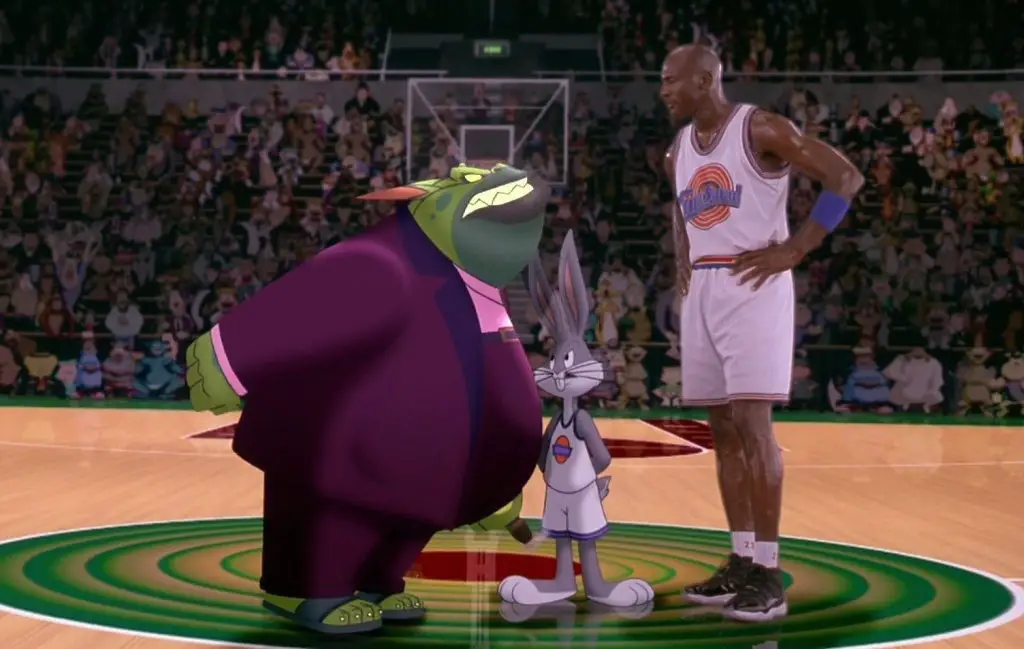 Supporting cast aside, the big question remains: Will Jordan return? James has reportedly attempted to get Jordan on the roster for "Space Jam 2," but so far, the Chicago Bulls star has not responded. If the original protector of Toon Town made an appearance, fans everywhere would get a double dose of nostalgia.
When news of the film's scheduling released, Twitter users immediately began ranting about everything from how great the film will be to how James might ruin a classic. One thing is for sure, the excitement for Round 2 of the Dream Team versus the Mean Team is out of this world. Whether the captain is MJ or James, Tweety Bird was right when he said, "Those Monstars'd wished they'd been never born!"