After months of internet hype and trash talk, KSI and Logan Paul finally got to hash it out in the boxing ring. The YouTube celebrities threw hands for six, long rounds before the judges concluded the match was a tie. If you haven't been following the most built up drama in YouTube's history, I'll try to boil it down for you.
KSI and Logan Paul are two of the most famous YouTubers in the world. KSI (whose real name is Olajide William Olatunji) originally became well-known for his entertaining FIFA streams and videos, and, in more recent times, he's also been surprisingly successful at creating his own music videos — though many of his original gamer fans wish that he had stuck with playing FIFA.
Paul initially found success during the era of Vine, posting six-second video skits that led to his becoming one of the app's most famous users. Around the time when Twitter discontinued Vine, Paul switched over to YouTube in order to carry on his brand. In fact, you may know him as the infamous YouTuber who went into Japan's world famous "suicide forest" wearing a ridiculous, green alien hat and chuckling in the presence of dead bodies. That event prompted public backlash from all over the world and also served as a major point of the trash talk months before the fight.
Back in February, KSI went up against 22-year-old musician Joe Weller, taking the victory with a technical knockout. After the fight, before calling out the entire Paul family, KSI named himself the YouTube boxing champion and even had a belt made for himself. That incited the real beef between KSI and Paul. For the better half of a year, these famous YouTubers have been throwing shade back and forth and even going so far as to create diss tracks aimed at each other, all of which hyped up the boxing match that finally took place on Aug. 25.
The fight seemed riveting for the followers of the two competitors, but not as impressive in the eyes of those who know the sport of boxing. Though the throwing of gloves resulted in an extremely close match, technique didn't play a huge part in this professionally organized event. Paul attempted some good form in the first couple of rounds, but pushed himself too hard, exhausting himself by Round 3. Having patiently awaited Paul's fatigue, KSI landed a few well-placed jabs against a self-weakened Paul.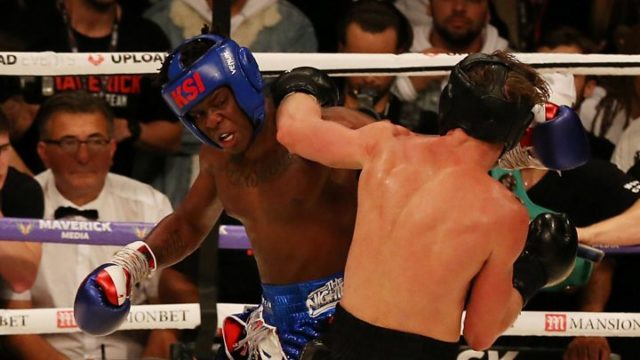 After the sixth and final round, both internet celebrities stood in the center of the ring, faces swollen and bloody, as the judges called it a tie. But the drama's not over yet. Apparently, there is another fight scheduled for some time next February, though the exact date and location haven't officially been decided yet.
So, what can the internet community learn from the first fight, and what can you expect from the next one?
As I mentioned before, this fight was probably the most anticipated event to ever transpire between two YouTubers. Approximately 773,000 people viewed the fight via YouTube Live, the official way to watch the fight, generating nearly $8,000,000, according to Clevver News. Even more viewers watched pirated versions of the fight on other streaming services. In fact, over one million viewers were logged in watching the fight on Twitch alone. This has, of course, led to some controversy over why Twitch did not immediately ban those profiles illegally recording and sharing the fight for free.
Whether their viewing was ethical or not, nearly 2 million people tuned into this long awaited fight. That's just a couple hundred thousand views short of SpaceX's Falcon Heavy rocket launch back in February, which made it YouTube's second most watched live stream at the time. If one boxing match between two YouTubers can generate nearly as much viewer traffic as a rocket launching into outer space, imagine what could happen if a second fight takes place.
If this next fight really does happen in February, the result would be a culmination of a year's worth of smack talk and diss tracks all leading up to a highly anticipated tiebreaker. It's difficult to imagine what the next event could possibly entail, but if I had to guess, it's going to be just as much, if not more, hyped up than before.
Now, viewers know how KSI and Paul fight together, and have seen what six months of training can do for Paul. I can almost guarantee that both fighters — if that's what I can call them now — will train with the hunger to win and the knowledge that the other fighter will be training at least just as hard after a tie. That's just the story of boxing.
What you should particularly watch out for over the next few months is how both KSI and Paul are going to keep the internet community hyped up for the next fight. How many salty tweets and YouTube videos can the two aim at each other before people start getting bored of the same material? I'm curious as to how much mud these two YouTube stars can actually sling at each other before running out of material, because let's be honest, neither one of them write the best diss tracks. They're going to have to come up with some fresh content to keep the fans entertained.
If both of these guys are smart, they will try to keep their records clean for the coming months, especially Paul. The Paul brothers are known for getting into trouble, from filming in the "suicide forest" to borderline doxing Post Malone, and if Logan doesn't want to provide KSI with more ammunition for diss tracks, I think he needs to play it close to the hip when it comes to social media and focus on training instead.