Like many college students, I have trouble finding time to shop for groceries while juggling a heavy course load, campus organizations, internships, work and what feels like a sparse social life. There just never seems to be enough time to squeeze in a grocery run between all those things. I'd rather live off quick, convenient snack foods instead — the pinnacle of unhealthy eating, I know.
But what if there was some way I could skip the grocery run altogether? What if I could order groceries in bed and have them delivered straight to my apartment in a couple days? Luckily, Boxed.com has that convenient solution.
So what is Boxed.com?
Fondly called the "Costco for millennials," Boxed.com is a digitally native buy-in-bulk retailer with mobile ordering, speedy delivery and great savings. It sells and delivers a variety of products from several categories like grocery, bath & body, home & appliances, lifestyle and pets. You can buy anything from chips to toilet paper all in bulk.
The service offers free two-day shipping if you spend more than $49 — an easy feat when you're buying groceries in bulk — and, unlike Amazon, doesn't require a membership to make a purchase.
And while the site can be used without paying for its services, Boxed.com has recently launched a new paid membership program, similar to Amazon Prime, called Boxed Up. For $49 a year under the new program, members receive free rush shipping for orders over $20, VIP customer service, price matching and 2 percent cash back rewards.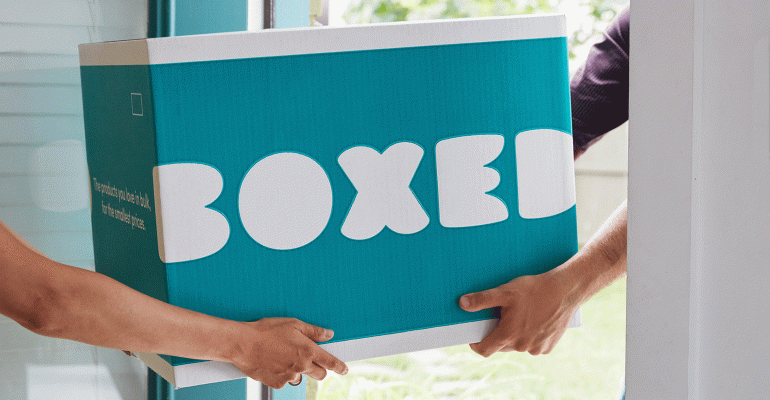 However, this does not take away from the non-member experience. Boxed UP was designed for frequent customers looking for something a little extra, a premium service with deeper discounts and unique offerings they were willing to pay a little to get. Boxed.com wants to remain accessible, free and easy to use for all its customers.
"Boxed has taken the best elements of the wholesale shopping experience and folded them into one innovative, cutting edge mobile app that allows consumers direct-to-their-door access to all of their favorite warehouse club products, without membership fees," said Globe Newswire.
Think of Boxed.com as the online shopping platform stores like Wal-Mart, Kroger and Sam's Club desperately want in their retail portfolios. It's all about finding a profitable way to transition retail business to online services — Boxed.com has that in the bag and then some.
Meet the CEO, Chieh Huang.
Chieh Huang, the 36-year-old Taiwanese-American co-founder and now CEO of Boxed, started the business back in 2013 in his parents' garage. Once an operation of four people sorting through boxes, Boxed is now home to over 400 employees and six fulfillment warehouses across the country. In only three years, Huang developed a business worth over $100 million. Each month it ships hundreds of thousands of boxes — you can't do that from your parents' garage.
In an interview on YouTube, Huang described what is was like living in Manhattan and not having a car to get to warehouse clubs like Sam's Club or Costco for better prices. So it all began with the idea that there must be a better way for customers without physical means to get to these places to still have access to warehouse deals.
From that starting point, their target market evolved into people who didn't have the time, the patience or the physical means to go to a grocery store or warehouse clubs. Cough, cough, college students? Boxed.com was expertly developed to fix this problem.
Despite all his success with Boxed, Huang has made a point of investing in his employees for the long term; he remembers his own working roots and wants to extend a helping hand to his employees because he knows what it's like to be in their shoes. How many CEOs do you know of that offer to pay for life-changing events like weddings or a child's college tuition? Huang believes in paying it forward to the employees who help make Boxed.com a successful, innovative company.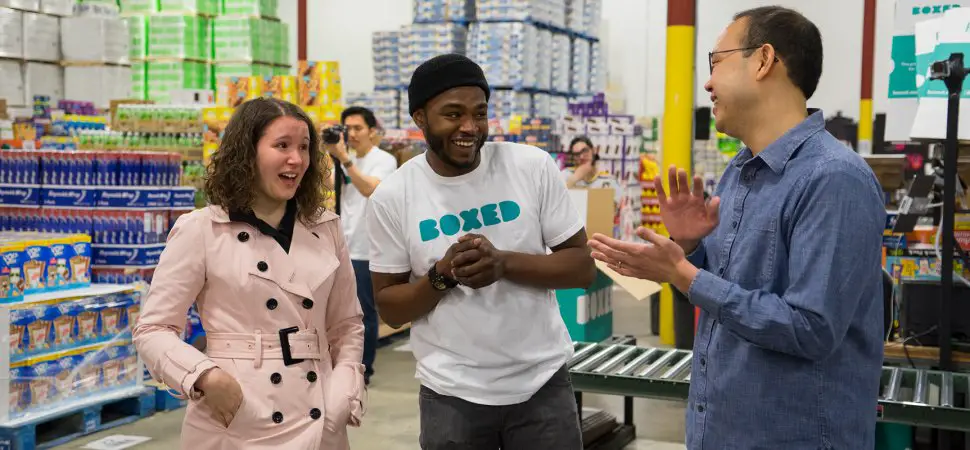 Not only that, but Huang is taking steps to eliminate the pink tax, the upcharge on woman's hygiene products, in his "Rethink Pink" campaign by reducing luxury sales tax on tampons and pads and price matching male equivalent products.
In short, Huang is a CEO role model that others should aspire to emulate with his innovative thinking and caring consideration of others.
How does Boxed.com work?
First, to access the website you must give your email address. You can't access the full website or buy anything until you complete this step. This might be a turn-off for some customers, but how else can you expect to interact with a digitally based company?
Once you give your email, a welcome from Huang arrives in your inbox and the website's home page opens, granting full access.
From thereon, you navigate the site (more on this later), find what you want and add it to your cart. If you're familiar with Amazon shopping, it's really no different. However, since this is a buy-in-bulk retailer, you need an order minimum of at least $19.99 to reach checkout.
When you're buying from Boxed for the first time, it makes you create an account with the email you offered earlier to get website access — easy stuff. You even get free shipping on your first order! Then you enter your name, address, phone number and payment information and you're done. Like I said, very similar to Amazon.
You're even allowed to add two free samples of other products — a brilliant way to get customers to try new things — onto your order. Discounts on other products also appear along the checkout screen to award you for using Boxed, and its easy to use promo codes offered on the site as well.
Once the order ships, you can track the order from the website or app. You can even see the contents of your package and, upon arrival, are encouraged to post your very own BoxedSelfie. Each package comes with its own personal note from the Boxed staff and typically a discount coupon of some sort for your next purchase.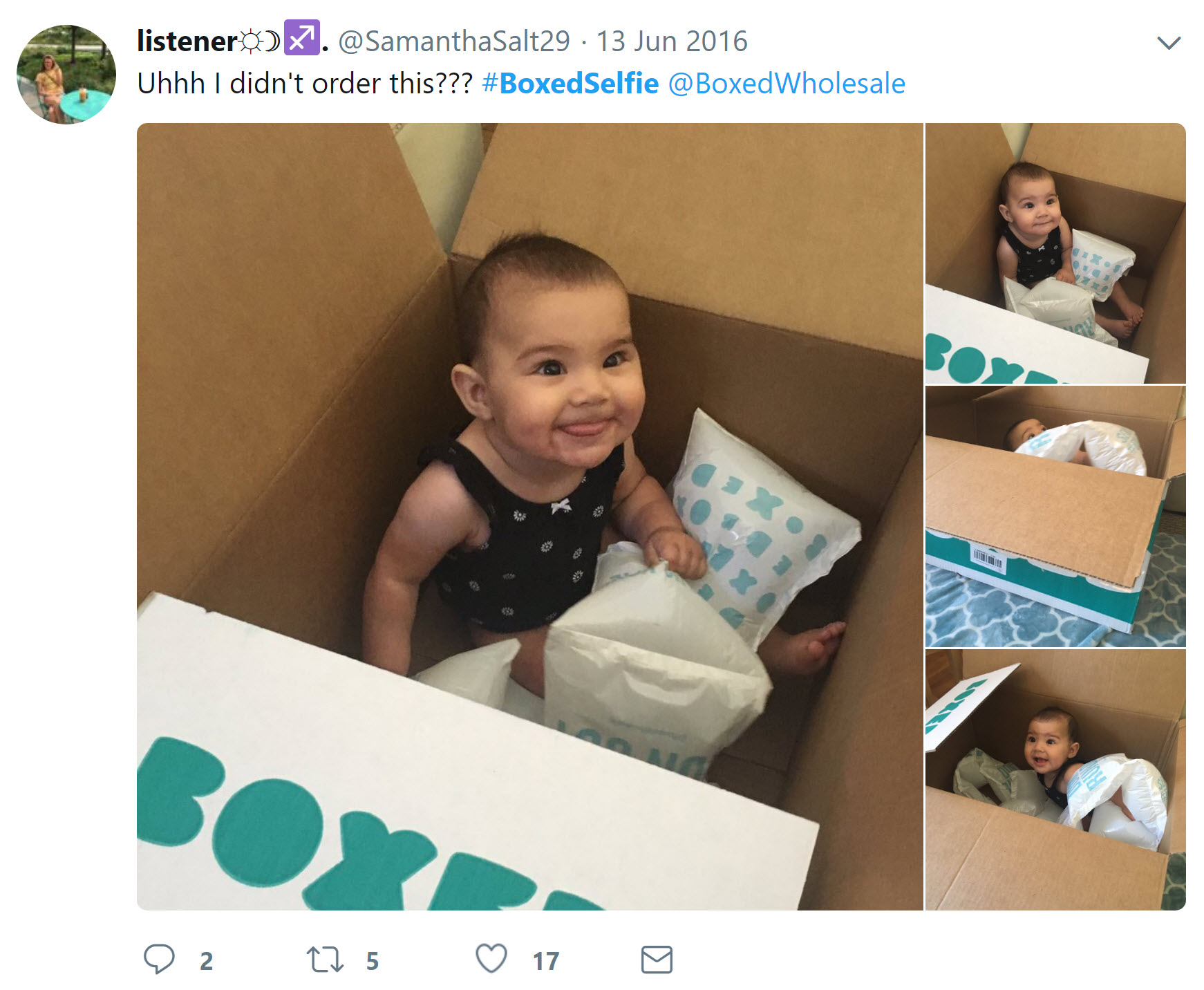 It's fun, easy and rewarding to shop Boxed!
What does the website look like?
Unlike other retailer websites or Amazon, Boxed.com has a clean interface. With minimal advertising and a considerable amount of white space, the website isn't cluttered and it's very easy to navigate. Along the top bar you have categorical favorites for shoppers: All Products, Best Sellers, All New, Sale!, Free Samples and Prince & Spring (a Boxed brand). Under All Products, it's easy to find what you're looking for as the product categories narrow and specify to your needs.
I like to say the app and website operate a lot like a social media page — very interactive, user friendly and fun. You can "heart" your favorite products and other customers can see who likes what. The product icons or images move when you move your cursor over them. It's easy to see price discounts and comparisons to other retailers.
Clicking on an emoticon in the top right corner leads you to your account and a megaphone icon shows you a Boxed news feed. Overall it's a very welcoming interface that makes customers feel smart instead of lost and confused while shopping.
Is it successful?
Considering both Kroger and Amazon have both tried to buy Boxed.com — Boxed rejected a whopping $400 million offer from Kroger — I'd say Huang has stumbled upon a pot of gold in the online retailer industry. Boxed.com is a part of money expert Clark Howard's list of top five retailers to watch in 2018, among many other accolade lists.
As of August 21, Boxed has raised $111 million in its latest funding round. Huang said that although Amazon beats them in product variety, Boxed is more disciplined and rooted in its warehouse bulk design. Their resilience or grit, as Huang identifies, is what sets them apart from the competition. With new funding capital in the hundred millions, there's nowhere left to go but up.
So, if you're a busy college student with no time to make a grocery run, I recommend giving Boxed.com a go. It's easy to use and saves time and money — what more can the busy college student ask for?