As a current college student, I recognize the importance of taking an active role in understanding the cultural panorama and staying up to date with our political climate. Unfortunately, it's not always that easy to stay informed. Things get in the way all too often. The multitude of news sources can get overwhelming, as can concerns over misinformation and lack of information. Additionally, there's the research that has to go into finding out the background of an issue. While many are willing to put in the effort, time can be severely lacking. So how can college students stay updated on current affairs?
Enter: Hasan Minhaj, American comedian and political commentator from Davis, California. Recently, Minhaj launched his news show, "Patriot Act," on Netflix. The show covers a myriad of topics, hoping to extend beyond just politics.
Now, Minhaj isn't new to the political comedy scene. He rose to prominence in 2014 after Jon Stewart, then-host of the satirical news television program "The Daily Show," hired Minhaj to be a daily correspondent. Minhaj went on tour with his off-Broadway one-man show, "Homecoming King," in 2015. In the show, he used personal anecdotes to talk about topics such as immigration and racism.
In 2017, Minhaj released the show as his first stand-up special on Netflix, entitled "Hasan Minhaj: Homecoming King." The same year, Minhaj was the speaker at the White House Correspondents' Dinner, where he famously roasted President Donald Trump. After leaving "The Daily Show" in 2018, Minhaj debuted his news talk show, "Patriot Act."
So, how is "Patriot Act" different from other talk shows on air right now? We already have so many other news shows. Aren't Seth Meyers, Stephen Colbert and John Oliver enough? Or has Hasan Minhaj created something new?
To start, Minhaj really does cover everything from politics to culture. In the first episode of "Patriot Act," he talks about affirmative action and how a lawsuit against Harvard could bring down certain race-conscious policies. Another episode addresses Saudi Arabia, after international backlash on journalist Jamal Khashoggi's death brought the actions of Saudi Arabian prince Mohammed bin Salman bin Abdulaziz Al Saud to light. The most recent episode, released on Nov. 4, shows Minhaj delving into the world of online shopping to show how Amazon became the largest online retailer in the world.
Although this seems like a lot of information to share, each episode stays under the 30-minute mark. Yeah, it means each episode is chock-full of information, but it also means that it isn't overwhelming. The short episodes are easy to watch and simultaneously easy to learn from. Humor is intertwined with the facts and commentary, providing comic relief from what can be extremely difficult topics. On the conflict in Yemen, Minhaj says, "[The conflict in Yemen] is the worst of everything happening in one place, and people keep wondering, will this ever end? So it's basically the Golden Globes."
Perhaps one of the best aspects of the show is that Minhaj always gives historical background or some sort of precedent to provide an overview of what he's talking about. For example, in the Amazon episode, Minhaj refers to predatory pricing and its effect when retailers such as Amazon use it. However, before delving into the effects, he takes half a minute to explain, "Here's a simpler way of describing predatory pricing." It's this ability to put difficult concepts into layman's terms that makes the show easy to watch.
Yet another aspect that makes "Patriot Act" unique is its set. Rather than sitting behind a desk and talking to the audience from a single perspective, Minhaj walks around in a standup-esque style on an extremely interactive stage that consists of screens both behind and under Minhaj's feet.  In the premiere episode of the series, Minhaj jokes, "Look at this place. It looks like Michael Bay directed a PowerPoint presentation. It's insane."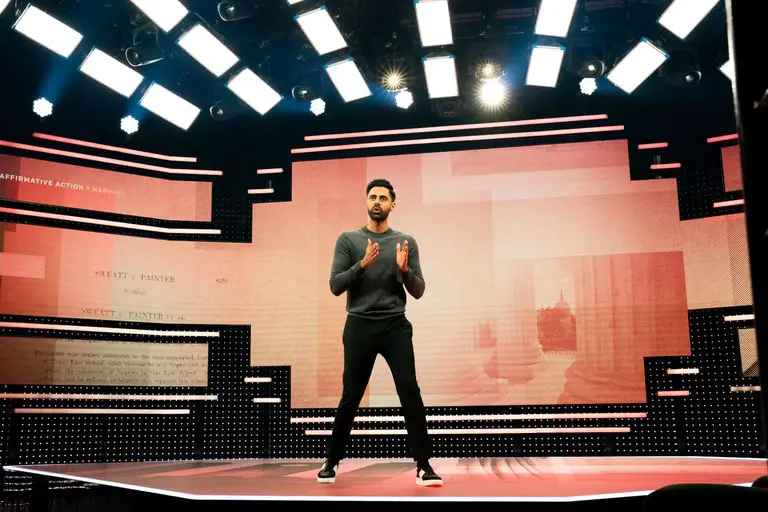 Although an interactive set may not seem huge, it really is. Compilations of graphs, media coverage, tweets, images, statistics and other information flash in the background as Minhaj talks about them. It almost seems like a symphony of information, except the audience is physically watching the music come together in front of them. The supplementary material is expertly placed and doesn't overwhelm the audience. In fact, it gives the whole space a sense of modernization and proactive reverence.
Everything about the show itself is fine and dandy, but why is it important? Well, the amount of the population who seems to be interested in politics and both national and international issues seems to be rising. I see more and more of my peers retweeting political tweets and talking about the most recent government scandals. Especially considering the midterm elections and the pressure on increasing voter numbers, shows like this are incredibly important. They build the foundation of the knowledge we base our opinions on, and the knowledge that we take to the polls with us on election day.
Despite all of this, the show wouldn't work without the man himself: Hasan Minhaj. The undeniable charisma and ease with which he takes the stage makes the show light and fun to watch. Minhaj keeps up the barrage of self-deprecating and relatable jokes. When a possibly heavy joke comes up, he follows it up with, "Oh, what? Is that too real?" It's the perfect combination of information and humor. Minhaj shows that accessing information doesn't mean we have to give up comedy.
A word that Minhaj uses often on the show is "woke." For anyone who doesn't know what "woke" means, Urban Dictionary defines it as, "Although an incorrect tense of awake, a reference to how people should be aware in current affairs." I'd say this is pretty accurate. "Patriot Act" is the most perfect "becoming woke for dummies 101" that I've ever seen. I'll definitely be tuning in every Sunday to get my weekly dose of commentary and comedy, and you should too. Can't watch on Sunday? No worries. It's on Netflix, so grab a snack, a pencil and some paper and get ready to binge watch.