What do you get when you combine a Disney star, a singer-actress hailed as Lesbian Jesus and the former protagonist of a political thriller? The result of this tantalizing concoction is "Five Points," a teen drama web television series that premiered on Facebook Watch on June 4.
In South Side Chicago, five students at Five Points High School experience a catastrophic event seen through different perspectives, which ultimately collide. Although the premiere only consisted of three 13-minute episodes, the series has the potential to capture audiences and rival the Netflix original series that millennials have grown to love and binge-watch.
Attempting a bold yet subtle kickoff, the show opened with fleeting scenes of high school classrooms and hallways, with an eerie narration that stated: "One day, one moment — my life is changed forever. Five lives will never be the same. One moment and our world is shattered." The chilling lines are followed by a black screen and a gunshot that reverberates throughout the airwaves and clings to your eardrums in anticipation.
After the series-opening trilogy, some may reduce it to a cheap "13 Reasons Why" knockoff, yet the young series' potential goes well beyond what any TV show has ever done.
Warning: spoilers ahead. 
Episode 1: "And Yet Here We Are"
In the first episode, "And Yet Here We Are," 1.7 million viewers met CJ (Raymond Alexander Cham Jr.), the show's token edgy character.  Obviously in need of quick cash, he sells cell phones to a pawnshop, only to learn that pawning instruments or guns are the tickets to a big score.
However, viewers soon discover that CJ's criminal undertones are justified by a lingering eviction notice, $3,000 in past due rent and a starving sister to feed with the limited supplies of mustard, frozen waffles and a solitary can of chicken noodle soup.
In class the next day, a solution presents itself, as CJ sits across from Tosh (Madison Pettis) — a trust fund kid who wears her privilege and popularity better than her Chanel bags — he overhears that her father showed his extensive gun collection to her boyfriend, Eric (Spence Moore II).
CJ and his trusty sidekick, Ronnie (Jahking Guillory), break into Tosh's house, steal her dad's guns and hide them in the school dumpster. CJ quickly leaves the scene, with the episode concluding with two unknown characters chasing a third unknown boy and threatening to kill him. The credits roll as the mysterious trio head in CJ's direction.
Episode 2: "Everybody Knows"
The second episode, "Everybody Knows" garnered 757,600 views, a significant departure from the pilot, but still proved that viewer's eyes were still on "Five Points." The show shifted its focus to Tosh, who is played by Pettis, the former Disney Channel star best known for her role in the short-lived Disney show, Cory in the House. While audiences were eager to see Pettis' glamorous return to television, it's immediately apparent that she is the character they will love to hate.
In the beginning of the episode, Tosh's 5 a.m. wake-up time is an instant indicator of her unrelenting reach for perfection. After an intense treadmill session, she proceeds with a painstaking selection of shoes, clothes, makeup and jewelry.
Tosh's mother appears to be the final source of approval and the root of her insecurities. A firm believer in the adage, "nothing happens without a plan," she reminds her daughter that being the prom king's girlfriend makes her a shoo-in for Notre Dame, and encourages Tosh to squeeze in one more extracurricular activity into her tight schedule.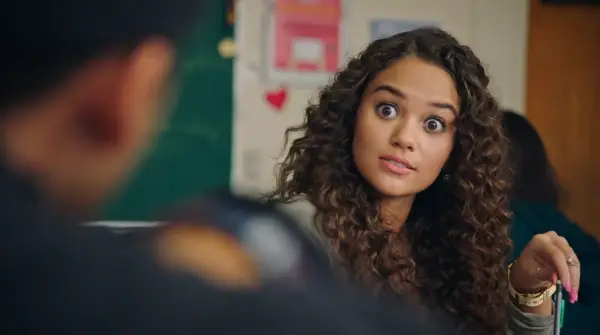 Young love combined with the pressure to keep up appearances causes Tosh to become obsessive in her relationship with Eric. She continually forces her and Eric's long-term future down his throat, leaving little independence for either individual.
Tosh constantly holds Eric to lofty expectations, but he is overwhelmed by the recovery from a concussion and the daunting quest to receive an athletic scholarship. After his coach informs him that college interest has dwindled following his injury, Eric breaks up with Tosh in a heated argument, as he's convinced that she does not truly understand him.
Episode 3: "Too Soon to Tell"
Struggling to achieve the success of the first two episodes, "Too Soon to Tell" stumbled to only 169,300 views, but is actually a missing piece to the puzzle. The spotlight is on Wallace (Nathaniel J. Potvin), an intelligent young man who opens the episode carefully weaving through the crowds to safely transport his science project.
Viewers first got a peek of Wallace in the second episode when Eric helps him pick up the project that is eventually knocked to pieces by a bully named Alex (Jake Austin Walker). In episode three, it's also revealed that he has a crush on the enigmatic Lexi (Hayley Kiyoko).
More importantly, Wallace steals his father's prescription pad and sells forged painkiller prescriptions to Eric. Alex, who is one of Eric's teammates, wants in on the deal and threatens to beat Wallace up every day if he does not sell him prescriptions. Wallace precedes to call him a "fag," inciting Alex to chase him out the school, deliver a series of swift blows and throw him in the same dumpster where CJ hid the guns during the first episode.
In the episode's final seconds, Wallace grabs one of the stolen guns and aims the ornately decorated barrel at his attacker. Viewers excitedly return to the gunshot from the waning moments of the opening episode. However, like any good show, this moment is just a tease, and the credits roll before a definitive ending is revealed.
Dissecting the Characters
At first glance, it seems that "Five Points'" characters are nothing more than empty, undeveloped and antiquated stereotypes that are found in most teen dramas: the bad boy, the athlete, the nerd, the emo chick and the popular girl.
Nonetheless, the foundation for a diverse and compelling story-line is there. CJ has a pure heart despite his illegal means for financial stability, and Eric's decisions may send him spiraling into battles far beyond a field or court. Tosh has to establish a new identity after the breakup, while Wallace could go from a stellar student to a cold-blooded murderer.
Furthermore, Kiyoko, electropop singer and former CSI: Cyber actress, has fans excited for the eccentric spice she may bring to the "Five Points" recipe. With the exception of the bizarre scenes where the former child star, Pettis, is shamelessly swearing onscreen, the dialogue is believable, and the cast seems dedicated to their roles. Plus, regardless of the mixed fan reception over the first few episodes, the short 13-minute run-time is an easy sell.
Only time will tell on whether the show's creators will allow the characters to escape cliched plot-lines or tropes.
Are Millennial Issues Becoming Old News?
"Five Points'" present the most pressing issues that many young adults face at some point in their lives, such as bullying, gun violence, drug use, sexual orientation, mental health, socioeconomic pressures and high school's infamous social hierarchy, many of which weren't tackled onscreen for years.
However, with gruesome scenes from shows such as "13 Reasons Why" still etched in people's minds, the gritty teen dramas that controversially tackle poignant topics have become over-saturated. If everyone keeps writing the same story, what plot-lines are television networks overlooking? More importantly, audiences could become fatigued by the narratives that may strike a little too close to home, as some look to the TV as a reprieve from the dismal headlines.
That being said, the statistics show that these narratives are too large to ignore. According to the Washington Post, more than 26,000 children younger than 18 were killed by gunfire in America between 1999 and 2016. In 2018 alone, there have been 25,791 incidents related to gun violence, and 1,193 teenagers between the ages of 12 and 17 were killed or injured. Secondly, StopBullying reported that 20 percent of U.S. students in grades nine through twelve have experienced bullying.
The Mission
Kerry Washington, former star of ABC's "Scandal," is no longer discussing foreign affairs between the sheets, leading a secret government agency or defending the republic. As one of "Five Points'" executive producers, she's revitalized her career behind the lens. At the 2018 Consumer Electronics Show in Las Vegas, Washington expressed that she believed that the Facebook web series brought diverse voices to the storytelling table.
Washington also explained that the unique online platform will facilitate the web series's social mission through community-based group discussions. Eventually, the show's cast will also have the opportunity to create Facebook accounts for their characters to interact with viewers.
Initially, Washington was not an ardent proponent of social media, but seeing how it contributed to "Scandal's" success and invigorated its fan base, she changed her mind. Fidji Simo, Facebook's VP of product for video, supported Washington's predictions and claimed Facebook Watch could "reinvent" genres, including reality television, game shows and scripted dramas.
Special Features
One thing's for certain — the new Facebook miniseries is doing something right. If viewers relate to any of the issues addressed in the show, there is a link to "Five Points'" resources, which include the National Suicide Prevention Lifeline, the Depression and Bipolar Support Alliance and the Facebook Bullying Prevention Hub. The show offers a public group called More Than Five Points as well, which has over 3,400 participants and creates a safe space for audience members to converse.
Similar to "Five Points'" third episode, it is too soon to tell whether the show will be a new addiction or a quickly fading flop. Tune in every Monday at 9 p.m. EST to decide for yourself.