Although a seemingly underrated comedy, "Always Sunny in Philadelphia" can have viewers laughing hysterically while watching. Fans can testify that those who have not seen the show should watch if they have a sarcastic and easy-going type of humor and want a good laugh.
Typically referred to simply as "Always Sunny," the show consists of humor that depicts the blatant ignorance of four life-long friends in their 30s, along with two of the characters' father. The actors are comedians themselves and much of the show is not scripted — they improvise their jokes and play off each other, which makes it that much more hilarious.
Here are five of the funniest episodes of "Always Sunny."
1. 'Thunder Gun Express' (Season 7, Episode 11)
In this episode of "Always Sunny," a new action movie, "Thunder Gun Express" is released in Philadelphia. The gang is so excited and determined to see it that they go to extensive lengths to reach the movie theater in time for the show to begin. When the group gets trapped in traffic, everyone leaves Dennis (Glenn Howerton) in the car by himself. Charlie (Charlie Day) and Dee (Kaitlin Olson) attempt to reach the theater faster by prowling the city's sewers, while Frank (Danny Devito) steals a boat filled with tourists.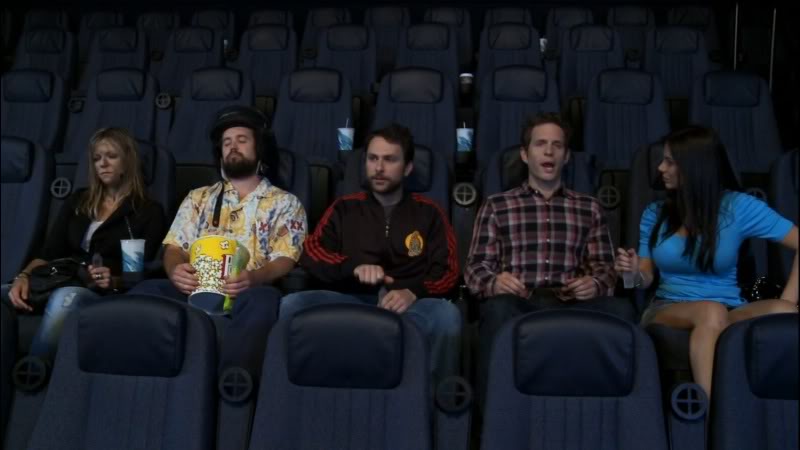 After their individual adventures throughout the city in the pursuit of the movie, Mac, Dennis, Charlie and Dee have somehow made it to the theater in time for the show to start. However, just as the movie begins, the theater receives a bomb threat, and everyone is forced to evacuate. The gang notices that the only person not present at the theater with them is Frank, and realize that he was the one who called in the threat to prevent any of them from seeing the movie without him.
2. 'Chardee MacDennis: The Game of Games' (Season 7, Episode 7)
When the gang has no plans on a gloomy day, they decide to stay in at the bar they own and play a board game they devised called "Chardee MacDennis." The game consists of three levels of intense drinking, a 15-minute timer and idiotic but comedic remarks made by both teams.
Dennis and Dee form one team and brag about how they have won the game 18 times, whereas Charlie and Mac, the opposing team, have been continuous losers. Eventually, Mac and Charlie realize that Dennis and Dee have cheated their way through every single game they've played by drinking water rather than alcohol, therefore being more coherent throughout the levels.
As the game comes to an end, the two teams are at a tie. The deciding factor as to who will win is determined by flipping a coin, in which case Mac and Charlie have a 50 percent chance of winning — the highest chance they've ever had. In the end, Dennis and Dee win the game anyway and smash Mac and Charlie's game pieces.
3. 'Sweet Dee Has a Heart Attack' (Season 4, Episode 10)
When Dee is hospitalized after suffering from a heart attack, she and Dennis attempt to adopt a healthier lifestyle. However, their goal for better health does not go as planned due to their illogical and unrealistic reasoning.
After deciding to try a cardio workout, they reach the gym and decide that they are "not ready" and need new workout outfits, protein shakes and supplements instead of an actual workout. Continuing their new strategy of "better living" through chemicals, Dennis and Dee purchase a box of Botox and prepare to inject themselves. The instructions are in Spanish, but Dee claims she can understand them because she took Latin in high school.
She injects Dennis around his eye, which soon begins to swell profusely. It is only then that Dee realizes she may have accidentally mixed the vials up and injected his eye with collagen. Unsurprisingly, their plan to obtain better health is hilariously unrealistic and unhealthy.
4. 'The Gang Buys a Boat' (Season 6, Episode 3)
After recently coming into some cash, the gang decides the best way they can spend their money is by buying a boat to give them some adventure in their lives. Mac and Dennis desire a P-Diddy style party boat, while Charlie wants a Forrest Gump style shrimping vessel. However, instead of a speedy "P-Diddy style shrimping vessel," the salesman shows them a houseboat named, "The Drowning Sailor."
The gang immediately purchases the boat due to their characteristically short attention spans and lack of logical thought. When Mac, Dennis and Dee go inside the boat to check out the décor, Dee demonstrates her idea of a "P-Diddy" style of dancing which looks exactly like an inflatable dancing tube often found at a used car lot. Outside the boat, Charlie asks Frank to toss him the keys to the boat. Instead of tossing the keys underhand, Frank throws them at Charlie and they fall into the water. Charlie dives into the ice-cold water, fully clothed, to look for the lost keys.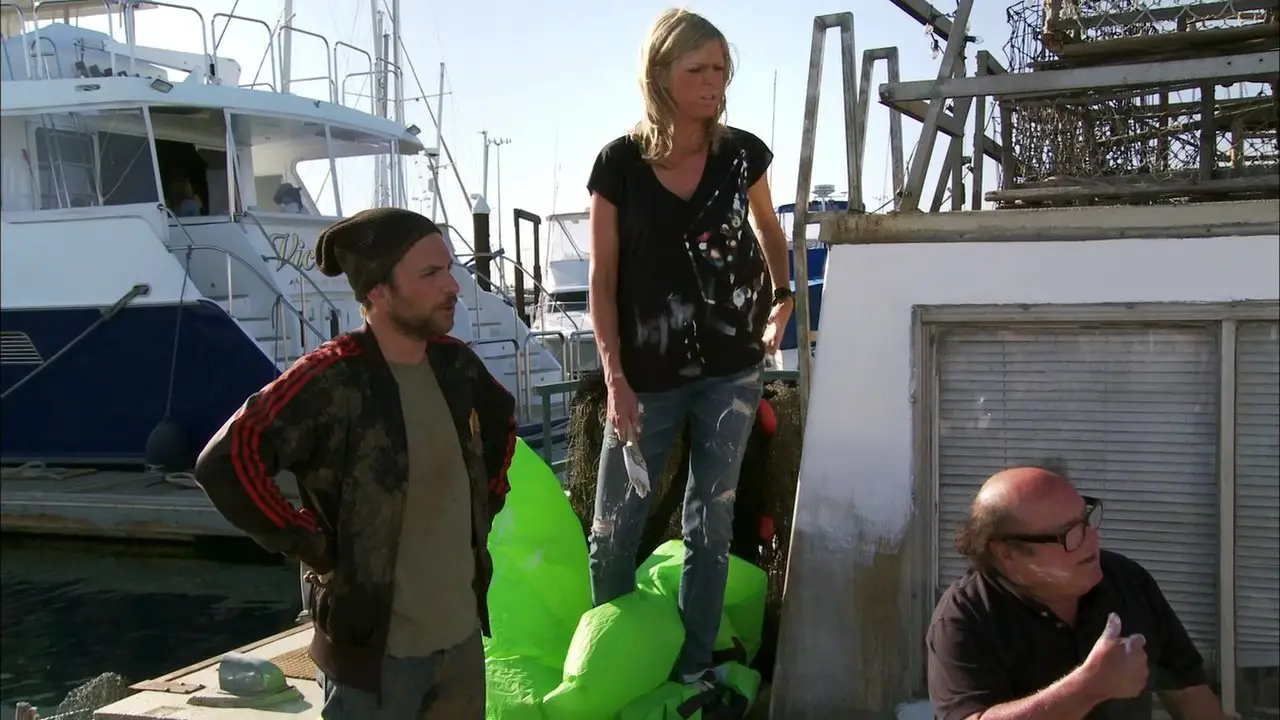 Later in the episode, Dennis and Mac come across a flyer for a boat party in their area and decide to attend so they can experience their idea of "fun at sea." The party, however, is not what they expected it to be and, at first, only consists of old, drunken men playing board games. After a few hours, though, a group of female strippers arrive at the boat, and Mac and Dennis are finally content.
Back on "The Drowning Sailor," Frank, Dee and Charlie accidentally set fire to their newly-purchased boat and are forced to swim to land. The last shot of the "Always Sunny" episode portrays the inflamed boat sinking while the three are soaking wet and watching from ashore.
5. 'The Gang Solves the Gas Crisis' (Season 4, Episode 4)
To profit from the ever-rising gasoline prices in Philadelphia, Mac, Dennis and Charlie decide to fill several barrels with gas and attempt to sell them door-to-door. Their strategy to obtain money to carry out their plan is to ask a bank for a loan, buy copious amounts of gasoline and then sell it later at a higher price. While at the bank, their plan does not go as they thought it would when the banker informs them they cannot take out a loan to purchase gas.
The three decide that each of them must have a role to play in the hierarchy of their group. Mac decides that he is the brains, Dennis is the looks and Charlie is the wildcard. However, after some consideration on Dennis's part, he decides that he should be both the looks and the brains of the group, and Mac should be the muscle, leaving Charlie without a title.
Angered at Dennis for stripping him of his wildcard title, Charlie cuts the brakes to their vehicle. While the group is driving door-to-door attempting to sell their gas, Mac suddenly realizes that the brakes are not working. Charlie pipes up from the backseat and says, "That's because I cut them! Wildcard, bitches!"
The show's nonsensical humor is what makes it stand out in its own unique way. Many of the gang's rantings, thoughts and plans make little to no sense, but, in the end, they each stand by their ridiculous ideas so strongly that their dedication makes the show comedy gold. For those who are easily offended, this show is most likely not the one to watch. However, for those who have a laid-back personality, "Always Sunny" is definitely one to watch time and time again for a good laugh.