Monopoly: It's the core of every game night and the real foundation for possibly every family feud since 1935. If you've never played, did you even have a childhood?
But now that you're older, can Monopoly still be fun for you? Absolutely! It turns out that there are over 1,000 different versions of Monopoly in existence, and many of them take the classic game to a whole new level of crazy competition. Not all of them are licensed by Hasbro, but the official brand has some pretty creative options available. And the coolest part is, many of the versions feature your favorite movies, TV shows and even video games, so you can enjoy two of your beloved past times at once.
Here are 10 of the coolest versions of Monopoly to try out at your next game night.
Soon to be fresh off the Monopoly presses is an all-new "Fortnite" version! It won't be available until Oct. 1, but it's sure to be an epic crossover.
The board's layout will be similar to the classic Monopoly version, but the locations will be replaced with exclusive locations from the "Fortnite" universe, such as Haunted Hills, Tomato Town and Tilted Towers. Instead of the classic metal tokens, players will advance around the board using picture tokens representing many of the characters from the video game, and health points will replace money.
The final twist to this version is the gameplay: the point isn't to monopolize every space on the board but to avoid the Storm and be the last man standing.
If you already cheat at Monopoly, try your hand with a level playing field. The point of this edition is to cheat as much as possible without getting caught. You can steal money, skip the rent, break out of jail — whatever's on the official cheat list. But be ready to pay if you don't complete the cheat, though! You may end up chained to the board with the included handcuff set.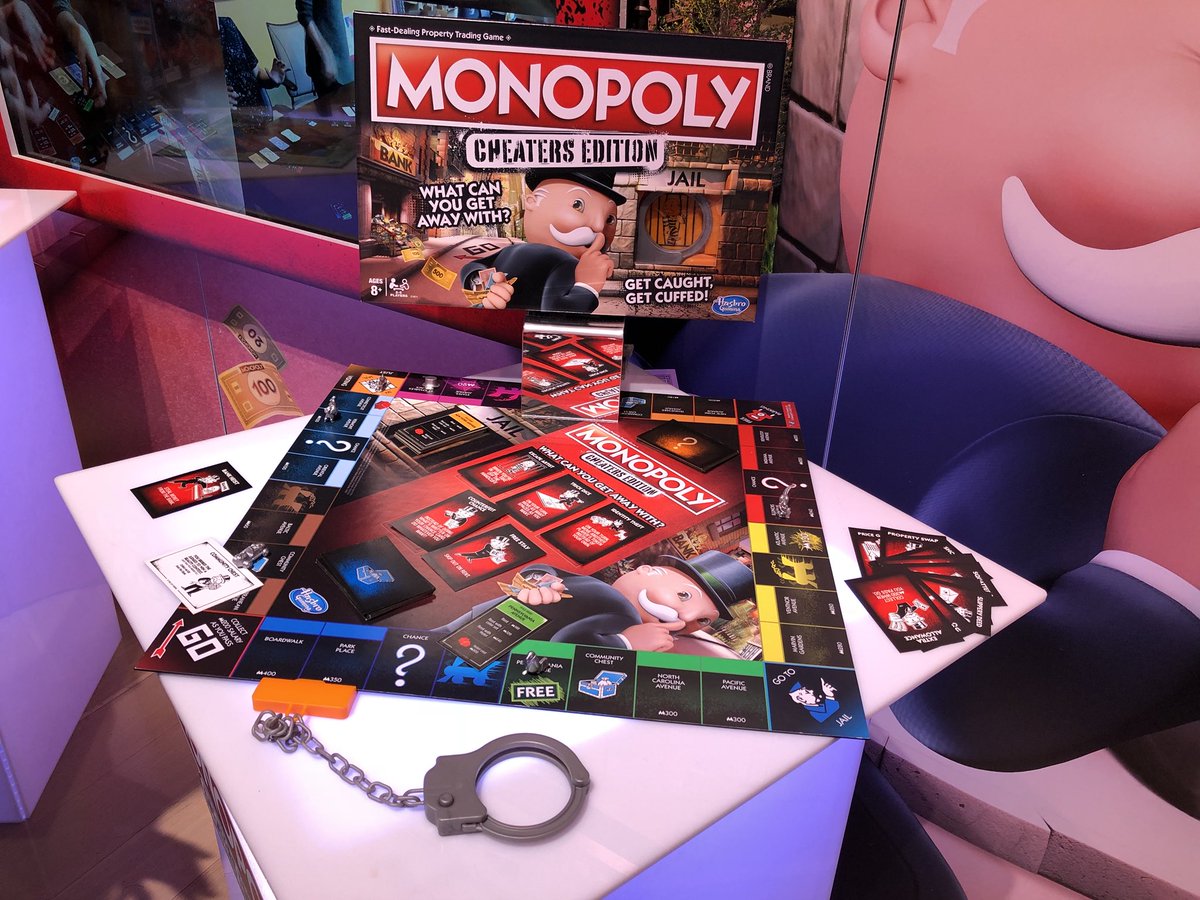 The classic Monopoly locations are all here on an updated game board, along with new Chance and Community Chest cards. The most significant changes are the addition of Cheat cards and the lack of houses. You'll only use hotels on your properties while you scheme your way to the top, perfect for those that like the strategy associated with holymolycasinos.com and big payoffs.
If you're a big "Office" fan, you'll want to check this version out, but be ready with your credit card. This edition is epic enough to cost about $200 new.
The tokens include a Dwight bobble head, a bacon grill, Pam's candy dish, the best boss mug, princess unicorn and a beet. Collect your salary in Schrute bucks when you pass Go and buy exclusive "Office" locations like Schrute Farms and Michael's Condo. Instead of houses and hotels, you'll find reams of paper and paper warehouses.
You can choose to play by the classic rules or do 60-minute speed play if you're in a rush, which still leaves time to watch three episodes of "The Office" as you go.
Perfect for Nintendo lovers, this version combines Monopoly play with defeating Nintendo Bosses. It's also a little pricier than usual at $40 a set.
Players move around the board with one of the five classic Nintendo tokens including Bowser, Mario, Princess Peach, Yoshi and Donkey Kong. The game also comes with a character booklet and a roster for collected characters, and a fancy box to store everything in.
Roll and purchase your way through classic Nintendo lands like Bowser's Castle and Yoshi's Hill while you face off with Bosses. In addition to the standard die, you'll roll a power-up die, and the regular paper cash has been replaced with coins for an updated game-play experience.
It's a great way to pool your loves of Mario and Monopoly into one gaming experience.
Add some '80s flair to your game night with some "Stranger Things" action. Inspired by the Netflix original series, this version features a complete Monopoly makeover.
The board locations all correlate to places within the town of Hawkins, Indiana, as well as the different vehicles used in the show. Represent yourself with one of four different tokens in either ordinary or "Upside-down" form as you traverse the board in search of Will Byers.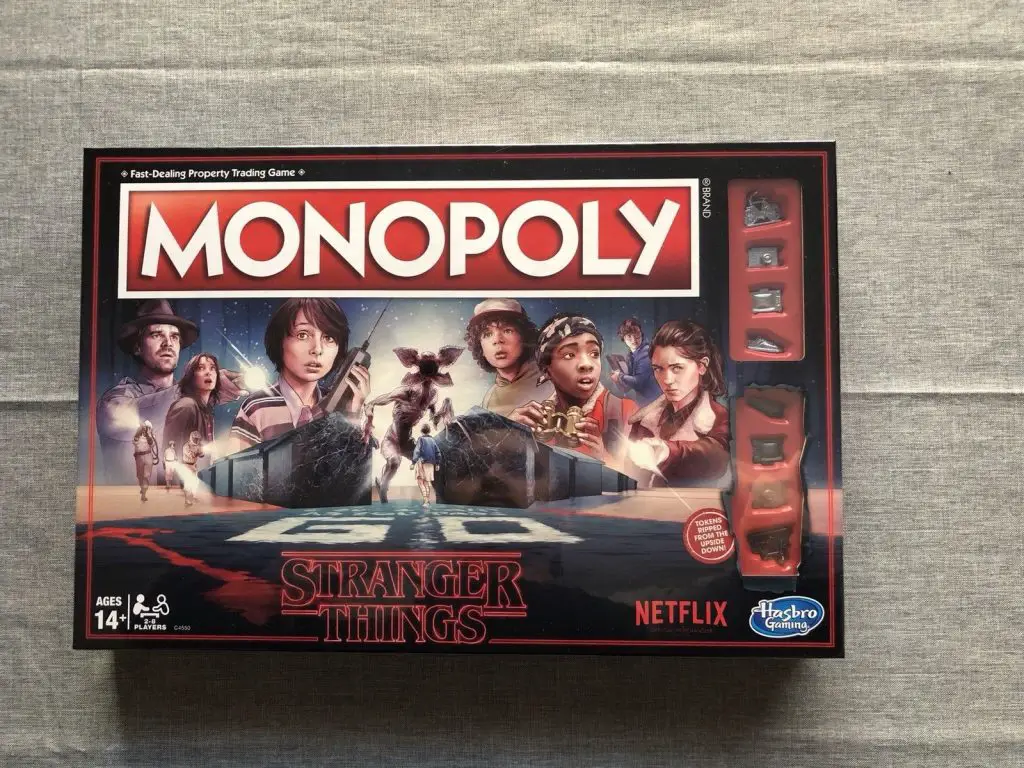 Instead of Chance and Community Chest cards, you'll use Walkie-Talkie and Blinking Lights cards, and Forts and Hideouts take the place of the standard buildings.
Bring along a stash of Eggos to snack on and try to stay out of the "Upside Down."
If you want the classic Monopoly gameplay, but you hate "marathon" rounds, check out U-Build Monopoly. Instead of a traditional game board, build a custom track from hexagon-shaped tiles to limit the game to a manageable time length.
Most of the classic game play still applies, but you get to choose where to put the expensive locations. If you don't want to buy a district, you can put it up for auction instead. Other changes include the addition of bridges (watch out for tolls if the bridge is up!), stadiums, skyscrapers, hazards and The Monopoly Tower.
The perks of this version include the shortened gameplay, the ability to buy spaces that you haven't landed on and the choice to build even if you don't own all the location of one color. The game ends as soon as one player goes bankrupt, so don't let that be you!
Take to the high seas with this swashbuckling version of the classic game. If you love the "Pirates" franchise (or just Captain Jack Sparrow), this is probably something you need on your Christmas list.
The custom game board has characters from every movie, and you get to explore the seven seas in the pirate ship of your choice. Buy, sell and trade your way around the world with your pirate's bounty and upgrade your territories with large and small caches of treasure.
Follow the classic rules or come up with your own pirate's code. We all know they're more like guidelines anyway.
If you want something completely different, check out "The Avengers" Monopoly version. It goes for about $100, so it must be awesome, right?
First off, the board is round, rather than the traditional square, and the locations are an eclectic collection from across the Marvel Universe. You can choose to be one of six Avengers working with S.H.I.E.L.D. to save the world from evil villains.
Rather than buy properties, your job is to save them before it's too late. You collect power instead of money when you pass Go and when your fellow Avengers land on locations you've already saved. When all the sites have been saved, the most powerful hero wins.
The other significant change is the addition of S.H.I.E.L.D and villain cards instead of Chance and Community Chest cards. All in all, it provides a shorter gameplay experience, but one that's sure to rev up the competition between superheroes.
If you'd rather buy a brand than a location, check out Monopoly Empire. Be the first to collect exclusive brands like Nerf, Puma, Xbox and Yahoo! and fill up your Monopoly Tower.
Forget Boardwalk; Beats is one of the highest prizes on this board. Each purchased brand goes into your billboard on the Monopoly Empire tower, and the first one to reach the top wins. You collect rent based on the height of your tower rather than individual brands, which keeps rent prices sky-high. Plus, the competition gets fiercer as you try to avoid paying tower taxes or getting fired.
Each of the six tokens is from a unique brand, and nerve-wracking Empire cards replace the standard Community Chest version. Watch your back, especially when you play live Monopoly game, because the other entrepreneurs may be about to steal your top brands and send you plummeting down the corporate ladder.
For you Disney fanatics (I know you're out there), this version is one way to bring a little bit of magic home with you. I know you'd rather be at the Magic Kingdom, but a pop-up castle is pretty close, right? And $52 is a lot cheaper than a trip to the real thing.
Dash around your favorite theme park rides and attractions as one of your favorite Disney characters. All of the collectible tokens come in a cool tin, and you even get a miniature version of the Walt and Mickey statue to go in front of the castle. The locations include everything from the Haunted Mansion to the Disney Monorail and everything in between!
Classic gameplay applies, but Monopoly didn't skimp out on making this version extra-special. Use wishes instead of money to obtain the deeds to attractions and add Mickey's Toontown houses and Disney castles instead of houses and hotels. Magic Mirror and Sorcerers Hat cards add traditional Chance and Community Chest suspense and rewards with their updated and classy "Once Upon a Time" and "Happily Ever After" designs.
No, it's not Disney, but it may just help you survive some long nights at home until your next trip.