Are you on a budget but in desperate need for a full wardrobe overhaul? Being trendy can be difficult if you are a broke college student like myself. When it comes to summer fashion, I prefer to stick to light or bright colors like white, baby blue, pale pink and cherry reds. Light and bright colors really make your summer tan pop and stand out.
If you have a paler complexion, darker colors can sometimes make you look washed-out, so stick to those light colors for a healthy glow. Summer fashion is all about comfort and expressing your style with pretty patterns and cute cuts.
Here are my top 10 recommendations for a summer collection that won't break the bank.
1. SPF 100,000
The sun is beautiful and blazing. Go soak up some vitamin D, but don't forget the dangers of getting too much sun (including premature aging and skin cancer).
Whenever you are leaving the house this summer, be sure to apply some form of SPF, whether it's through makeup, moisturizer or your traditional tube of sunscreen. Most people aspire to have the "perfect tan," but sunburns are no fun and your skin is one of the most important parts of your body, so you need to protect it from those harmful rays.
2. Sundress it Up
You can never go wrong with a simple shift dress during the summer. I recommend sticking to neutral colors when choosing a dress; that way, you can wear it over and over again.
Shift dresses are insanely cute, and they have lightweight material for comfort, which is important if you want to beat the heat waves. They are also great beach cover-ups, and you can even dress them up with a statement necklace and a pair of wedges for a night out.
3. Kickin' Kicks
Whether you are running around town or hiking at a cool destination this summer, make sure you have your trusty sneakers to keep your feet protected. When it comes to picking out the perfect pair of kicks, comfort should be your main concern, and your second concern, looking stylish.
Finding the perfect balance of style and comfort can be tricky, but I have always been a firm believer that you should put in a few extra pennies if you want a pair of shoes that will last. If you stick to whites and neutral colors for your shoes, there is no need to worry about them clashing with your outfit. Sneakers can be worn with pants, shorts and — my favorite — dresses. Slip on your favorite sneaks and give your feet a break.
4. Top it Off
When it comes to shirts during the summer, you are going to want to reach for one that is light and easy to slip on and off. Sleeveless, off the shoulder or something flowy and loose are the best styles for comfort.
When it comes to summer shirts, there is no limit to patterns, fabrics or colors. Stripes and florals are always good for a statement piece, whether for casual or dressier events.
The off-the-shoulder trend has been heating up the fashion world for the past year now. Peasant tops are adorable and bohemian-chic, and they have flowy sleeves that are elegant and comfy.
5. Shorts 'n Skirts
The perfect pair of shorts is vital for your summer wardrobe. With so many options, it can sometimes be overwhelming to pick out the right pair of shorts. Denim shorts are always a great option, because they match with just about everything.
If you are worried about being uncomfortable in jean shorts, soft, woven shorts are trendy and insanely comfortable. High-rise shorts are a great choice for summer because of their flattering cut, and low-rise shorts have been a fan-favorite for years because of how timeless they look, making these staple pieces for your collection.
Long maxi skirts are sensational and can make your outfit really stand out. A-line button down skirts are visible everywhere and are striking statement pieces because of how sleek and clean they look. Bold-colored and bohemian-printed skirts with a basic, neutral top are an effortless but adorable outfit.
6. Swooning for Swimwear
During the summer, you are bound to go out of the house in a swimsuit at least once. As a native Floridian, I live in swimsuits year-round, and with all the latest collections from my favorite designers, it's hard to pick out a few. The latest collections have awesome cutouts, prints and stunning colors to choose from.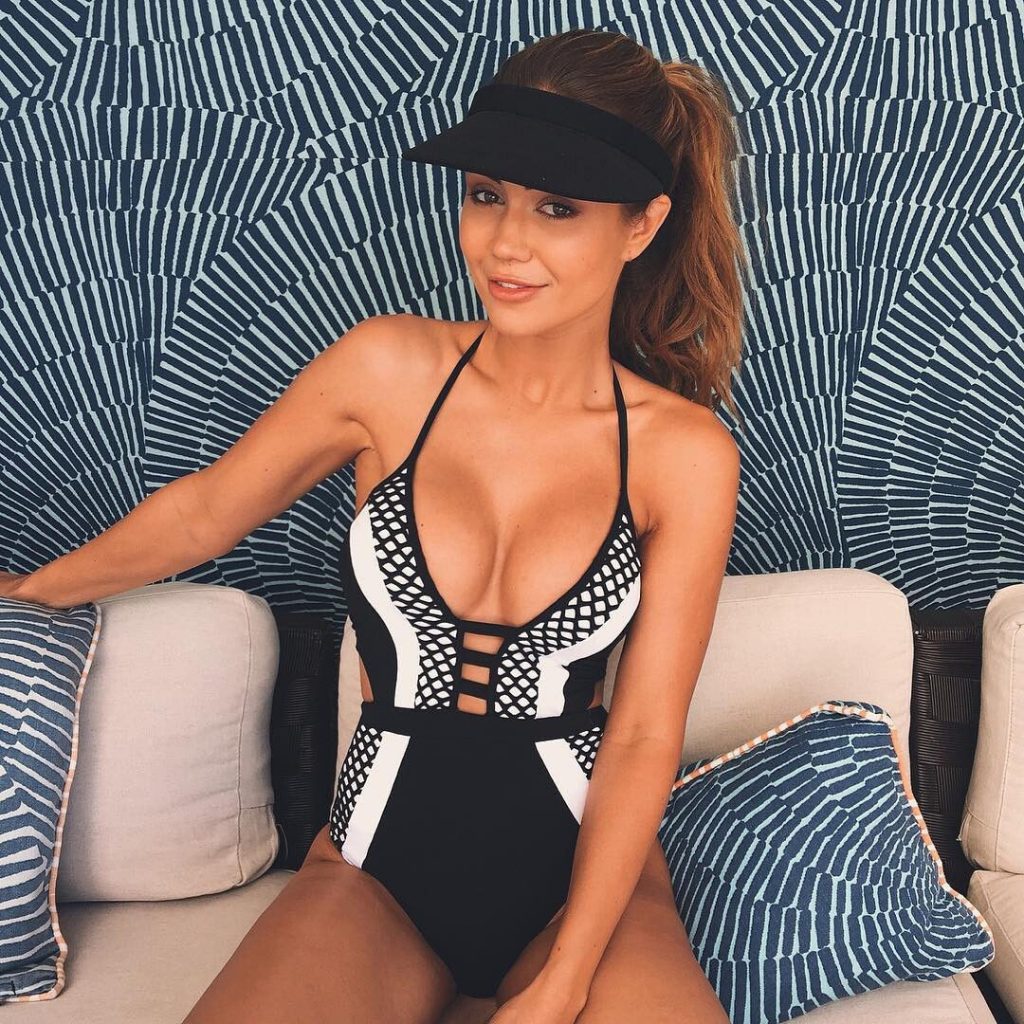 The one-piece swimsuit has taken over stores this summer. One-piece swimsuits are very flattering and have become even sexier than a bikini. Crazy! Bikinis are a fan-favorite and come in a wide variety of styles. Triangle and strapless tops are consistently great choices, but the most recent bikini trend is cheeky, high-waisted bottoms with a basic, sports bra top.
7. Strappy Sandals
Sandals are a must-have summer staple. Sandals make your feet happy in hot, sticky weather. Choose a sandal with a block heel for easy walking, or a pair of lace-up gladiators to really make a statement. The best part about sandals is that they can dress up any outfit.
Go with bright shoes for a bold look, though neutrals like whites, grays and taupes are perfect for any outfit. When picking your pair of summer sandals, make sure they're comfortable to walk in, whether you're hitting the town or just going to brunch by the beach. Be certain to break them in at least one week prior to your vacation.
8. Shady Shades
Sunglasses are a must-have item for your summer wardrobe, and there are endless styles to choose from. Aviators have been a cult favorite basically forever and come in funky, mirrored lenses. Go for round-framed glasses for a more edgy look. Wayfarer frames are more on the rectangle side, and if you pick up a pair with stylish blue or red mirrored lenses, your outfit will look even more aesthetic.
Traditional black lenses are also a great option, but don't be afraid to step out of your comfort zone and pick up a pair of edgy, oversized sunnies! Sunglasses not only protect your eyes from the sun, but also look great in photos.
9. Don't Be Hotheaded!
Everyone needs a wide-brimmed, floppy hat to wear to brunch, the beach or just casually strolling through the city. Hats are a timeless accessory to throw on that can instantly change your outfit from basic to bomb.
Another new trend that has been heating up lately is baseball caps. A simple pale pink baseball cap or a white one that says "peachy" could instantly add something unique to your outfit.
10. It's All in the Bag
I highly recommend an oversized tote bag this summer to hold all of your essentials, like your wallet, keys, umbrella (hello, hurricane season), sunscreen, beach towel and, of course, a water bottle. Having a bag big enough to keep you prepared is vital in the summer because you're likely to be doing something adventurous!
Printed bags are perfect for summer because of their fun patterns, and are great accessories to dress up your outfit. However, you can never go wrong with a tan, straw bag, which looks great with any outfit.
What's most important when considering a wardrobe makeover is feeling good about how you look, and expressing your own aesthetic taste. Don't be afraid to start your own trends, too!