Whether you're walking to your car, going for a jog or staying home alone, your personal safety is — or at least should be — a priority. I have no doubt you've heard an extensive lists of safety rules that you're always supposed to be following, but even following the rules can't protect you 100 percent of the time.
What about martial arts and concealed guns? Chances are you're not a kung-fu master or a skilled shooter, and becoming either of those requires time, money and a level of skill you might not possess at the moment. So what are your options?
Many women are turning to self-defense weapons as a convenient and reliable source of protection. While the standard stun guns and pepper sprays are the most popular options, constant upgrades and developments provide a variety of options.
And who says that self-defense weapons have to be all work and no play? Thanks to some awesome safety and design teams, you can get a powerful item that is inconspicuous, classy and compact, making it easier than ever to be protected wherever you go.
Quick aside however: Be aware of the law when using them. Criminal defense attorney Robert Weinberg says, "Self defense laws require that if you are threatened or attacked, you should retreat without physical action if possible, then use only the force reasonably needed to fend off an attacker."
That said, whether you're looking for something unique or just a cool upgrade to the standard options, these self-defense weapons might very well be your new favorite accessories.
Be ready to ward off attackers or stray hairs with a handy comb knife. These knives come in a variety of brush/comb options, but this is probably the most convenient.
The 6.5-inch comb fits comfortably in your purse or hand, and its unassuming design will catch any attacker off guard. It's a great accessory for beauty and self-defense.
Don't be fooled by its delicate appearance. This beautiful stainless steel ring is the perfect combination of style and power.
The gorgeous rose twists away to reveal a sinister spike capable of piercing down to the muscle. The ring fits securely on your hand, so all you have to do is punch and slash.
Knife pendants are another gorgeous but sneaky self-defense option.
Disguised as a beautiful leaf, this sharp knife is a versatile accessory and weapon that can be worn every day. Look classy, feel powerful, be safe — the silver leaf pendant covers all the necessary bases.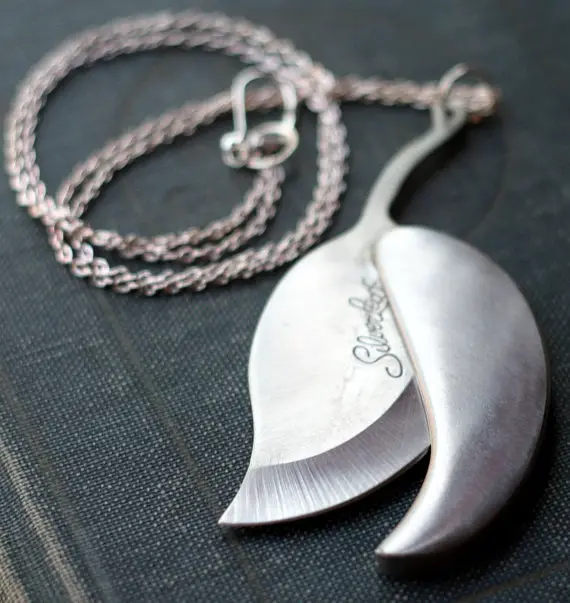 Need I say more? This classy umbrella has a special surprise hidden in the shaft. Unlike most umbrellas as self-defense weapons, the outer layer slides completely away to reveal a long metal rod that you can use to beat off any attackers.
This gives you a better grip and allows you to release the full fury of the metal rod on your attacker. The end can be sharpened into an actual sword, but I wouldn't recommend it without actual fencing experience and a valid license.
If you've always wanted to be the Wolverine, this is your chance. The Tiger Lady Claw is a lightweight, hand-held claw that you can carry wherever you go.
The sharp claws will do extensive damage to skin and clothing, and the wrist strap ensure that it stays firmly in your hand. The coolest thing about the Tiger Lady is that it is designed to collect the DNA of your attacker, which means that police can identify them later, even if you don't see their face. Bonus: you'll feel awesome and confident just carrying these around.
This kitty keychain looks like cute, but it's just a cover. One of the most convenient self-defense weapons available, the Black Cat can go on your keyring or purse so that you always have it with you.
If you sense danger, slip your fingers through the holes and make a fist to turn the Black Cat into a sharp slashing tool. The aluminum construction is lightweight but strong, ensuring convenience for you and catastrophic damage to an attacker.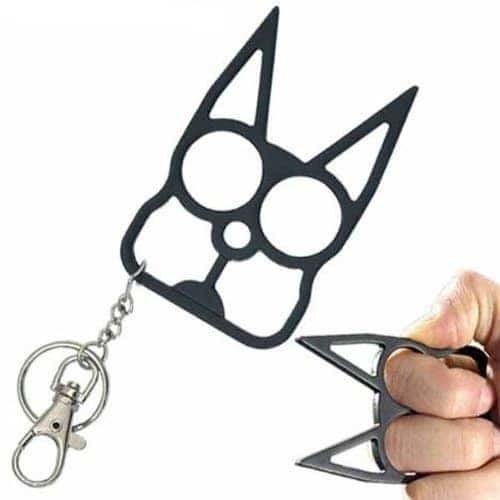 If you prefer something with more of a bite, check out the Cheetah Stun Gun. One end sports a nasty set of spikes, while the other delivers 4.8 million volts of electricity.
Not bad for a tool that's only 5 inches tall and weighs 0.6 lbs.
Although it's designed for joggers, the Cheetah's compact design makes it perfect for you to carry in your purse or hand. Plus, it comes with a holster and a safety switch to keep you from accidentally stabbing or shocking yourself.
A convenient solution to a standard option, the Little Viper discreetly carries a maximum dose of pepper spray right on your wrist.
The silicone bracelet comes in three colors and allows you to keep your hands free without sacrificing easy access to the pepper spray when you need it most. The spray reaches up to three feet, and if you use it to protect yourself, Little Viper will send you a replacement canister for free.
The perfect solution for active women, Go Guarded works with your natural defensive instincts to fight against an attack. The defense ring boasts a serrated edge that fits securely over your finger; a flexible guard protects your hand from being cut but fully exposes the cutting piece during an attack.
And because it's already on your hand, Go Guarded is always ready when you need it. Each Go Guarded comes with adjustable finger sizers and free shipping if you buy two, so both your hands can be ready to go.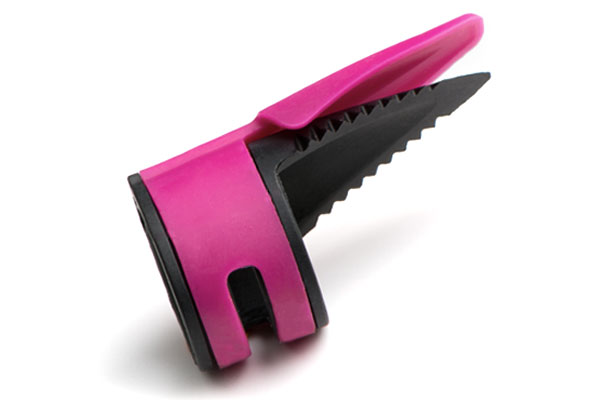 Maybe you need to write a paper; maybe you need to stab someone. Either way, this classy tactical pen will do the job.
The fully functional pen from Damsel in Distress doubles as a striking tool that has a built-in flashlight and a jagged tip to collect DNA. You're probably carrying a pen anyways, so why not switch it out for an upgrade?
Say cheese! The Gotcha Stun Gun is another sneaky design from Damsel in Distress. Cleverly disguised as a digital camera, the stun gun emits 7.5 millions volts and a high-pitched alarm when activated.
It comes with wall and car chargers so that it's ready wherever you are. Plus, it doubles as a charging pack for your other electronics. No matter how you use it, the Gotcha Stun Gun is a must-have accessory.
Always check your state's laws regarding self-defense weapons before you buy them. Some states have more restrictions than others, and even a self-defense keychain could get you a fine if you take it to the wrong place.
Whichever weapon you choose, make sure it's comfortable and convenient for you to use so that you always feel safe wherever you are.