The first POPSUGAR Play/Ground showcased the excitement of living and taking control of your best life. Held in New York City on June 9-10, POPSUGAR showcased interactive events, speakers, workouts and Instagram photo-ops for the entire weekend. Fashion, beauty, fitness, food and drink booths filled the building with exclusive deals and chances to win some big prizes.
The rainbow slides were a hit at the POPSUGAR Play/Ground and garnered the perfect opportunity to snap a picture or boomerang in the ball pit. The adult playground was fun for everyone. Even "Ocean's 8" actress Mindy Kaling and "Black-ish" actress Yara Shahidi had a blast of their own down the slide.
Hundreds of women gathered for morning workouts with Australian fitness guru Kayla Itsines. Participants worked a good sweat and continued to view all the exhibits for the rest of the day. At POPSUGAR  Play/Ground, "beauty sweat" was embraced. Most participants completed Itsines' workout with fashionable athletic attire and makeup on, which is usually unheard of when exercising at the gym (unless you want to get the attention of someone there).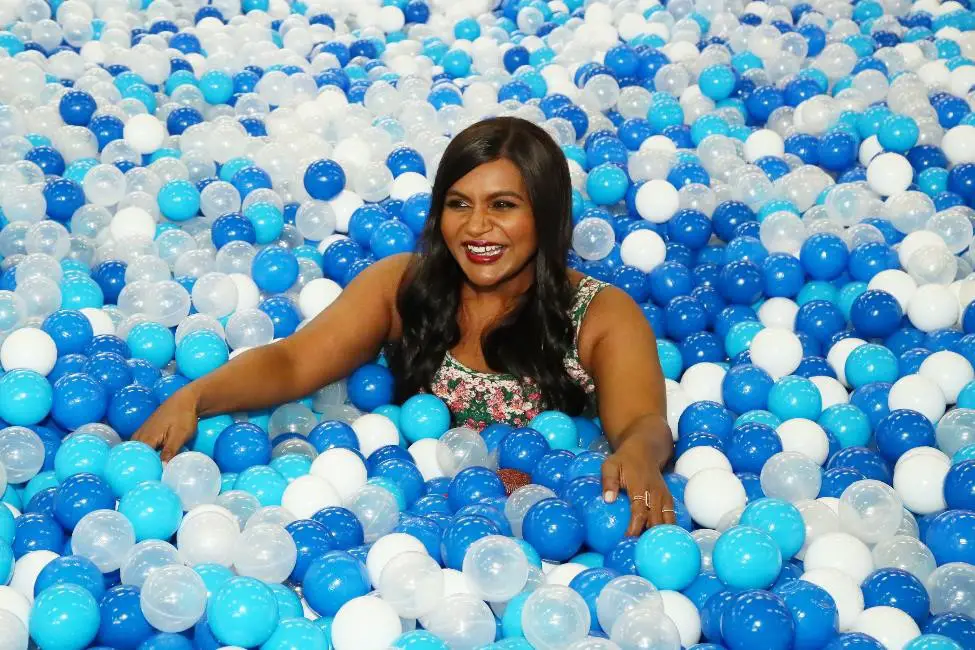 Other areas that consistently had lines around the corner were Huda Beauty, Freeform's "The Bold Type" and Nordstrom. All of these booths had multiple makeup artists working on perfecting everyone's look to be photoshoot-ready for the photo-ops later on in the day.
To attract the attention of customers, many of the smaller booths had spinning wheels for product discounts or prizes. Some of the retailers even gave away some free items, such as stickers, bags and product samples.
Food was extremely limited, and the only place where you could get a decent meal was at the Wendy's food truck outside or one of the two Pop Cafés inside the building. Most of the other food and drink suppliers sold sweets or alcoholic beverages, which wasn't the greatest thing for an eight-hour day or to promote a healthy lifestyle.
Many of the women that participated in the event were entrepreneurs, writers and women trying to make a name for themselves. Although the retailers provided some guidance into leading a healthy and happy lifestyle, the discussion panels focused on giving insight into how women can take control of their own lives and take a leap forward without fearing failure.
When asked about the success smart girls can achieve at POPSUGAR's discussion panels, Kaling confessed that being smart was her only way of making an impression. Kaling was extremely organized at a young age and showed structure in all of her ambitions. She even had a checklist of what she wanted to accomplish and when it was going to happen.
"I would go into any situation and make a checklist: married by 24, have all my babies by 30," Kaling said. "But now I am a 38-year-old single mom. And recently, I realized I just had to let all that go."
Kaling grew up with little representation of herself on television due to the fact that there were limited roles on TV for people of color. Additionally, she found the "Little Mermaid" problematic because of the idea that Ariel gave up her voice, family and friends in pursuit of a man.
Fabletics founder and actress Kate Hudson spoke about redefining the pursuit of happiness. Hudson touched on living everyday like it's your last and to ask ourselves: What really matters, how do you take your own life into your own hands and am I being honest to myself with who I am?
Hudson did not shy away from mentioning the recent high-profile suicides of designer Kate Spade and chef Anthony Bourdain.
"Something that we have seen especially in the past week or week and a half," Hudson said. "We have seen that unhappiness and feelings of hopelessness don't discriminate. It is a subjective experience, and it exists for people differently."
Hudson says that a lot of people's unhappiness stems from blame, instead of asking the question: What am I doing that's creating this unhappiness? Once you accept your vulnerabilities and recognize your mistakes, you allow yourself to see others in a different perspective. Instead of pushing them away, you can try and learn from them. A lot of the happiness that you will find is through an internal search, as well as surrounding yourself with like-minded individuals.
On the second day of POPSUGAR Play/Ground, comedian Tiffany Haddish was willing to speak about anything including her difficult upbringing, the value of constructive criticism and using laughter to overcome struggle. Haddish proved that she could talk about anything when providing small monologues about nutrition, prisons, chickens and even taxes. In Haddish's terms, "She ready" means the work and training she has done throughout her life has prepared her for success.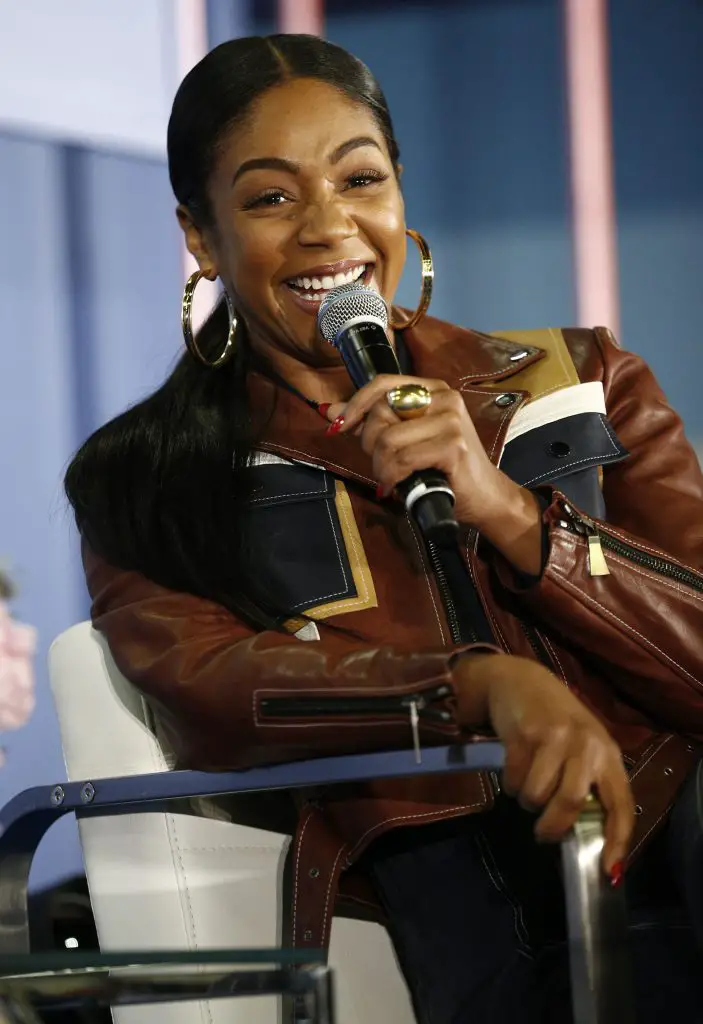 From moving between foster homes and living in her car, Haddish had a difficult life before her quick rise to fame. She knew that there was something special in her for the entertainment industry but had to realize the importance of taking classes and learning from others. Education through classes and other comedians helped Haddish build her own manual on how to use her God-given talents and tools for success.
One thing that Haddish emphasized during her talk is to understand that constructive criticism only makes you better and shouldn't be taken like a grain of salt. In regard to her critics, Haddish had other thoughts towards them. "I'm rubber. You're glue. All that negativity just bounces off of me and sticks on you," Haddish exclaimed. "I win, bitch!"
Additionally, Arianna Huffington, co-founder of The Huffington Post, gave a short speech about disconnecting cell phones and connecting with others. Following her speech was a Q&A session from the audience. Some of the audience's questions led Huffington to talk about setting goals as well as valuing wisdom, a sense of wonder and giving to others.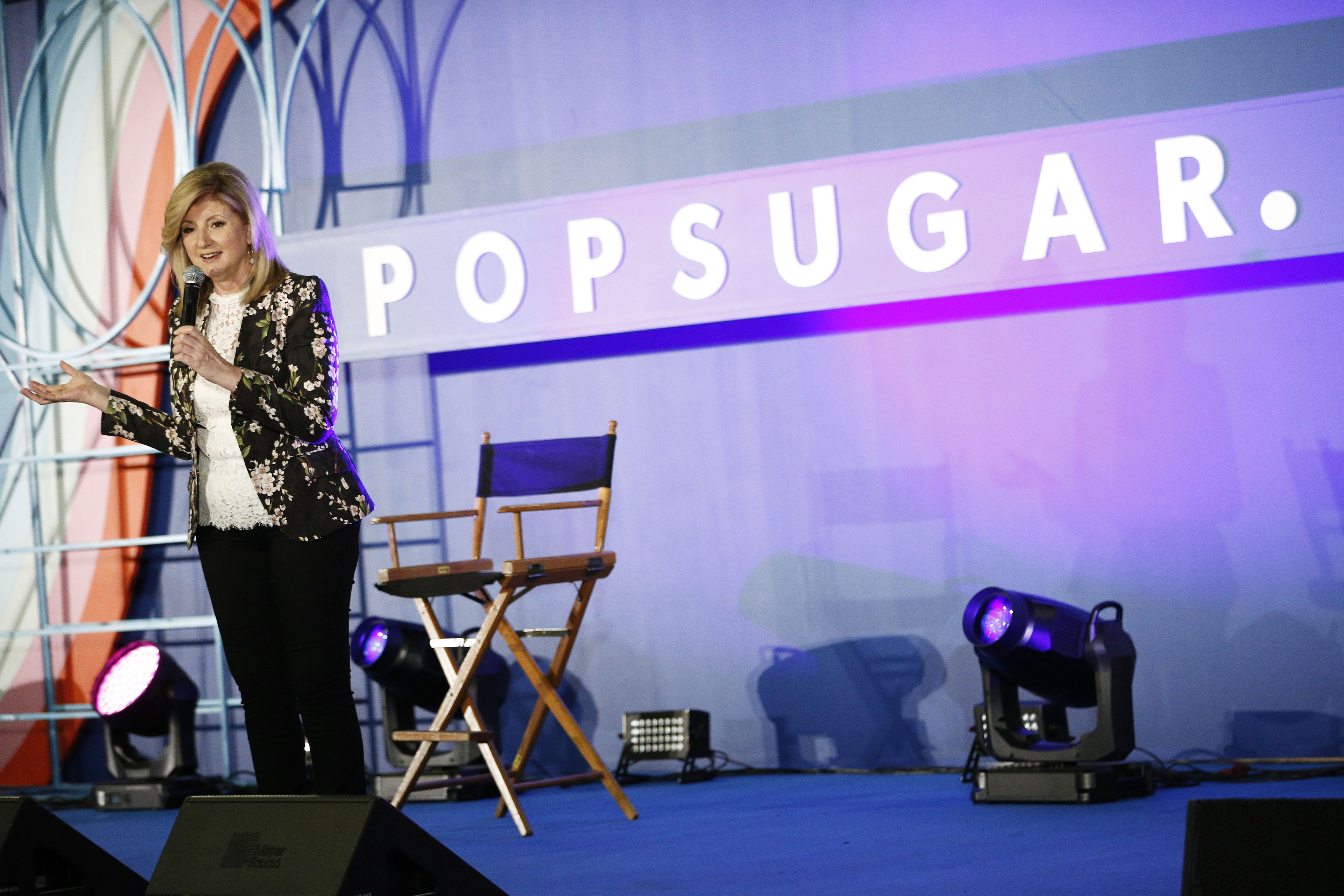 Each day at POPSUGAR Play/Ground came to a close with musical performances by R&B artists Tinashe and Aluna Frances of AlunaGeorge.
Other panelists that spoke at POPSUGAR Play/Ground were Yara Shadidi, Martha Hunt, Katie Stevens, Kayla Itsines, Cleo Wade, Vanessa Morgan, Huda Kattan, Mona Kattan and many more female influencers.
As the first POPSUGAR  Play/Ground event, women were able to redefine themselves into modern society through ignoring the traditional patriarchal norms and embracing the feminist movement. A healthy body and mind were brought to the forefront as women left POPSUGAR Play/Ground "forever playful and ever grounded."