Spooky season is upon us, and with it, hordes of costumed people will be roaming the street on foot or on public transportation, greeting us at our doors and sometimes at our workplace. How to join in though? It's not required for everyone to have Halloween costumes to join in the festivities, but it definitely doesn't hurt. You don't have to go trick or treating either: There's plenty of Halloween parties to attend, costume contests to enter or just places to get noticed — and sometimes it's nice to just pose for social media. 
You don't want to go broke though, so look out for savings. There's so many options out there, so how can you narrow it down to just one spot that gives you plenty of choices while not wreaking havoc on your pocketbook? Let's look at what's out there.
Goodwill
There's plenty of reasons to stop by your local Goodwill (or any thrift store, really): First, expect to find at least a few packaged Halloween costumes for cheap here. The selection won't necessarily be extensive, but if you're looking for something interesting or unique or inexpensive, you can't go wrong at your local secondhand store. 
Second, however, there are plenty of pieces that you can mash up or stitch together to make the perfect costume — maybe an old jacket that can make you look like a "Walking Dead" character or a nice suit to make you look like you're out of a Mafia film. 
Target
Target doesn't specialize in Halloween costumes, but that doesn't mean that what they do have is anything to scoff at. The costumes tend to be affordable, plus there's plenty of other Halloween stuff to pick up while you're there: candy, decorations, whatever. The superstore has plenty of ways to save you money as well: a significant chunk off of certain Halloween costumes, and if you like to load up on candy to stave off potentially angry trick-or-treaters, there are deals if you order Halloween candy online — because frankly, who wants to drive to the store when you can just wait for the mail carrier to drop by?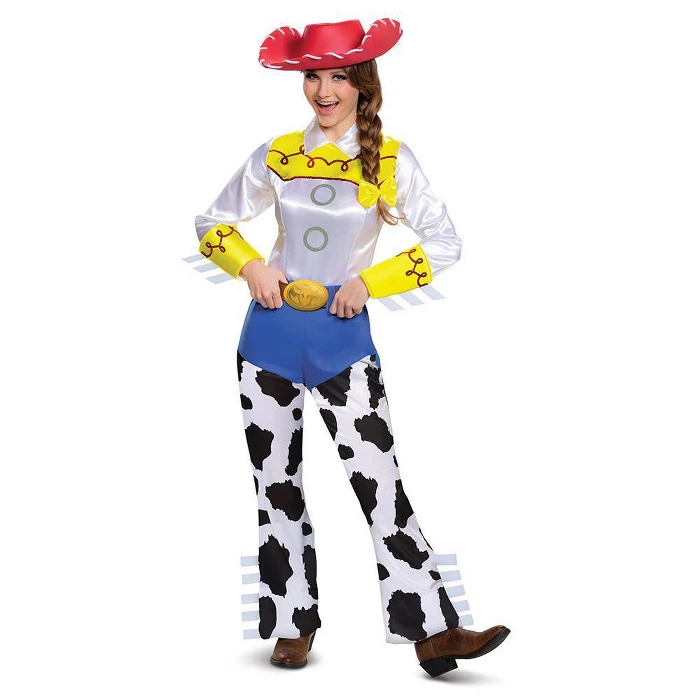 Walmart
What applies to Target applies to Walmart as well; if you're really trying to minimize the amount of stops you make, pick up some food for any festivities here as well. Walmart has some nice low prices, and they have plenty of budget Halloween decor for any makeshift haunted house you might want to host. Grab a pumpkin here too just in case you want to make a Jack-O-Lantern. If you love to combine procrastination with staying inside your dorm or apartment, there's free 2-day shipping if you spend over $35. And isn't keeping up the Halloween spirit worth at least $35? 
Spirit
As summer winds down every year, over 1400 stores nationwide invade empty storefront, only to disappear a few months later. This is Spirit Halloween, a one-stop shop for all of your Halloween needs. Perhaps thrift stores might be better for the more DIY-oriented, but for those with neither the skill nor the time, there are plenty of costumes available. Again, you can shop online from the comfort of your own home, and thankfully, they have some deals for you as well: Take 20% off of one item (including "Fortnite" stuff) with a promo code. 
For those that go all-out with the Halloween spirit, the aisles are stuffed with decorations, from fake tombstones to scary animatronic dogs (for those that like to go even more all-out) to some spooky scary fake ghosts. Get some decorations too, with a buy one, get half off. It's a nice way to out-do the neighbors without necessarily going broke.
Party City
You might think that Party City isn't as extensive as Spirit, but there's still always something to find there. It's definitely not a bad alternative if you don't have a store that specializes in Halloween costumes nearby. Peruse their nice selection that includes Woody from "Toy Story," some of the "Stranger Things" gang or even go on a nostalgia trip and deck yourself out in one of the outfits from "Clueless." So stop in, pick up a nice costume — or just order online and pick it up at the store.
OshKosh B'gosh
Maybe not perfect if you're in college, but if you have younger siblings or cousins, there's going to be something at OshKosh B'gosh for them. They offer some great deals online too, with a bunch of family matching shirts over 60% off. You might think dressing up in matching clothes is uncool, but sometimes kids just want to be like their older sibling or cousin. Don't expect to see something too elaborate, but plenty of younger kids are happy with a shirt that just says something Halloween-related on it. 
Etsy

Occupying the middle ground between superstores and having someone custom-make your outfit, Etsy can offer up some pretty nice Halloween costumes as well. Perfect for when you can't think of anything creative but you still want to be a little extra, you can find plenty of weird or unique costumes from people around the world, and oftentimes, pretty elaborate too. A quick Etsy search revealed everything from Joaquin Phoenix's Joker, a nice tattoo set of Post Malone face tats and a custom State Farm Insurance polo shirt.