Black designer Olatiwa Karade's "Pro-Black, Anti-Bullshit" Etsy store, Splendid Rain Co, broke the internet back in 2017 when the politically charged apparel store first released products featuring slogans like, "F— Your Racist Grandma" and "Columbus Was A Murderer." Despite its huge success, including articles in Buzzfeed, Huffington Post and HerCampus, Karade recently revealed to her 10.9K Instagram followers that Etsy had shut down her store, noting the multiple obstacles she has dealt with while working with the online retailer. While the store has since been reinstated, it can only be accessed using a direct link and does not appear in the search tools.
"Etsy has been intent on making this hard for me since I received so much attention," wrote Karade in her post, which describes numerous accounts of the poor treatment her store has received. Among the listed examples is zero free advertising due to being "too controversial," poor communication — even when racial slurs have been sent to her account — and removal of the store's listings while other Etsy sellers continue to steal and sell her designs.
Additionally, Splendid Rain Co has been threatened for removal for the past three months, which Karade attributes to people boycotting the site for hosting her store. In a state of pure, justified frustration, the post is concluded with, "How many black shop owners are you hiding behind personalized dog collars and welcome mats?" If you're looking to purchase one of Karade's provocative pieces, she's debating whether or not to move to "an independent domain," saying she's "absolutely sick of the way Etsy has handled my store."
Karade's startling accusations only serve to reiterate the problems that prompted Splendid Rain Co's inception in the first place. A student at MontClair University, Karade was fed up with the unjust treatment and the silencing that came with existing as a black woman, particularly a politically active one.
In an interview with Refinery29, Karade said, "I was a heavy Bernie Sanders supporter, so we were at odds, completely, with Trump supporters…But on the other side, I was dealing with very liberal, white people who loved Bernie, who were all for Democratic socialism, but when he would speak about police brutality, Sandra Bland, or all the things that were going on in the Black community, then all of a sudden they were [saying things like] all lives matter, or that we can't move forward if we don't all work together. And I was like, we're not working together if you're silencing us."
In an attempt to stir up the conversation regarding whitewashed, offensive history, Karade screen-printed the phrase "Columbus Was A Murderer," on a sweatshirt and wore it to school. After receiving overwhelming support through Facebook and other social media platforms, she launched her store on Etsy. Although originally intended as a hobby for the full-time student, the store quickly took off, and has since raked in over 4,000 sales and boasts a five-star rating.
Splendid Rain Co, "birthed as a response to the outcome of the 2016 Presidential Election and personal experiences of racial prejudice and discrimination," as advertised on the store's page, sells a variety of clothing pieces with her signature audacious phrases. Not only can you get your hands on a hoodie or T-shirt that says, "Worthy of Humanity," or a pair of sweatpants that write, "Decolonize That A–," you can also dress up your newborn in a "Trump Makes Me Gassy" onesie, which is hilariously poignant. Everything in the shop retails for $40 or less, with the majority of the pieces fluctuating within the $20 range, making it tremendously affordable to bring activism to the fashion realm.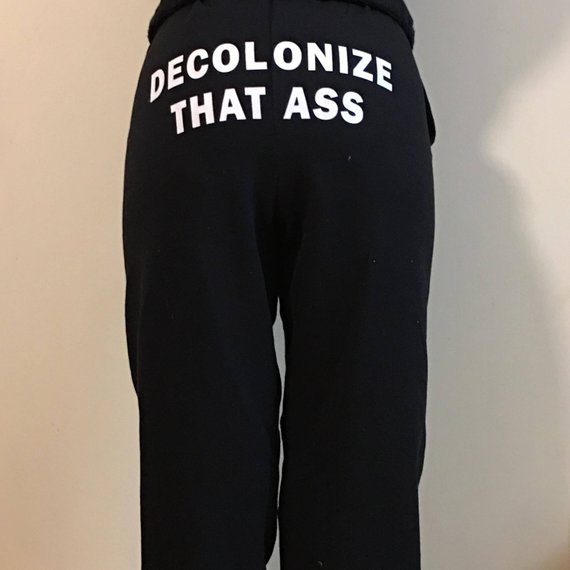 This aspect, combined with the politics her garments espouse, is what has brought her devoted buyers and overwhelming support, especially in light of the Etsy controversy. One buyer in an Etsy review wrote, "I have a lot of respect for business women and will forever support my fellow but especially black independent business women. What I will NOT support is Etsy." Another on Instagram comments, "Etsy does not seem to be a company with integrity."
Many are urging Karade to create her own website to sell her products, and others have used the comment section to reveal their own troubles with Etsy in the past. Yahoo Lifestyle, who initially reported the event, reached out to Etsy for a comment, to which a spokesperson responded, "Due to our privacy policy, we cannot comment on specific items or sellers."
The suspension and non-user friendly additions to Karade's store raise questions about the use of censorship against black voices and how they may be stripped of their own autonomy. While this may appear to be a minor case, hate and unfairness targeted at black-owned businesses exists within the wider canon of discrimination and dismissal of black voices.
In a time in which activism shows itself through many forms of self-expression and action, it's necessary that these kind of independent outlets are given the space they deserve to flourish and rise to their highest potential.