There are many ways to tell when a celebrity makes it big, besides seeing their face on the big screen or on the cover of magazines. A lot of the time, the clothing that they wear changes into designer brands. You may start noticing lots of jewelry, almost always covered in diamonds. In a lot of cases, you know that a celebrity has really made it when you see them in a million-dollar car, no longer using Ubers or Lyfts. There is one flex, that I feel is much greater than the rest, and that is a celebrity founding their own alcohol brand. If you're an A-list celebrity, nothing says, "Hey I've made it," more than drinking your own personal brand of alcohol.
Conor McGregor – Proper Twelve Irish Whiskey
We've all heard that old stereotype that Irishmen like to drink and fight, and while I'm not sure of the legitimacy of that, I can name one Irishman that most certainly does — Conor "Notorious" McGregor. And liking to fight is an understatement. Of course, he likes to fight; it's his job. But there's much more to the former UFC featherweight and lightweight champion. Conor McGregor happens to be the founder and owner of Proper Twelve Irish Whiskey, named after Conor's hometown of Crumlin, Dublin.
Conor chose to name the whiskey Proper 12 because 12 represents the postal code of the suburb where Conor grew up. Proper Twelve is a triple distilled whiskey produced by Erie Born Spirits at the Old Bushmills distillery located in Ulster, Northern Ireland. Conor donates $5 from every case sold to first responder organizations all over the world. The former UFC champ got the win at UFC 246 just 40 seconds into the first round against Donald Cerrone, and you better believe he celebrated with some Proper Twelve.
Dan Aykroyd – Crystal Head Vodka
Have you ever wanted to drink vodka that was distilled and filtered using diamonds? Well, now you can, courtesy of Dan Aykroyd and his Crystal Head Vodka. The legendary actor, famous for his roles in "Ghostbusters" and "The Blues Brothers," decided to trade in his acting gig and try his hand at making vodka, and that is exactly what the Canadian actor did. And with a catchy name and the very unique bottle that is shaped like a skull, this vodka is sure to stand out.
Dan Aykroyd teamed up with artist John Alexander, and in 2007, they created Crystal Head Vodka. They built their headquarters in Newfoundland, Canada, and by using only the highest quality corn and the most pristine water from the Newfoundland area, created this one of a kind vodka. They decided to filter their vodka seven times; three of these times are by using semi-precious crystals known as Herkimer diamonds.
Jay-Z – Armand De Brignac Champagne
Some call this champagne by its real name, Armand De Brignac, and others refer to it by its nickname, Ace of Spades. No matter which name you choose to use, if you're a fan of hip-hop then you know who is behind this expensive champagne, and that is hip-hop mogul Jay-Z. This high-end bottle of champagne is bottled in a small village called Rilly-la-Montage, which is located in the Champagne region on the northeast side of France.
A lot of people think that Jay-Z was the creator of Ace of Spades, and while Jay-Z didn't create the champagne, he was a big fan. After name dropping it for years in his songs, the rapper purchased the company from Sovereign Brands in 2014. A bottle of Ace of Spades is pretty pricey, but that doesn't stop people from popping bottle after bottle of it in night clubs all over the world.
Drake – Virginia Black Whiskey
Virginia Black Whiskey has nothing to do with the state of Virginia, or even a girl named Virginia, but it does have something to do with one of the most prominent artists ever. In 2016, Drake teamed up with entrepreneur Brent Hocking, and together, they created this one of a kind whiskey. Virginia Black Whiskey is bottled in the state of Indiana, and in an interview Hocking stated it's made there because that's where all the corn is.
The duo set out to make a high-end whiskey that anyone can afford and enjoy. And let's just say that their plan is working perfectly. The whiskey sold over 30,000 cases worldwide during its first year. If you head to the Virginia Black Whiskey's website, you can even fill out an application to be a shareholder in the company. It would be pretty awesome to be part owner of an alcohol company with Drake.
Bryan Cranston and Aaron Paul – Dos Hombres Mezcal
We all remember the dynamic duo of Walter White and Jesse Pinkman, the two mad scientists who turned an old RV into a rolling blue meth factory. But what did the two "Breaking Bad" stars do after the show ended? Well, they are definitely still a dynamic duo, but they are no longer in the meth business — they are now in the mezcal business.
"Breaking Bad" stars Aaron Paul and Bryan Cranston teamed up again and set out to create a mezcal that they thought was perfect. And in their eyes, that's precisely what they did. They set up shop in Oaxaca, Mexico, where they use only the best hand-selected Espadin agave to make their mezcal. The drink quickly became popular among fans of the show and by people who genuinely enjoy mezcal. Too bad the "Breaking Bad" stars didn't make their mezcal blue.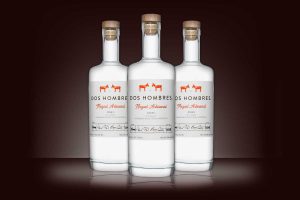 Drinking expensive champagnes and whiskeys is a pretty big flex, but owning your own alcohol brand is an even bigger one. There are a lot of other rappers and movie stars that have their own alcohol companies or at least are a major shareholder of one. Some have even created their own brand just to turn around and sell it for millions. These five, however, are the most popular ones.