It's a bright summer day in Los Angeles, and Anah Lewi is sitting across from a concerned high school girl. She is having a one-on-one conference with a student enrolled in the local chapter of the Girls Who Code Summer Immersion Program, a national initiative that exposes high school girls to computer science and jobs in technology. Mentoring students is one of Lewi's main responsibilities as a teaching assistant in the seven-week class, and right now, her student looks worried.
"What if it never makes sense to me? What if I never get it?" the girl says. Lewi thinks for a minute. "Well, I didn't always understand this," she says. "I didn't even understand it until the end of my first semester. I had to take a year's worth of computer science classes in college to finally understand these concepts so that I could teach them to you."
She can assure the girl with confidence because she was once in her shoes. Lewi is an alumna of the Girls Who Code program, and now, at the ripe age of eighteen, she's already interned with Cambio at AOL, taught a class at General Assembly, hosted a hackathon with Tumblr and been featured on "Huffington Post's" 20 Under 20 STEAM Pioneers list. Lewi stresses to her mentees that her own success wasn't always so clear-cut. "The hardest things don't always come easy. You have to have a growth mindset," she tells them.
As a freshman in high school, Lewi wasn't even considering a path in computer science. She was trying to redefine her career aspirations altogether. "I had decided freshman year that I wanted to go to MIT and be a civil engineer, but I realized I didn't like drafting or drawing things. I wanted a new career choice."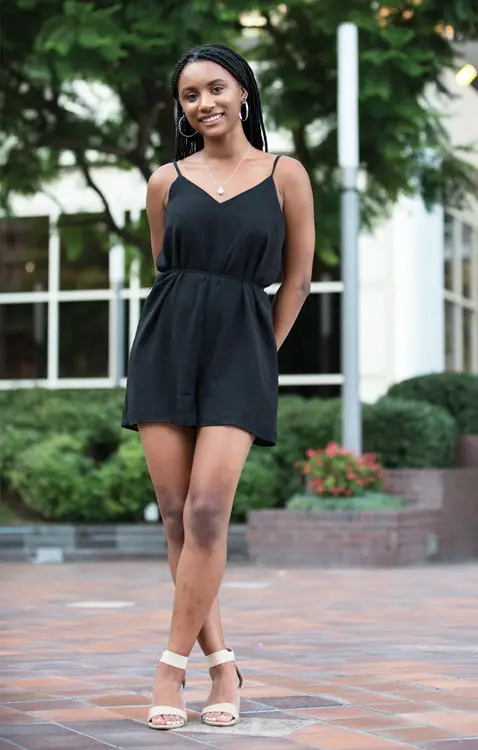 Now a rising sophomore at Wellesley, Lewi attended a high school for architecture and design. While reconsidering her career path, she discovered a viral video during a late-night YouTube surf that caught her attention. The video, "What Most Schools Don't Teach," featured tech pioneers and celebrities talking about the benefits of learning to read and write code. The video sparked an interest Lewi didn't know she had. "It brought life to something I'd never thought about. I immediately jumped into it, looking for programs on how to code and becoming a tech assistant at the Brooklyn public library during my sophomore year," she says.
After that, Lewi applied and was accepted to the Girls Who Code program, and spent the summer after her sophomore year commuting to the heart of New York from Brooklyn for the class. While she learned technical skills and computer lingo, the program's biggest gift was exposure. Interaction with her Girls Who Code mentors put her on AOL's radar, with whom she had an internship during the summer before her senior year of high school.
"When I received an offer for the internship, I was shocked. I went from getting in and being happy, to immediately learning that I didn't know anything," she says. Lewi worked on an AOL website for millennial girls called Cambio, building new features to increase user engagement and learning on the fly. Though the gig was challenging, it allowed her to hone her technical computer skills.
As Lewi's confidence in her career path grew, so did her assertiveness in shifting her dreams to match her new trajectory. After years of planning on attending a prestigious technical school, Lewi decided to not even apply to most of them. "I was trying to keep up with my friends, who were all applying to Ivy Leagues and technical schools, when something in me shifted," she says. "I had to start from the very bottom my senior year to figure out where I wanted to be."
At Lewi's high school, nearly half of the students were guys, some of whom did not take kindly to the fact that Lewi beat them all out as valedictorian. She didn't want a repeat of that environment, nor did she want a school where she would be one of only a few black women in the class.
"I don't think I ever realized subconsciously that I feel very lonely because I'm usually maybe one of three black girls in the classroom," she says. "I want to create more opportunities for girls who look like me. If you don't have that representation, how do you know you're capable of doing something? I noticed that someone out there would probably look at me and think, 'I want to be like her.'"
After abandoning her dream schools, she took a closer look at a pamphlet called the "Wellesley 100," which highlighted the opportunities available at the prestigious women's college. "Something changed in me, and I thought, 'Maybe I want to be around women while I study a career that is dominated by men,'" she says. "My mom looked at me like I was crazy when I decided this three months before applications were due, but I think it ultimately came down to the opportunities there."
Lewi's determination to forge a career path in an industry unkind to diversity doesn't end with her. Her internship with Built By Girls also exposed her to another side of the tech world—giving back through teaching.
In the fall of her senior year of high school, she and another Cambio/Built By Girls intern were asked to teach a class for young professional women on some basic web skills that they might need, such as blog building and understanding website frames. The class was given through General Assembly, an education company for professionals that has worked with Microsoft, Google and Visa among others. Most of the students in the class were in their mid-twenties and further along in their careers than Lewi. She said though teaching was nerve-wracking, it felt good to share her knowledge with others.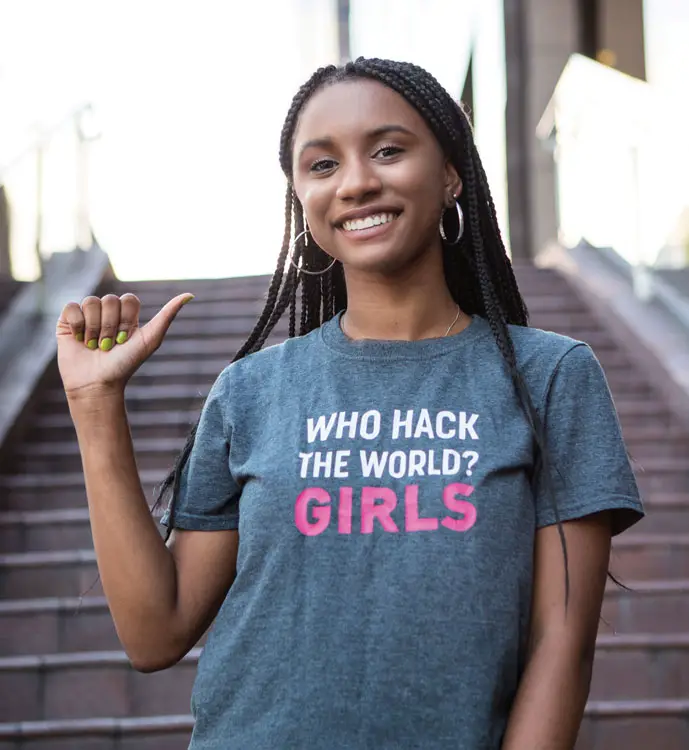 "Afterward it really resonated with me that, 'Oh my gosh, I taught a class for the first time and I taught it at General Assembly of all places!' I just remember having so much fun, and being happy that I could help people who really wanted to learn about computer science and web development," she says.
Once Lewi found the spark of giving back through tech, she didn't want to stop. After deciding to attend Wellesley and graduating high school, she collaborated with two fellow AOL interns to start Pixie Hacks, a high school hackathon with a strong focus on female immersion, empowerment and exposure in the world of tech.
The founders started by organizing a hackathon for high school girls over the summer. Lewi took on the role of logistics and management lead, which left her, among other responsibilities, in charge of getting sponsors for the event. She was catching up with her volunteer Girls Who Code instructor, Jamie Gilyazetdinov, and mentioned the project. Gilyazetdinov immediately thought of the company she worked for, Tumblr, as a possible big sponsor. "She told me Tumblr has a space they recently renovated, and they wanted to provide the space to high school students and underrepresented communities in STEM and tech," Lewi says.
With help from Gilyazetdinov's connection, Lewi had secured sponsorship and a venue from one of the web's biggest players, with 354.9 million blogs and 150.6 billion posts made on Tumblr to date. Securing that kind of sponsorship allowed the event to grow, and gave Lewi a heightened presence in the tech world.
The hackathon itself hosted over fifty high school girls (which exceeded the building's capacity) for a twelve-hour event of games, learning and coding. The winning team developed an idea for an app that could help people find emergency vehicles on the go. "It was overwhelming but definitely worth it in the end," she says. "Everything the girls made went really well."
The most rewarding part about sharing her love of coding has been the response it's inspired in other girls. "It's really nice to see other girls who are about to start that journey, who are getting ready for that big leap and who want to learn about how to code," she says.
Lewi's first year at Wellesley was challenging, but she stayed involved outside her classes as the workshop chair of her college's computer science club and the social media coordinator for WHACK (Wellesley College Hackathon). Though she's become an influencer by mentoring others, her most formative moment this past year came from an interaction with her own mentor. After a tough first semester, Lewi was questioning whether computer science was still the right path for her. Reassurance from Christine Bassem, her data structures professor, made all the difference.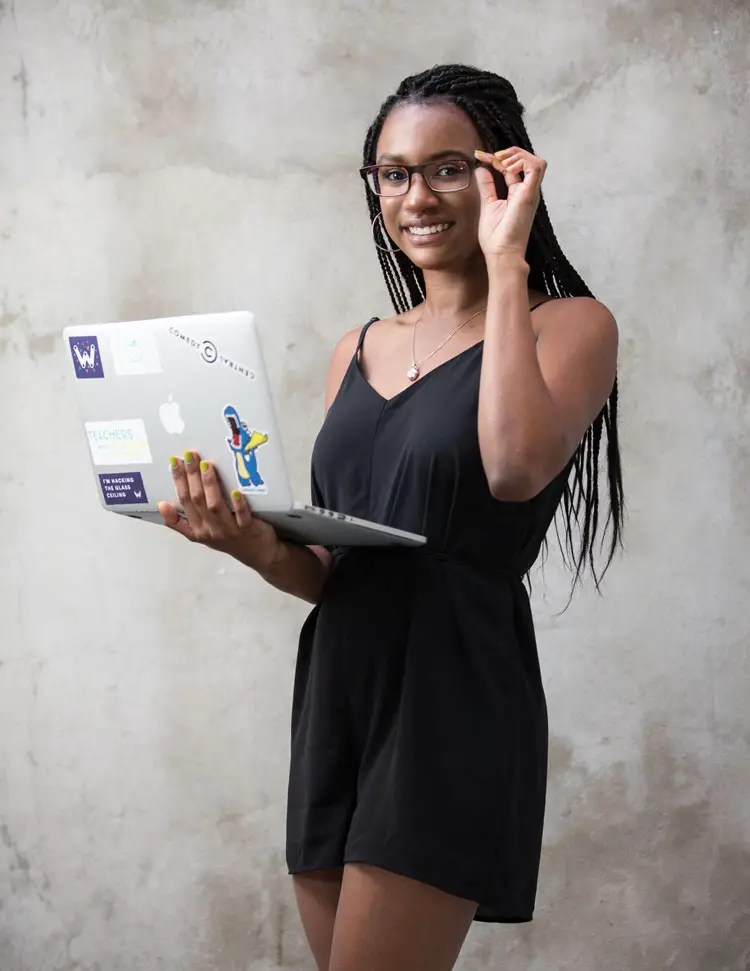 "Christine is definitely an amazing teacher, but she also has a way of nurturing her students and making them feel like they're all capable of doing amazing things," she says. "I'd gotten a really bad grade on my first midterm, and I remember her telling me, 'I know that you can do well in this class.' That changed the way I saw myself performing in school."
With renewed confidence, Lewi finished out her first year at Wellesley and knew she had something to offer others. Instead of taking an internship, she wanted to give back to the program that started her journey, Girls Who Code, by becoming a teaching assistant with the summer immersion program. She is working at the Los Angeles chapter, trying to guide students through the trials of their early computer science careers.
The TA position is what brought her into that one-on-one session, where she shared her own past failures in the hope that the girl sitting across from her would feel encouraged by her story. "A lot of what I'm struggling with as a part of the teaching staff is telling the girls that, yes, we understand you want to master a certain concept, but we only have seven weeks to teach you certain information," she says. "We want to make sure the girls are learning, but not resenting us for spending their summer in school."
As the weeks have gone on, Lewi said she's been able to build relationships with the students through her one-on-one meetings and commenting on the journal entries they keep throughout the course. Though it isn't always easy, she enjoys watching the girls grow with each lesson. "We were all kind of stuck in our ways when we were sixteen and seventeen years old, and that just makes the experience even more rewarding. I can't wait to see what they build in the next few weeks, especially when it comes to final projects," she says.
Once her tenure at Girls Who Code ends, Lewi isn't sure what her future holds. She likes mentoring others, but is more interested in taking her skills to the workforce. Currently, she's exploring the options available for Computer Science majors in the finance world. "I see myself building platforms for companies and helping their clients," she says. "But that's just right now, it's always changing."
Above all, Lewi wants young women interested in technology to know that the biggest power comes from working toward your dream, even if you have to fail on your way to getting there. "I wish I had known growing up that no one is perfect. It has to do with imposter syndrome, but you have to remember that you shouldn't feel like a fraud; you should learn from your mistakes and then make them into accomplishments."