A third-year ethnomusicology student with a concentration in jazz studies at UCLA, Austin Gatus is a multi-instrumental musician who, after having been diagnosed with cancer as a child, now helps cancer patients stay optimistic through their treatment by performing for them in hospitals.
Gatus, who released his latest song, "Motions," on Sept. 30, also donates the proceeds from his EP sales to the Rady Children's Hospital Foundation in San Diego, among others, which led to him being honored, in 2014, as an Outstanding Junior Miracle Maker at the annual Miracle Makers Gala.
Gatus is also the recipient of the UCLA Jazz Department's David L. Abell Scholarship, which allows the talented Bruin to honor the intentions of its founder, and the jazz tradition as a whole, by constantly improving his craft. In addition to funding his creative growth, the scholarship has also given him the opportunity to study under the direction of jazz legend Kenny Burrell, an authority on the music of Duke Ellington and recipient of the distinction of Jazz Master by the National Endowment for the Arts.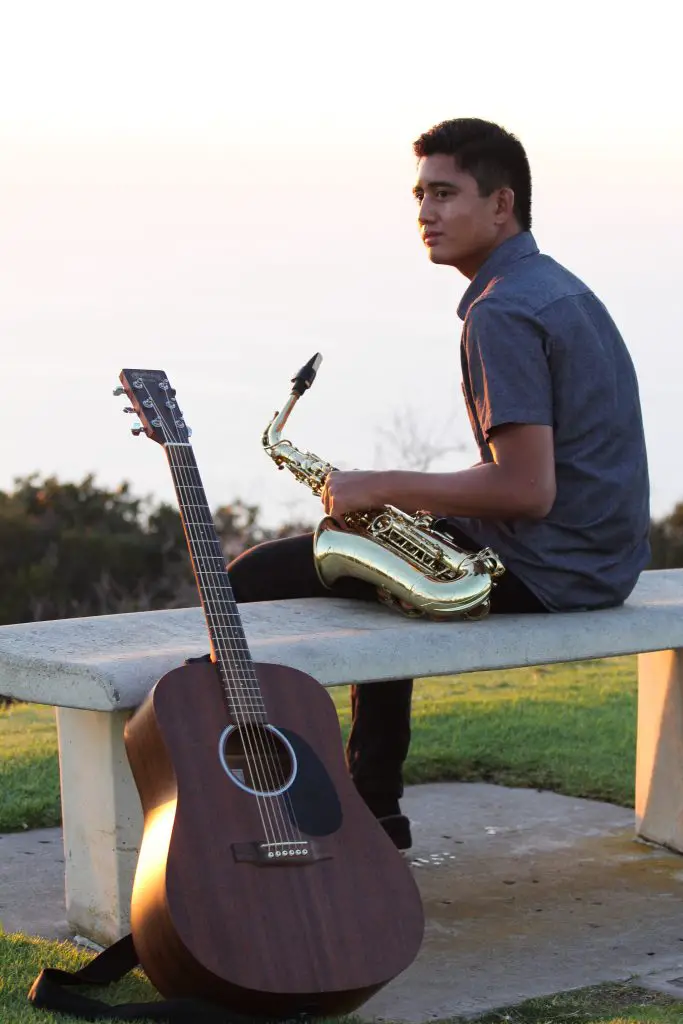 While Gatus loves performing with his own band, a foursome who often perform covers as well as original pieces at places such as Spaghettini's in Seal Beach and Croce's Park West in Downtown San Diego, he is more passionate about playing for the children undergoing cancer treatment at Rady Children's Hospital, the Starlight Children's Foundation and other organizations raising awareness of childhood cancer. "I could tell the children enjoyed my playing," says Gatus, "and I enjoyed it too, putting a smile on their faces." Most recently, Gatus has performed in Seattle and Mason, Washington, as well as a live duet with Jessica Sanchez in his hometown San Diego.
Gatus' interest in music first began at the age of four when, alongside his family and friends, he would sing songs from movie soundtracks and musicals. It was later, in fourth grade, the same year he began to learn to play the alto saxophone, that nine-year-old Gatus was diagnosed with acute lymphoblastic leukemia (ALL). For three years, from the ages of nine to twelve, Gatus endured cancer treatments by maintaining a positive attitude: "Being a kid, you don't understand what's going on around you, you're so innocent. Not really knowing helped me keep a positive mindset throughout the whole thing," he says.
At the time, Gatus relied heavily on the encouragement of his large, supportive community of family, friends, classmates, teachers, hospital staff, neighbors and others who helped him get through the treatments. During his time at Rady Children's Hospital, in particular, he was moved by volunteers who worked to distract the patients, which later led to his interest in doing the same. "Storytellers and musicians came by to entertain kids in the hospital," says Gatus, "and they helped keep our minds off of our [illnesses] and focused on picturing the stories they talked about."
Playing his saxophone at the hospital was one way Gatus' passion helped keep his mind off cancer. Two years after his remission, Gatus found that music allowed him to give back to the community in the same way that people had supported him through his treatment: "I found another direction I could go with [my music], which is to support the hospitals by visiting and playing for kids there." The idea to play at hospitals came unexpectedly, and soon thereafter he began making EPs and using the sales from them to fundraise for American cancer associations such as Starlight Children's Foundation, American Cancer Society, San Diego Blood Bank and Rady Children's Hospital Foundation.
Annually, since thirteen-year-old Gatus was in seventh grade, he has spoken and performed at his elementary school, Rancho San Diego Elementary, to fundraise for the Leukemia and Lymphoma Society, an event that is organized by his fifth-grade teacher Patricia Hill, who is now retired.
The people Gatus has met on his journey have helped shape his character and music. In 2008, when twelve-year-old Gatus was still in treatment, he was asked to be a guest speaker and performer at a Rady Children's Hospital event. Mindy Collins, a staff member of the hospital, sent Kenny G, a performer at the event, a DVD of Gatus playing the saxophone; their duet marked the beginning of a long friendship. Four years later, at the age of sixteen, Gatus and Kenny performed a rendition of "Somewhere Over the Rainbow" accompanied by Orange County's Pacific Symphony at the Renée and Henry Segerstrom Concert Hall.
Gatus met Dave Koz, another musician who would become a major mentor both musically and in life­, at the Starlight Children's Foundation Gala in 2011. Gatus performed a duet with him and was invited to feature in the lounge of Dave Koz Jazz Cruises. He performed twice on cruises to Europe and once to Alaska. He performed with Koz onboard his cruise, at the Thornton Winery and at Humphrey's by the Bay a San Diegan concert. Koz, a UCLA alumnus and a Starlight global ambassador, became close friends with Gatus after singing together. Gatus has viewed Koz as a hero in his life ever since: "He is there whenever I need something, with anything that is going on in life, anything musically that I need help with."
Since learning how to play the saxophone, Gatus has extended his talents to include singing, songwriting, guitar and piano. While producing his latest song, Gatus spent five months learning how to use Pro Tools, a digital software program for music production. "I'm always experimenting with different styles, with different sounds," Gatus said. "I'm still looking for my own voice."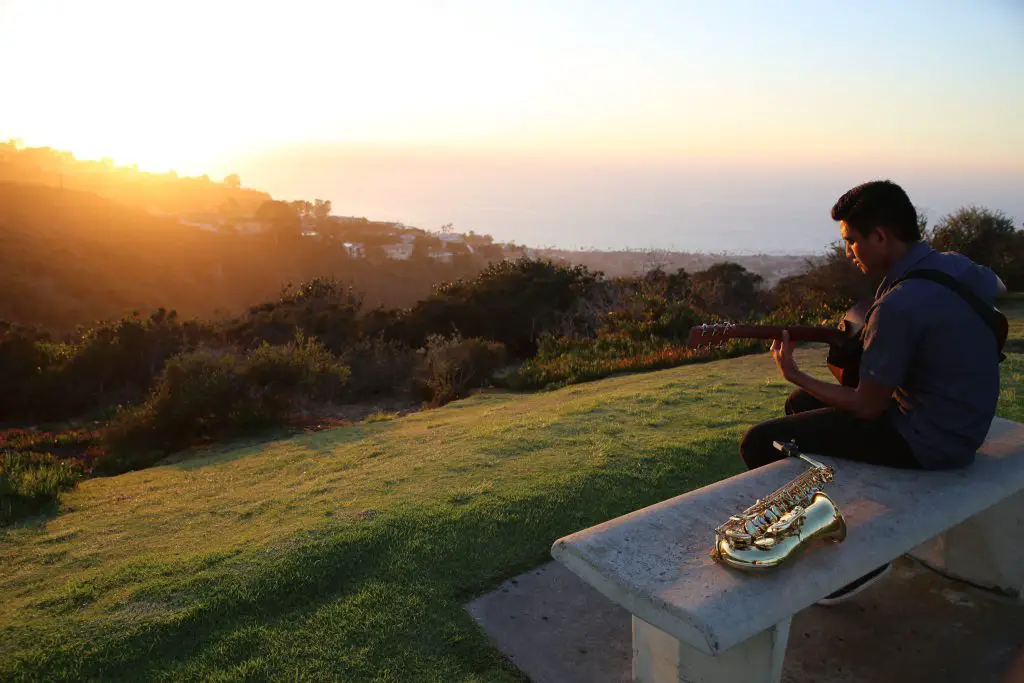 Gatus views his musical gifts as a way to not only give back to the community that has helped him through his difficult time, but to also "fight for [those who did not make it] as well as give support to others in their name." Among those who he remembers is Marlon Howe—a talented basketball player who was on his way to playing in the NBA, had his life not been cut short by cancer. Before Howe passed away, he asked Gatus to do five things in life: "be strong, get an education, play a sport, drink healthy juices and chase girls." In turn, Gatus promised that every basketball game he played would be dedicated to Howe. Gatus always remembers those who lost their fight against cancer.
Gatus claims that surviving cancer has helped "give [him] another purpose of why [he does] music. [He's] been blessed to survive cancer and music is a way for [him] to not only be an artist and performer, but to also give back to the community and those who helped support [him] and to raise awareness about childhood cancer."
Visit Austin Gatus' website and follow him on his Facebook page.