There is a forty-acre assemblage of tents located on a lot of sand formerly designated as the site of a landfill. Here, there is no running water and when rain falls, the tents drown in mud. This is the site of a refugee camp, otherwise known as "The Jungle," found in Calais, France. Smaranda Tolosano, a recent graduate of Boston University, made her first trip to Calais in October 2016, a place she says has been a key geographic area for people attempting to reach the UK in hopes of obtaining asylum. Since her initial trip, Tolosano has dedicated a considerable amount of time and energy to seizing every opportunity possible to help in Calais and to address the global refugee crisis.
Before finding her way in this passion project—and before being recognized by "The Boston Globe"as a national "MVP" for the class of 2017—Tolosano spent the first seventeen years of her life in Romania, where her mother emigrated from in the 1990s, and southern France. She credits her love of and concentration on stories of migration, adaptation and integration to her family's experiences, alongside those of her Sri Lankan childhood friend. In 2013, Tolosano made the decision to transfer to Boston University after visiting the Pardee School of Global Studies and Photojournalism. She graduated with a major in International Relations, which is the basis for her project about refugees, and a minor in English. While still in school, she filled the rest of her schedule with Photojournalism classes.
Tolosano is joined in the Calais project by a team of over fifteen students specializing in international issues, law and public relations, who work closely with their professor, Kaija Schilde, other professors, practitioners in the field of anti-human trafficking, software engineers and specialists in data protection. According to Tolosano, the problem the project seeks to address is: "How do we help counter human trafficking in a refugee camp?" She explains that a group of less than ten volunteers needed to figure out how to stay in touch with up to six hundred unaccompanied minors to ensure their safety after the camp is dismantled.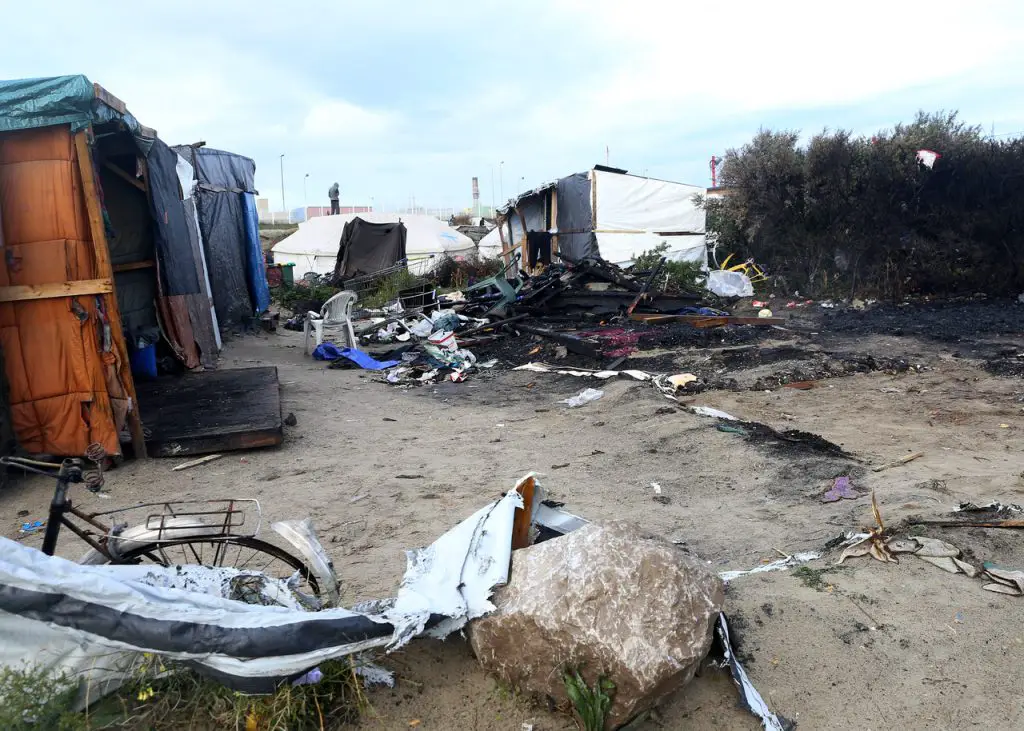 Natalie Washuta: Why did you choose the Calais camp as the focus of your project?
Smaranda Tolosano: We picked the city of Calais after a long deliberation and weeks of research on different issue-areas within the refugee crisis, from education to keeping medical records to facilitating the administrative process of seeking asylum.
It wasn't until we had contacted Michael at the Refugee Youth Center in Calais that our research found purpose and our brains were picked to find a solution to a very time-sensitive problem. The Refugee Youth Center was the only group dedicating their full attention to unaccompanied minors, and they wanted to make sure they could carry on doing their work after the camp's dismantling.
NW: What is the specific problem you sought to solve for these children, and how did you address it?
ST: You have to understand that most of these kids had no family in Europe, no way to be in touch with their parents—if they were still alive—and that the Refugee Youth Center we partnered up with was their lifeline at this point. Our task was to find a way by which the volunteers could easily text and receive texts from many, many people at once, and to remember all the information each individual sent them with accuracy.
We had two weeks to figure it out. We proposed a system loosely based off of an existing software called FrontlineSMS, which is used in cases of humanitarian disasters, including displacements due to natural disasters. FrontlineSMS offered some of the settings the volunteers would need, but had severe limitations for our purposes. We went from testing FrontlineSMS within the classroom to finding its limitations in this specific case, which prompted us to begin designing our own prototype for a software that would achieve everything we hoped for.
NW: How exactly would the software function to help keep the children safe?
ST: Our two main concerns were first, the degree of urgency of each text received and how we could establish a scale of urgency to address issues ranging from an immediate threat to a child's life, to how a volunteer could help them find housing for the night, or what they should do if the child reports being lost and unable to identify where he or she is. Second, we found that the children came from as many places as the adults did, and not all of them spoke English and even fewer spoke French, so we ideally wanted to develop a system that would automatically identify the language in which the text was sent and would be able to translate roughly what was being said.
The idea was to facilitate and accelerate a process that would otherwise take days, if not more, which involved volunteers who have to deal with immediate situations on the camp, as well as respond to messages and maintain contact with children who have been granted asylum in the UK, but are still alone in taking care of themselves. The work isn't over simply because one has been granted asylum; it is only the beginning of another long process of adaptation.
NW: What have been some successes of the project and what issues, if any, did you encounter?
ST: When you decide to work on a complex situation that you know will last for years, if not decades, the first realization you have is that your contribution will be rather limited, no matter how large of an impact you hope to have. I think it is fair to say that this experience forced us to reconsider the meaning of success and failure. For me, it was the first time a classroom setting enabled me to work on a real issue. It wasn't a diplomatic negotiation simulation (though they are very useful), nor was it working for an existing company as a consulting group.
We spotted an issue and wondered how we, with what we have and what we know so far, could come up with a better solution than what is currently available. It felt like it was never enough. We could always read more, talk to more people or find out more about what it was really like for refugees and volunteers on the ground; eventually we came to the realization that we would not achieve a perfect outcome.
We succeeded in turning a Boston classroom into an immersive environment to tackle a real issue by skyping with people in Calais and our advisors across the U.S. We learned more about entrepreneurship and the functioning of a business than we ever thought we would in an international relations course; we learned that now, more than ever, the technology we have access to can be used for good and that, despite none of us being computer scientists, we all knew enough to conceptualize a tool that could help people.
NW: What is the status of the program as of now?
ST: Right now, it is hard to give a definition of our program because of how much it has evolved and keeps evolving to this day. We are only at the beginning, really, and more expert contributions will be needed as we identify what those needs are in the coming months. The software is still a concept at this stage. It is not a functional platform that can be used right now, but our hope is that it will eventually become so. Our disappointment, though it can't be called a failure yet, was that we could not find funding and developers to build the software last October, but I hope we will be able to make it all happen this year.
What is certain as of today is that we will seek to work with skilled software developers and computer scientists who can articulate our theoretical framework into an optimal user interface. We will ask for time and patience from NGO volunteers whose work continues to happen in urgent and difficult circumstances while ours is largely removed from the immediate needs of refugees in Calais.
NW: What are your plans for the near future?
ST: I will be returning to Calais this September with my partner Matthias Grenon from the Common Thread Podcast for three months of work to record an oral and written history of people's lives in Calais—residents, government officials, volunteers and refugees alike. Our project is multifaceted and will be published in the form of an online multimedia narrative and, hopefully, as a migrating exhibit. Our presence in Calais will also help further academic research on refugees and human trafficking at BU, as well as be a prototype for interdisciplinary innovation to solve social issues. The underlying goal is to bridge the realms of academia and practitioners while working with business experts to turn these ideas into sources of social progress and inclusion.
Part of the work Matthias Grenon and I will be conducting in September will be that of researchers, observers and aspiring historians, but we hope that the information we will transmit to Boston will help open larger avenues for international collaboration to help refugees and the countries they live in.
If the software is successful in Calais, we would hope to adapt it to camps where we have contacts in Greece. Past that, I can't predict what the future will hold for the initiative and its members! In any case, the idea is to have a flexible system that can be tailored to specific camp settings based on volunteers' and refugees' knowledge of the camps and their specific needs.