River J. Lewis is a senior at Morehouse College in Atlanta, Georgia, who founded the program Operation Summer Exposure for young men between the ages of 10 to 12 to gain knowledge and practical life skills by growing their understanding of the world around them. Without Operation Summer Exposure, many of these young men may not have gotten the opportunity to see and explore new places that are different from their hometowns or take part in unique activities that influence their growth.
As Lewis says, "When the kids see a place outside of where they live, they gain another point of view. Exposure creates knowledge and makes them well rounded. The more exposure you have, the more intelligent you are." The program enables these young men to learn new things and apply this knowledge to regular day-to-day experiences when it ends.
How It All Started
Lewis credits his familial and organizational background for leading him to create Operation Summer Exposure. As a child, he looked up to his mom and grandmother for their generosity and care toward others, and reminisces on their constant will to go above and beyond.
Memories of his mother sharing her home with people who had no place to live, and his grandmother providing food for numerous families stuck with Lewis and remind him that "God loves a cheerful giver," words he says that describe the significance of giving.
After reflecting upon his own previous experience giving back—which includes singlehandedly raising funds to repair his old high school, and leading a group of young men in aquatic activities at his former summer camp program—Lewis decided he wanted to give back in a new way now that he is in college. "I woke up wanting to do something," he explains.
Finally, when he got the idea for Operation Summer Exposure, Lewis called his former boss whom he worked with as an aquatics director, and they set up a meeting with a representative from Boy Scouts of America, which Lewis was also part of, and they agreed to provide him with the funds needed to put the idea into action.
Making Strides
Lewis notes that the goal of Operation Summer Exposure is "to expose the youth to something they wouldn't on a regular day," which "shows that the world cares about them," in contrast to what they may be believe.
Activities include, but aren't limited to, rock climbing, horseback riding, trail walks and canoeing, and the boys take turns cooking and cleaning after meals. They also learn how to pitch a tent, make a fire, what to do in an emergency and how to practice appropriate watercraft safety.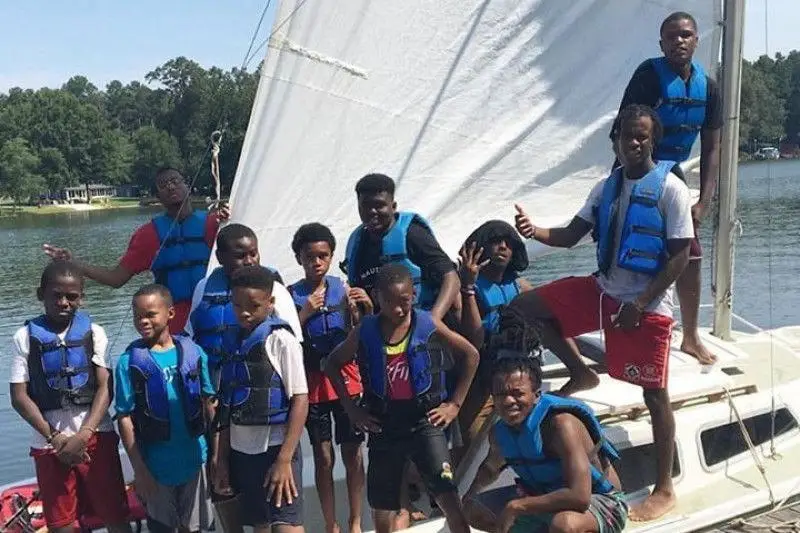 From these practical outdoor skills and fun activities, Lewis goes on to say, there comes an understanding of the importance of working together, communicating and looking out for one another. "They gain confidence and learn to express themselves without ridicule," he says, "[the program] shows them they are loved, valued and important." Viewing Lewis as a young man just like them, many of the campers also wish to be like him when they get older, giving back to their communities and attending college.
Lewis, in turn, humbly acknowledges the difference he is making in these kids' lives, and describes the joy he gains from doing something worthwhile. "I get up everyday with joy for what I do. A lot of them have never seen places outside of their hometowns before," he says.
Being able to freely express themselves and discover a new place contributes to their overall well-being, including physical and mental health. "I think of the things I would have liked to do with my older brother when I was their age," Lewis says, and looks forward to the Operation Summer Exposure program every year just as much as the kids do.
Looking Ahead
Operation Summer Exposure has been recognized, and receives much positive feedback from the parents and family members of these young men. When they return home at the end of the program, their caregivers thank Lewis for taking the kids out. Not only do the young men have enjoyable and memorable experiences, but it's also completely free. "They say 'Thank you so much, River. He really enjoys the camp,'" Lewis recalls. The boys almost always want to go back, emphasizing to their parents how much fun they had.
Lewis hopes, therefore, to take Operation Summer Exposure to the next level, by taking the kids overseas to see such places as Spain or Africa, and having another similar program for girls. If he can raise enough money and promote the program with its own website, he considers, the program will be even more impactful, not only for children, but within the black community as well.
What keeps him going is his love for giving back, saying, "If you know something, teach it instead of keeping it to yourself." Lewis' positive outlook, along with the support of his own family, friends and Morehouse College, lead him to high expectations for the future of Operation Summer Exposure.