Julia Fletcher's small suburban town near Columbia, Maryland harbored few opportunities for creative expression growing up, which left her craving for an artistic medium by the time she entered middle school. In seventh grade she began experimenting with filmmaking, creating short music videos for her family and friends, sure that this was what she was going to do with the rest of her life. Upon entering high school, her eagerness to enroll in a film class was quickly balked by the lack thereof, leaving her only with the option to take photography classes.
Although disappointed initially, Fletcher eventually developed a love for photography that nearly matched the intensity of her love for filmmaking; so much so that she began considering the pursuit of a career in photography by her junior year. She says, "it just felt natural." The opposition of her parents and their push for her to think about a more marketable art career, like graphic design, was no match for Fletcher's persuasive tongue as she is now a senior at the Maryland Institute College of Art, double majoring in Photography and Film Studies.
During an open call for writers and photographers in the summer 2015, Fletcher realized she felt a growing need to tap into a larger group of creatives. A long-time follower of the online magazine Local Wolves, she says, "I knew that I had a unique style and that I had something new to bring to the table, so I applied."
The application process proved to be extensive and unusual, but in the process of waiting for a response from founder and editor of Local Wolves, Cathrine Khom, Fletcher proactively followed regular contributors, keeping up with their work, commenting on their posts and supporting their art. Intentional about making connections with the individuals that held her possible position, sometimes contributors would follow her back if their artistic styles were similar.
"I learned that opportunities don't just fall into your hands, you have to form connections with people and I think social media makes that possible," said Fletcher. "Follow people who are making work you like and who are doing things that you want to be doing, then talk to them about it."
Through this practice of friendly correspondence, Fletcher met the founder and editor of Local Wolves, who she calls a "sweetheart." Persistently keeping in contact with Khom was straining for Fletcher, but when no word was received, she followed up. She continuously followed up in a professional manner throughout the hiring process until months later, in January 2016, she finally received an email stating that she had been accepted as a contributing photographer for Local Wolves, which she describes as "an online magazine with a fresh perspective on art that is inclusive; featuring some of the most current creative artistic voices, from social media influencers, to musicians, to photographers."
Recently, Fletcher was involved in a major project, her first independent project for the magazine where she pitched and produced a six-page spread about art school fashion. "It was a big deal because I came up with the ideas, pitched it to Cathrine and she approved, giving me creative freedom with the spread, which was thrilling," said Fletcher.
Working with one magazine wasn't enough for the passionate and eager Fletcher. The magazine is dedicated to creating a platform meant to uplift the marginalized and the oppressed, while also granting them the opportunity to share their stories. When the opportunity presented itself, she couldn't say no to working with the product.
"I think that's what really sets them apart from other online magazines—they're not afraid to speak out against injustice," said Fletcher. "They're not scared of alienating their audience. They're bold, unapologetic and I wish more magazines would be like that."
Started in 2015, Lithium magazine is targeted towards teens and young adults with a voice and a message to share. They speak on current events and the effects these events may have on their audience, which is uncharacteristic of most popular magazines. When working for Lithium, nothing feels out of the ordinary for Fletcher because Lithium represents all that she stands for as an individual. She embodies the message Lithium tries to present to its audience in her daily life and that is evident in the projects she creates for them. "The only difference is there's a deadline attached."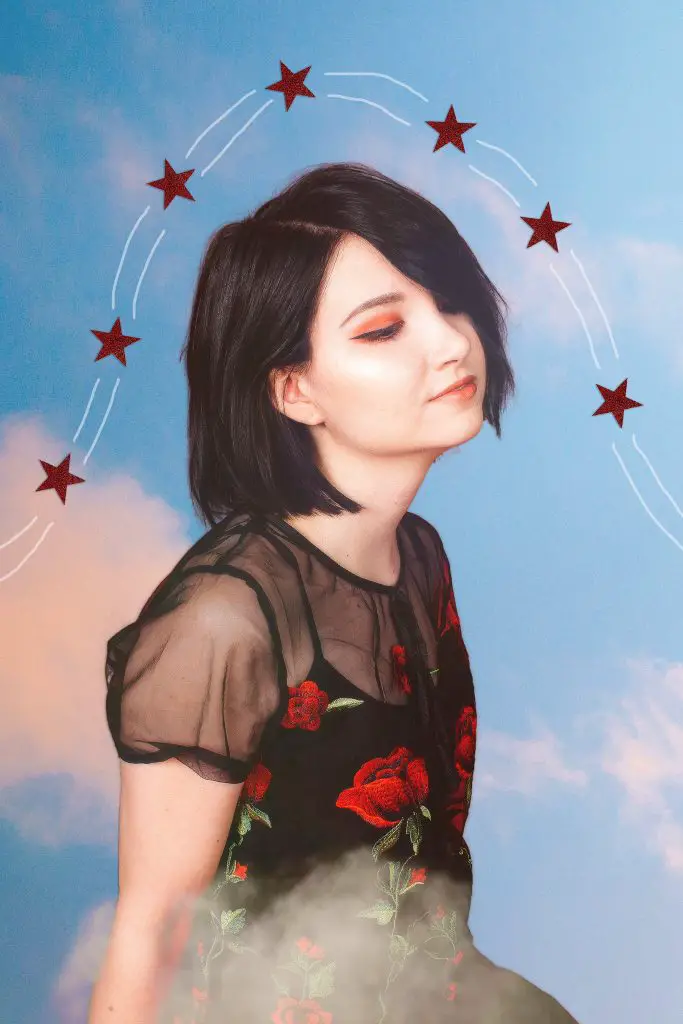 Experimenting
Fletcher's summer was filled with portrait sessions with friends as her subjects, but as fall grows near, she has ventured into photographing architecture and experimenting with night photography. From time to time, the inkling for portraiture returns to Fletcher, though, and when models cannot be found she challenges herself with self portraits. "When you're the subject, you're in control and you can ensure that your vision for the photograph is fulfilled," said Fletcher.
Self portraiture does run into some challenges, Fletcher admits, when it comes to the technicalities like focus and frame. Regardless, she encourages beginning photographers to practice this technique because through posing and experimenting, it will awaken beginners to the compositions they'll prefer in photographs, which will contribute to handling models in the future.
Julia Without the Camera (Sorta)
When the camera is put away, Fletcher finds herself going to shows and traveling with friends, noting the significant impact "taking a break" has had on the improvement of her mental health. On these adventures her friends have helped her recognize the importance of "sitting back and allowing yourself to breath and not stress," said Fletcher. "When you're constantly stressed about work, it negatively impacts your ability to think conceptually."
Even outside of the business world, she finds herself networking with the incredible people she meets at her shows, considering these new friends to be family; her home away from home. Since May, she has attended five Twin Peaks shows and many garage rock shows.
"People in the music scene are so warm and friendly," says Fletcher. "Traveling and going to all these different shows also made me remember how much I enjoy shooting film. I started carrying around a small $9 point and shoot because of the opportunities to photograph some of these bands, including Diet Cig."
What's next? 
Fletcher ultimately wants to head down the path of an art director, but hopes to continue magazine work until then. She also entertains the idea of "something bigger, where people are making really cool stuff," like working for a design firm or studio in the meantime.
Her focus is on creating personal projects and maintaining a freelance presence as collaboration and multidisciplinary work is important to her. "I feel like [collaboration] is how I'll continue to grow after graduation, simply by learning [the things I missed in school] from others."