Music holds as strong as a fortified industry, and it is students like Vincent Demor who keep it that way. Demor, a student at St. Petersburg College in the Music Industry Recording Arts (MIRA) program, discovered his passion for music when he laid eyes on an accordion at the age of six.
The stars aligned for him right then because he was lucky enough to have a music instructor teach him songs on the instrument and a neighbor who just so happened to be an accordion player. Since then, despite moving often and living in different states, teachers were always available. It seems that his musical passion was truly meant to be.
Recently, Demor's dedication and talent paid off when he won the 2018 National Association of Music Merchants President's Innovation Award (NAMM).
In the words of the award announcement, Demor "exemplifies a commitment to the music industry and shows a strong aptitude for business leadership and innovation in the music industry." Demor had the opportunity to represent his college at the NAMM show and attend the conference in Anaheim, California back in January.
Returned from the career-changing conference, Demor reflects on what he learned, what he brought back and what it means for the future.
Catherine Gregoire: It was said that your interest in music began when you laid eyes on an accordion at the age of six. What about the instrument struck your attention?
Vincent Demor: I have always been fascinated by my Italian heritage, so when I began learning the accordion, it seemed that I could connect through that.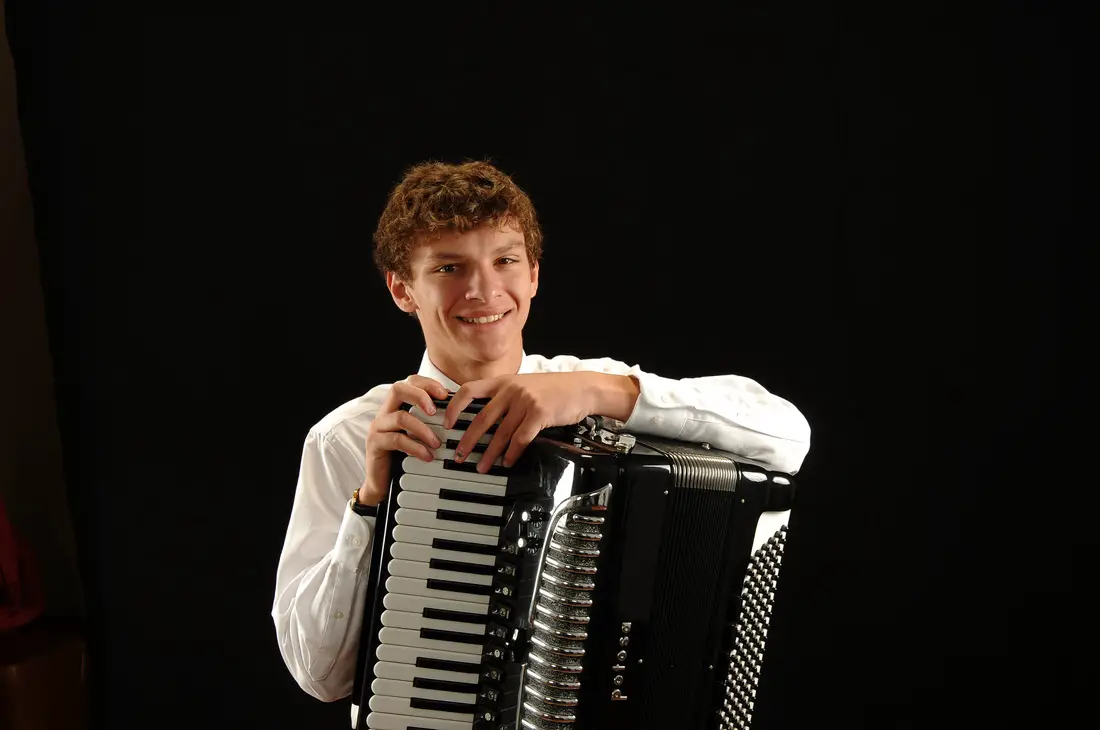 CG: The NAMM winner is someone who "exemplifies a commitment to the music industry and shows a strong aptitude for business leadership and innovation in the music industry." How do you combine your love of music and knack for business into a cohesive career?
VD: I have been involved with the business end of music since my first band at the age of 13. By doing solo gigs, I really learned a lot about the "behind the scenes" work involved with being a performer. There is everything to transportation and living expenses (for some jobs), to personal relations and playing things people request on the spot.
CG: Despite moving around a lot, you managed to always find great music instructors. How did you achieve this? What efforts did you make to always ensure you were pursuing your dream?
VD: It wasn't easy, especially to find an accordion teacher. I always played wherever I could and told everybody I knew I played. I also auditioned for many things that did not call for accordions, on accordion.
Just getting out there and playing seemed to be the key to always attracting good people who were willing to point me to the right person to further my instruction on this beautiful instrument.
CG: What were the best things you took away from the NAMM show and conference that you can apply to your education and future?
VD: One of the most significant pieces of advice I got from NAMM is to collaborate with others and try out new things. Do not waste the time arguing or holding out on pride over something when it takes less time to try it to see if it will work.
CG: When performing for an audience of any size, what is the number one thing you hope to evoke and to receive in return?
VD: I always want at least one person to love the accordion sound as I do. I was captured by the sound as a child, and most children really respond to my playing.
It is different with adults since they could have had a family member who played or something else to reference it to. I think fresh minds tend to be captivated more, but that could just be my experience.
CG: What do you hope the award will offer your education and career?
VD: I hope others in my program will listen to what I brought back. It is important to use the knowledge others have passed on, even though we are all peers. My attendance at NAMM sets me apart from others in that sense.
CG: So, you want to work in music production. What would be your advice to other students with similar goals?
VD: My advice would be make sure that is what you want. Next, find a program like MIRA at Saint Petersburg College and learn from the best. There are programs out there for this stuff; just get involved with one.
CG: Besides the accordion, what other instruments would you find yourself playing? Do you already dabble in other instruments or musical endeavors?
VD: I started my music career on the cello when I was three and have played in a number of symphonies throughout my adolescent years. I went to region and all-state orchestra every year from middle school to high school. I continue to study the piano in college and am trying my skills with the harmonica!