Kylie Kuhns' childhood was emotionally-charged and challenging, as she and her family endured her older sister Kelsey's battle with leukemia. Although Kelsey passed away at nine years old, this isn't a sad story by any means. Kelsey's legacy didn't stop one bit after her passing; in fact, it became even stronger, as Kuhns made it her mission to keep her sister's strength and kindness alive.
At eleven years old, Kuhns founded Kelsey's Dream, a non-profit that honors Kelsey's life and makes cancer patients and their family's experiences a little easier. With the creation of Hopper the Cancer Crusher, Kelsey's Fall Festival fundraiser, a snack program and a holiday sponsorship program, Kelsey's Dream provides support and positivity that encourages hope for struggling patients, in addition to sprinkling Kelsey's light where any impact is made.
As a rising Business Management junior at Penn State, Kuhns' initiatives are already in effect in hospitals across the majority of the U.S., and she isn't stopping there. She has a whopping forty-four formal awards on her belt, including Youth Service America's Everyday Young Hero award, Prestigious Distinction from former Pennsylvania Senator Arlen Specter and recognition as one of Her Campus Magazine's 22 Most Inspiring College Women.
A Different Kind of Sisterly Bond
To the Kuhn family's nightmarish surprise, Kuhns' sister, Kelsey, was diagnosed with leukemia a month before her fifth birthday. Although seeing Kelsey transition into a cancer patient was incredibly difficult, her family held her hand and provided sturdy support throughout her chemotherapy treatment.
Finally, after two-and-a-half years, she was approved to be off treatment. She was thriving and creating childhood memories for another two-and-a-half years, when, out of nowhere, she relapsed at nine years old. At this point, her doctors suggested that she have a stem cell transplant, and Kuhns was tested to see if she could be her donor. Although only 20 percent of siblings are a match, Kuhns was luckily deemed compatible. When Kelsey's cells were dropped to zero through chemo and radiation, her new cells grew from Kuhns' stem cells.
Not only was Kuhns literally giving her sister life on a cellular level, but they were engaging in worthwhile, memorable experiences that formed an even stronger bond between them. The two sisters attended Camp Dost together, a cancer camp that allows campers to bring a sibling. It was incredibly refreshing and enjoyable for them to relate to each other in a non-hospital setting and frolic like the young, spirited girls they were.
A Happy Accident
When Kelsey passed away on November 1, 2005, seven years after her diagnosis, Kuhns never thought she would become the creator of a non-profit—after all, she was only eleven years old. But when she heard some more disheartening news, she wanted to help in any way she could. "After Kelsey passed away, I heard that funding for Camp Dost was being cut. I just wanted to have a small fundraiser to raise some money for them, since we enjoyed our time there," Kuhns says.
Little did Kuhns know, this fundraiser would become the foundation for Kelsey's Dream's largest fundraiser, Kelsey's Fall Festival, which is thrown every year as a community fundraising event. "We actually raised so much money from this fundraiser that we decided to establish an organization, in memory of my sister, with the goal of helping children with cancer…It was almost an accident. It just kind of happened by chance, but it was definitely motivated by the idea of keeping my sister's memory alive."
And so, Kuhns discovered her dream—keeping Kelsey's light alive through Kelsey's Dream. And if it weren't for Kelsey's exceptional selflessness, Kelsey's Dream wouldn't have its fuel to care and provide for others.
"When Kelsey was living, even though she was sick herself, she was always looking to help others," Kuhns says. "If there was a kid in the hospital down the hall from her, and their parents had to go away for a few hours, she'd make sure my parents went down and brought them a stuffed animal or something. She was always looking to comfort others and give back, even though she was sick."
Young Girl Turned Entrepreneur
Of course, a non-profit doesn't become successful with purely love and generosity; it requires paperwork, logistics and administrative tasks galore. Kuhns explains, "I wanted Kelsey's Dream to be a big thing right away, but I didn't realize that wasn't really possible. There were a lot of technical things to get through, and although my mom helped a lot, it would take time to get it to the size I hoped."
With a vision of growth and a focus on helping as many families and patients as possible, Kelsey's Dream began fulfilling its mission. Kuhns brought the idea of a play therapy toy to life with "Hopper the Cancer Crusher," a cute stuffed frog for children undergoing treatment for cancer. He's dressed in a bandana and medical pajamas, and he has a mock mediport, which is what patients receive chemotherapy through.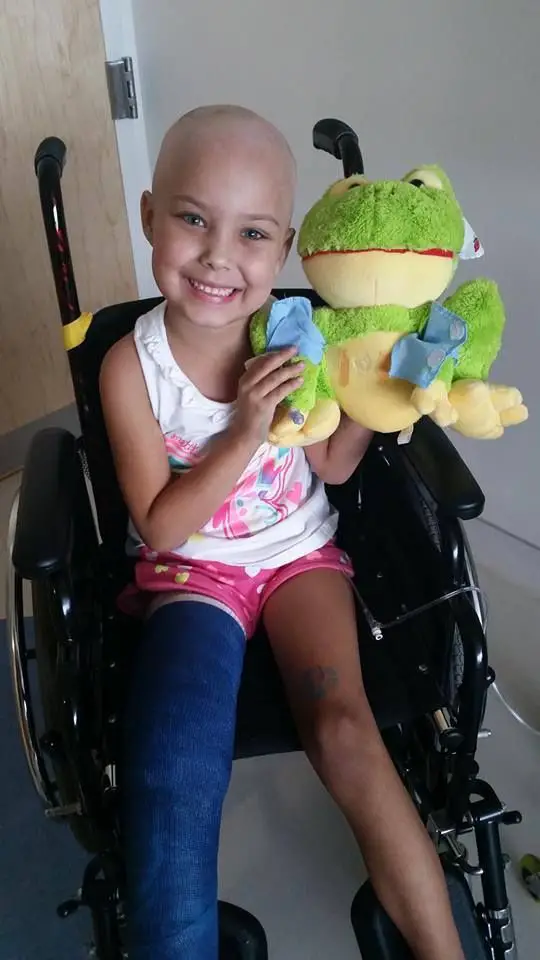 "Treatment can be scary for everyone, especially a child. If a child is scared, the doctor can show what they are going to do on Hopper first in a positive, educational way. Hopper's also cute in general, so he's a little pal for kids going through treatment." And he's making his way across the country; you can find him in one hundred and fifty hospitals across forty-four states.
Kelsey's Dream also started The Snack Pack Program, which delivers a truck-load of snacks every three months to patients at a local hospital. Children undergoing treatment are usually given steroids that make them very hungry, and with vending machines not readily nearby, these snacks make a long day much more bearable.
Finally, Kelsey's Dream also started the Angel Tree Program, which sponsors around forty children with toys and clothing at Christmas time.
Kelsey's Dream serves an additional purpose as well—to provide volunteering opportunities and community involvement for kids and adults in Kuhns' hometown.
"I come from a very small town, and when I was growing up, there wasn't really anything to volunteer for or anything that could teach about giving back to the community," she says. "I like how Kelsey's Dream gives kids in my area the opportunity to volunteer and learn about its importance."
Moving Forward
Kuhns definitely sees herself continuing with Kelsey's Dream after graduation, but it may be on a somewhat smaller scale. "When I was in high school, I always wanted to keep Kelsey's Dream growing. But now, I think it may have reached its maximum potential," she says. "But, you never know—a couple of years ago, when Hopper came out, I said the same thing! Hopefully, it will keep growing."
When it comes down to it, Kuhns gains fulfillment from simply knowing that she's giving back in any way she can and perpetuating Kelsey's spirit through the impacts of Kelsey's Dream.
If you're interested in becoming involved with Kelsey's Dream or making a donation, visit www.kelseysdream.org.