A reoccurring line throughout the film "The Devil Wears Prada" is that main character Andy Sachs' job working for a high-end fashion magazine is something that "many girls would kill for." And, even though she is only beginning her freshman year as a Merchandise and Marketing major at the Fashion Institute of Design and Merchandising (FIDM), Gianelle Sulahian, who is in charge of merchandising a concept store in Newport Coast, California, already has such a job.
According to Sulahian, what makes a concept store different from other boutiques is that it is a curation of multiple designers and products that delivers a certain message and targets a specific audience. Basically, the store takes select items, such as clothing, accessories and furniture, from different companies, and fits them into the theme that the owner wants to convey.
Each item is specially selected by the curator from designers' collections, but some products are also exclusive to the store. Atelier 7918, where Sulahian will be working, is guided by its own unique, overarching aesthetic, and it's Sulahian's job, through careful curation, to turn that vision into a reality. "Atelier 7918's message is to reinvent the meaning of retail," says Sulahian. "Its manifest is to find a balance between high fashion and street style. By housing designers from all over the world, the boutique presents a storyline no other establishment in Orange County can. The target audience is directed toward an adventurous shopper with an eye for trends. Our shoppers range from all ages and sizes and that's what keeps the boutique interesting."
Merchandising Atelier 7918
Sulahian got her job when, despite being in only the tenth grade at the time, she walked into the store, presented her resume and impressed the owner with her fashion acumen. It helped that she was from the area, but what really set Sulahian apart was her familiarity with the industry. They offered the high school student a job, and since then, Sulahian has had the invaluable experience of working a job that's not only directly related to her field of study, but one in which she is surrounded by the products of underground, forward-thinking designers.
At the boutique, Sulahian does a little of everything. Many of her roles mirror the responsibilities of a typical retail job, such as arranging clothes, dressing mannequins and assisting customers, but she also has a strong influence on the branding of the store, an opportunity most students won't get at chain retail stores, whose aesthetics are dictated by corporate regimens.
Plus, in addition to her more commonplace duties, Sulahian has also had the opportunity to take advantage of some of the perks of working at a world-class concept store, such as getting to accompany her boss on a recent buying trip to Paris. "My boss and I visited the showrooms of designers we were interested in carrying at the store," she says. "In each showroom, the designer's collection was presented, and we handpicked the pieces we were interested in, that we thought would match the store."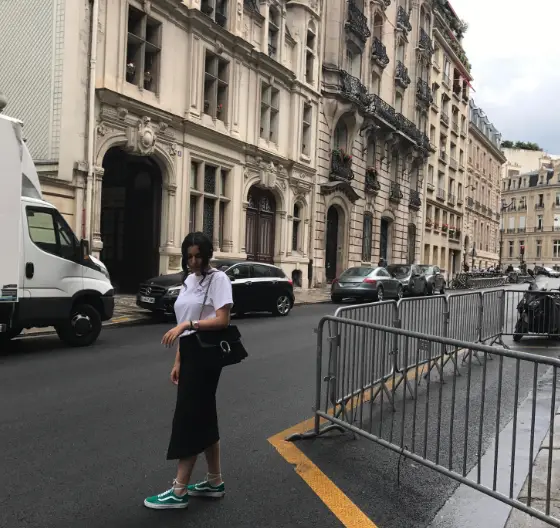 Though taking a trip to the City of Lights to shop makes Sulahian's position a strong contender for best job in the world, a buying trip like the one she experienced is about much more than perusing the Marais looking for cute clothes. Instead, it's one of the most pressure-filled components of the job, as Sulahian only has one opportunity to decide between buying or moving on, and her split-second decisions have real-time impacts on the future success of Atelier 7918. "The process can be very tricky, because although there are pieces you might like as an individual, it doesn't always mean that your target market will, too. It's vital to think through each chosen piece, and decide which pieces your clientele will purchase or dismiss," she says.
What She's Learned
Taking on a job in her area of study before even officially beginning college certainly gives Sulahian an advantage over her classmates, as through her work with Atelier, she was able to learn about the operational side of the fashion industry, as well as enjoy the experience of attending fashion shows and going on buying trips, such as the one she took to Paris. In fact, especially in regard to her trip to source materials from Paris, Sulahian knows how such a resume line could help her out in the future; the experience is one thing, but knowing that someone trusted her to help in such an important task means that not only does the future FIDM student have the design IQ necessary to thrive in the industry, but that she has the poise of a businesswoman, an integral skill in the difficult process of turning a passion for clothing into a vocation. "To say that I have already accomplished something people are going to school for is the proudest achievement I've had," she says.
The merchandising job is also one of the reasons why Sulahian chose to attend FIDM. Originally, she wanted to go to the Fashion Institute of Technology (FIT) in New York City as a Fashion Business Management major, but she was waitlisted, which threw a logistical wrench into her plans. "By the time I would receive a response on my acceptance, it would be mid-July. If I did get accepted, I wasn't prepared to move across the country in less than a month," she says.
Plus, moving would mean that she wouldn't be able to work at Atelier 7918. Even though she'll be going to school full-time, she still plans on helping out as much as she can. Says Sulahian, "My current job at Atelier 7918 has been incredible, and I figured if I attend FIDM, I would still be able to drive down to Newport a few times a month to help out around the store." Staying with Atelier will benefit the freshman in the experience it provides her, but the networking she has gained from the position will likely play a larger role in the future, as, in the fashion industry, who you know is incredibly important, especially when you're just starting out and your job history totals little more than a few lines.
Sulahian has plenty to look forward to in that regard, as her experience with Atelier 7918 has been nothing but positive, and for someone to have accomplished so much before even stepping foot on a college campus, there is good reason to believe that her future holds nothing but more success.